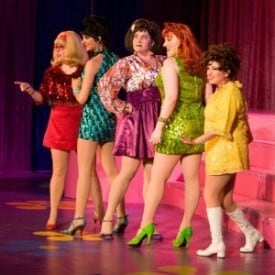 Shout! The Mod Musical is a charming, nostalgic trip though the swinging, modernist subculture of 1960s London that helped define a decade. Presented as a comic revue split into two acts, it showcases many memorable popular tunes that swept the UK and the rest of the world during that period. And while it does maintain a whimsical tone throughout, it doesn't shy away from serious underlying themes of feminine self-discovery and liberation.
The cast of lovely and uniformly talented ladies – mostly clad in fetching minidresses, groovy high heels and hip white vinyl go-go boots ("These Boots were Made for Walking") – inhabit five distinct female types, each representing different colors of the so-called  "mod rainbow."
"Red Girl" (Shannon Guggenheim) is the bespectacled, insecure nerdy girl; "Blue Girl" (Kate McCormick) is the vain, Twiggy-like model and actress who harbors a secret; "Orange Girl" (Hilary Little) is hopeful a husband and children will bring her happiness; "Green Girl" (Ashley Rae Little) is the tart who's particularly adept in dumping men; and "Yellow Girl" (Catherine Brady) is the obnoxious American obsessed with Paul McCartney.
The static set is essentially a multi-tiered stage reminiscent of the television variety shows prevalent at the time such as Rowan and Martin's Laugh-in, to which the play and director (Scott Evan Guggenheim) owe much in terms of concept, design and staging. The scenic elements (Julie Engelbrecht) are fairly straightforward and effective, with the requisite beaded curtain, flower power motif and rainbow hues, but an opportunity was lost for a more imaginative and visually evocative (e.g., psychedelic) lighting design.
There is no storyline per se, and scenes are introduced by the characters glancing at annual editions of Shout! magazine while commenting on the latest news and trends in pop culture, with the unseen Holter Graham providing marvelous narration as the "voice" of the English periodical. We get to know more about them via a series of letters written to the rag's advice columnist "Gwendolyn Holmes."
The questions asked of Ms. Holmes are sincere and heartfelt, but the guidance they receive – featuring fine offstage voiceover work by Carole Shelley – are unsatisfying, condescending platitudes espousing the traditional role of marriage and motherhood and extolling the virtues of visiting a beauty salon!
But it's the splendid costuming and wigs, also created by the remarkably versatile Ms. Engelbrecht, that say as much about the women's evolution as they do about the era in which they live. Bravo!
The vocalizations are all very good, offering a melodious spectrum of complementary timbre and range. They do justice to the original hit recordings by such renowned Brit singers as Lulu, Petula Clark, Dusty Springfield and Shirley Bassey. And in between songs they perform a number of clever skits that touch upon a panoply of personal issues and controversial topics from "pot" to "the Pill."
Among the many highlights is the ensemble's hilarious and risqué segue into "Coldfinger," a parody of the classic "James Bond" composition, with lead vocals by the charismatic and sexy Ashley Rae Little. Equally impressive are Catherine Brady's rendition of a "Son of a Preacher Man," and Shannon Guggenheim's wonderfully comic interpretation of "How Can You Tell," both enhanced by the latter artist's own vibrant and spot-on retro choreography.
The second act does take on a vaguely pensive mood, with Ms. Guggenheim's poignant "Those Were the Days" eliciting spontaneous clapping from the enthusiastic opening-night audience. Few of the numbers ever quite reach a crescendo, however, because of an easily corrected sound design misstep limiting the sonic intensity. And the use of a somewhat flat and uninspiring canned musical accompaniment doesn't help, either.
Celebrating its second anniversary at The Retro Dome in San Jose, this Guggenheim Entertainment production lives up to the venue's name and is noteworthy for its singular vitality, clockwork professionalism and sheer entertainment value. It's highly recommended!
Shout! The Mod Musical

4 out of 5 stars (Very Good)

Guggenheim Entertainment
Directed by Scott Evan Guggenheim
Created by Phillip George, David Lowenstein and Peter Charles Morris
August 26, 2011 through September 16, 2011
The Retro Dome
On the Web: www.theretrodome.com