Being an ardent Jane Austen fan, and having spent many a summer evening relishing over the complete works of this English novelist, I was most intrigued with how her first published work, Sense and Sensibility, would translate to the stage. The 400-page novel upon which the play is based is about two sisters, Elinor and Marianne in England (early 1800's) as they seek love and survival after the death of their father.
Many screen and television adaptations have been produced which strive to squeeze the work into pieces that take the audience on the same multifaceted journey of love's angst and joy in the face of society's wisdom and folly — something Austen is a master of; I her delighted follower.
On opening night of TheatreWork's American Premier of Sense and Sensibility, Jane Austen was surely with me.
As I was sipping champagne while seated at the fountain outside of the Mountain View Center of the Performing Arts before the show, a most curious gentleman approached me. He certainly could have been a contemporary version of Mr. Edward Farrars, the love interest of Elinor. Out of no where he appeared, then stopped in front of me on modern stead (a red mountain bike) and mentioned that his father was from Austen's hometown in the southern English county of Hampshire, Steventon. His father had told him stories of Austen's dad as the director of the community theater which was later taken over by his son. The incident was most serendipitous and reminded me of the intrigue and happenstance that weaves its way through many of Austen's works.
Roger Parsley and Andy Graham do well here to adapt the epic novel to live theater; especially prescient are their decisions to remain steadfast to the essence of Austen, shedding details that would make the production confusing and cumbersome.
The set is delicately luminous. Instead of attempting to create literal translations of what the world would look like in England during the 1800's, it evokes fanciful (and romantic) visions of what such a place would feel like in one's imagination.
As dainty as the set appeared, like Austen's characters themselves, it held many facets that would unfold elegantly throughout the evening. With fluid movements, much like a master painter's brush on canvas, the stage transforms through seasons and locales. Often times the set changes were part of play with stage pieces moving in graceful lock step with the delightful music that was artfully applied to set mood. One of the most breathtaking visual sequences is the the transition from London to Cleveland Manor. I also appreciated the use of foreground and background spaces when characters are recounting stories from the past.
Equally exquisite were the costumes. My favorite is Elinor's iridescent blue and white dress when she first arrives in London.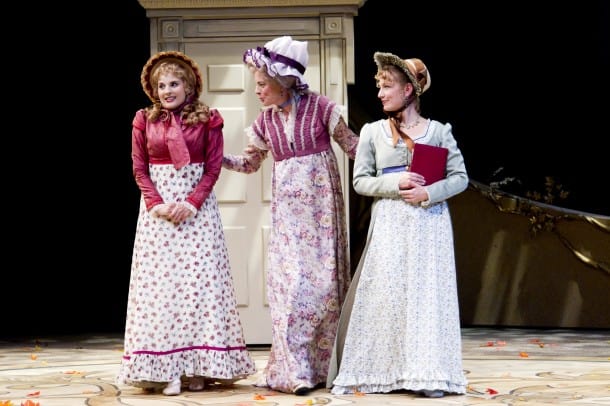 Against this backdrop, the acting is superb. It brought the key characters in Sense and Sensibility magnificently to life. Jennifer Le Blanc (Elinor) and Katie Fabel (Marianne) are the perfect foils for each other, balancing the sense of societal duty with the impulsive emotions of what the heart desires. The characters are portrayed with an authenticity that drew me in. It wasn't long before the torments and joy of both sisters were also mine. I think what makes the piece timeless is not that one can relate to just one of the characters, but that in each of us we see glimmers of Elinor and Marianne. It is through Austen's creation that we are able to vicariously live. In this way, Theatreworks' delivery romances.
If Le Blanc and Fabel are perfect foils, then Stacy Ross (Aunt Jennings) is the ultimate catalyst. Well-intentioned and charmingly involved in everyone's business, she ensures the plot thickens — quickly. Ross has excellent comedic timing and brought a smile to my face every time she was in a scene.
Ultimately, Sense and Sensibility is about women and their plight in a society that gives them little status and choices without the bond of marriage. While the female characters are central, this stage adaptation is not one-sided. Edward (Thomas Gorrebeeck), Willoughby (Michael Scott McLean) and Colonel Brandon (Mark Anderson Phillips) in this stage adaptation are played with a depth that gives us a glimpse into the position that men are put into in a society where the female role is so confined.
Director Robert Kelley has crafted a production that embodies Austen. Through Elinor and Marianne's trials and tribulations as they search for love, I find myself once again, falling in love with the characters and world of Jane Austen.
Sense and Sensibility

TheatreWorks, Mountain View Center for the Performing Arts

4.5 out of 5 stars

Directed by Robert Kelley
Starring Katie Fabel, Thomas Gorrebeeck, Jennifer Le Blanc, Alexander Lenarsky, Lucy Littlewood, Michael Scott McLean, Emily Ota, Mark Anderson Phillips, Stacy Ross, Jeremy Ryan
By Roger Parsley & Andy Graham
Based on the novel by Jane Austen
Through September 18, 2011
Photo credit: Tracy Martin.