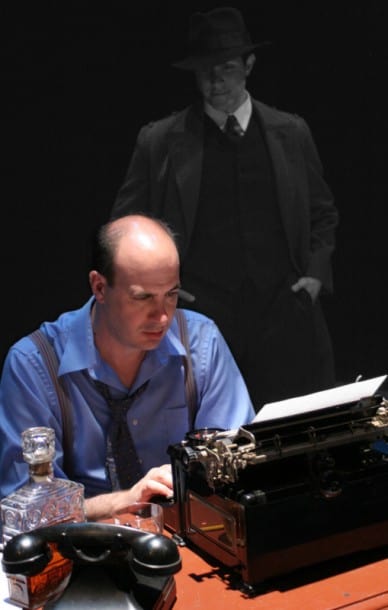 Hillbarn has a knack for doing the impossible on their tiny idiosyncratically-shaped stage.  For example, when their 2010-2011 season opened with Chicago, my expectation that they were overreaching was just plain wrong. Hillbarn tried to pull off the same magic again this year, opening with a show designed for an all-together different venue. This time, however, they were not as lucky with City of Angels.
When City of Angels originally opened on Broadway on 1989, its riotous one-liners and clever plotting drew rave reviews, pulling in a generous fistful of Tonys and Drama Desk awards. Drawing on the old tradition of a play-within-a-play, playwright Larry Gelbart presented a screenplay-within-a-play, riffing off the screenwriter Stine's angst, as his creation, a 1940's film noir detective story goes further and further off the rails until he and one of his characters, a Sam-Spade private investigator named Stone, reclaim the story together. This is an incredibly clever script, nudging audience boundaries as characters relate to each other in unexpected ways, across the writer's pen. However, little of this made the transition to the Hillbarn stage. While the first act showed glimmers of how good this could be, for the most part it dragged and seemed unnecessarily fragmented. The pace picked up in the second act, bringing the comedy to a very satisfactory conclusion, but the weight of the first act burdened the overall production.
This problem was not the fault of cast or crew. City of Angels was brilliantly cast, with excellent performances across the board. David Martin, as the harassed and aggrieved Stine, and David Sattler, as the beleaguered PI, brought an authenticity to their roles that was flawless. Tyler Bennett, as both Pancho Vargas and Manny Munoz, was incredibly attractive. The Angel City Four, a swank 1940's scat group, were immediately engaging in an appropriately cool sort of way. Set pieces were imaginative, with effective use of roundtables. Vocal numbers were fabulous, particularly "All You Have to Do is Wait" (Tyler Bennett), "You're Nothing without Me" (David Martin and David Sattler) and "It Needs Work" (Victoria Morgan).
However, none of this could overcome the cramped stage, crowded with the writer's area, the iconic HOLLYWOOD sign, a Pantages front, detective office and phonebooth, all at once. This City was an overcrowded one – effectively blocking the energy flow across the stage and visually distracting the audience. The result was devastating, as the play was overcome by the weight of its own scenery.
That said, I was struck that this play offered up that rarity of rarities, a second act that was stronger than the first. This bodes well for the remainder of the run, as perhaps this problem might be overcome.
City of Angels

3 out of 5 stars (Recommended)

Hillbarn Theatre, Foster City
Directed by Brad Friedman
Music by Cy Coleman
Lyrics by David Zippel
Book by Larry Gelbar
Photo Credit: Nancy Fitzgerald-Metzler