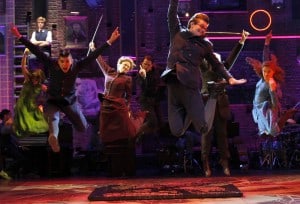 The new, provocative, and highly successful (8 Tony Awards) Broadway hit, Spring Awakening, opened last night downtown San Jose and proved why it has garnered so much love and attention. The reinvention of the musical genre owes a debt of gratitude to this production.
Directed by Michael Mayer, who also superbly guided the soul mate American Idiot in Berkeley, doles out modern sensibilities along with a healthy dose of teenage hormones. It makes for an entertaining fusion of rock, dance and… some personal pleasures too. It's a rocking purple summer.
Set in late nineteenth century Germany, the costumes alone would tell you we're not exactly in Oklahoma. Achtung! The musical opens with Wendla (Christy Altomare) learning about the birds and the bees from her Mother. The scene is a crisp and smartly acted opener. Later we meet some of the boys, including reclusive, "Don't Do Sadness" erotic dreamer Moritz (Taylor Trensch), and thoughtful, though tragedy afflicted lover and atheist, Melchior (Jake Epstein).
"All that is weak  must be hammered away."
The repressive German society together with strict parents and teachers create a ticking time bomb of rage and angst.
When the teenager's become disenfranchised during the boiling "The Guilty Ones," they finally stand up for their beliefs in what becomes a first step towards adulthood and discovery.
"Why am I haunted by the legs of a woman?"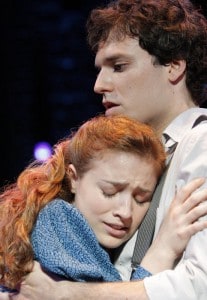 All the coming of age elements are here: shame, guilt, longing, lust, confusion And, of course, rebellion.
But what makes Spring Awakening so good, is how it all comes together so well. The music blends in with the story, carrying our emotions along for a rocking (and occasionally, joyfully loud) ride. In between the exciting drum and guitar work, though, there is character depth, and meaning behind actions. We feel and relate to their circumstances. Better yet, we are drawn to Melchior's intelligent perspective, documented in his journal, that prevents the following events from becoming standard melodrama.
One of my favorite numbers involves a curious, seemingly Madonna-inspired dance. It's like Vogue in a straight jacket.
The set design is effective, with some on-stage bleacher-style seating to either side for those lucky enough to score the limited tickets. Lighting is a stand out. Lots of colors. Sweeping greens, then blue and yellow neon. Warm rings of light let way to stripped down, single spots to accent poignant scenes.
If I have one criticism it would be the uneven vocal performances. At times, I wish some performers could hit those challenging notes the songs often called for. Still, it was hard not to be electrified for most of the numbers (still, it's hard to top the brilliance of Green Day's scorching music in American Idiot for those keeping score).
A note of optimism runs through both acts, and we never feel the teenagers are driven by hate. Rather they are seeking their place in the world, which may mean leading themselves the changes they so desperately want. Laughs along the way ensure the journey is not a somber downer.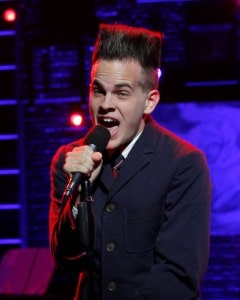 Fair warning, this is adult fare: hardcore, the way it should be. The truth rings through. As does simulated sex, partial nudity, and gleeful, catchy F-bomb filled ensemble numbers.
Spring Awakening is another Broadway gift to San Jose. Enjoy it as soon as possible (it's only here for five days; 6 performances remain after this afternoon's) and thank the lucky stars (or Dutch company Nederlander) we get to experience something so entertainingly fresh and vibrant. Colorful memories of high school years gone by is just icing on the Kuchen.
Spring Awakening
Broadway San Jose
Directed by Michael Mayer
Starring Christy Altomare, Angela Reed, Sarah Hunt, Steffi D, Gabrielle Garza, Kimiko Glenn, John Wojda, Anthony Lee Medina, Andy Mientus, Ben Fankhauser, Matt Shingledecker, Taylor Trensch, Jake Epstein
October 28 – November 1, 2009
San Jose Center for the Performing Arts
Noteworthy

Taylor Trensch's hair transforms through the show: from A Flock of Seagulls / Howard Jones / Robert Smith of the Cure-inspired cobweb, to a Chia-Pet shaved mohawk.
Lucky, early ticket buyers can grab seats on stage, even sitting next to performers
You may learn new terms for female anatomy!
Hidden microphones: the next fashion trend? Feeling some inner angst? Here, grab this mike. Rock out!
You can't beat the calamari at Scott's Seafood.
Chocolate covered pretzels: sounds unusual… but quickly becomes a must have when you see others devouring them.
Unusual concession food: vegetable maki.