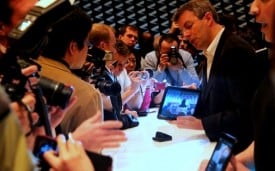 One of the headlines making the rounds today is Google's decision to close Android 3.0 – aka Honeycomb – to outside developers. The move is somewhat controversial, at least in the eyes of some, as the company has built its rep and undeniable success on the concept of "open source." Clearly, blocking access to code does not align with that philosophy. You could say it even smells a bit like Apple.
Does the decision signal a shift in strategy?
First off, it's important to note that according to Google this is only a temporary measure. Andy Rubin, head of Android, recently spoke to Bloomberg.
"To make our schedule to ship the tablet, we made some design tradeoffs," he said. "We didn't want to think about what it would take for the same software to run on phones. It would have required a lot of additional resources and extended our schedule beyond what we thought was reasonable. So we took a shortcut."
Fair enough, but I think there might be something larger at work here.
Others have suggested that perhaps the move is related to reducing the fragmentation effect. Android has often been criticized for having too many versions for too many devices floating around at the same time. The result is confusion for developers, and, ultimately, increased support and development costs. Apple, by comparison, with its closed system has a much cleaner, simpler versioning and release process.
My suspicion, however, relates to the underwhelming Motorola Xoom.
Hailed as the so-called iPad-Killer so many times it would make your tonsils shiver, the product is just this short of a bomb. It's too big. Doesn't have many apps. It costs too much. And on and on. Not exactly the flagship Honeycomb device Google was hoping to show off to the world.
So the last thing Google would want is developers and third parties to start building, modifying and extending the code that is still far from being able to compete with Apple and the iPad.
I could be wrong. It's just pure speculation. But the sales numbers and poor market acceptance of the Xoom support the thinking.