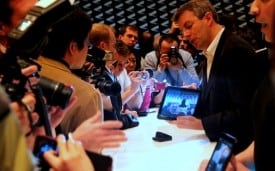 If the rumored price for the upcoming Motorola Xoom tablet of $799 proves true then consider it DOA. That's too bad. The Xoom is the first major product that can possibly give Apple a run for the money. But the iPad only starts at $499. What is Moto thinking here?
Perhaps the Xoom is a victim of over-engineering, and is trying to please too many over-seers.
Apple kept it simple with iPad. The early versions even had crippled functionality (non-Apple email support was weak out-of the gate) and even missed major must-haves (built-in cameras). Regardless, the formula worked, because the iPad is sexy and there is plenty of content thanks to iTunes and the app store.
But — again — $799?
Well there's always a chance the rumor will flame out like the New York Jets did in the playoffs. You know, long on talk, short on the result.
I found it somewhat odd that eWeek had to come up with ten reasons why the Xoom is overpriced. There's only one reason needed:
The Apple iPad is only $499.
That's 38% less!
And Apple already owns the market, and offers the proven product. So others will either need to compete on price, or offer a very sweet alternative — some kind of rockin' differentiation.
Android made a splash in late 2009 thanks to the Motorola Droid. Price ($199) was a key factor for the inroads it has made against Apple — well, OK, yes AT&T exclusivity might've had something to do with that too, but still!
Nevertheless, I'm not about to cry in my beer. Ultimately, I'm optimistic for Android tablets. The road will initially be rocky, but they'll get there. I'm just not so sure if people still care about tablets?
In case you missed it, here's the Super Bowl ad for the Moto Xoom — kind of lame if you ask me, but then again a lot of people seem to love it.
Oh one last thing… but, why of course: I want one!