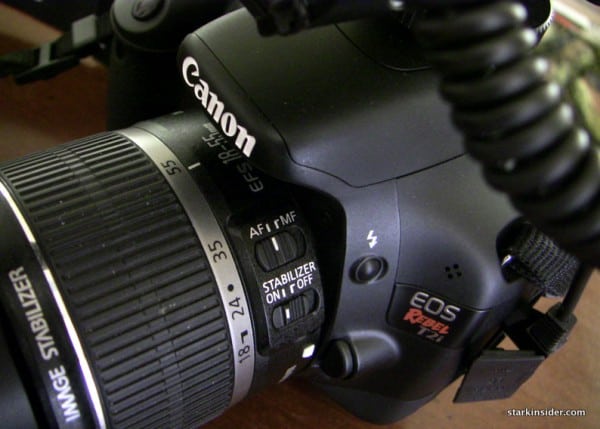 The Canon T2i EOS Rebel DSLR camera receives a best of 2010 Starkie simply because it changes the game. Released at the beginning of this year its low price point combined with many of the same lust-worthy features found in the higher end Canon 5D and 7D created a new category for aspiring filmmakers and semi-pro photographers alike.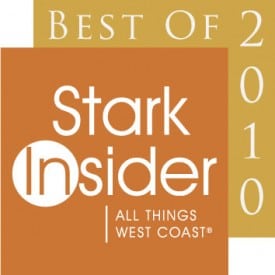 Thanks to its ability to capture crisp 1080p HD video in 24 frames per second, it quickly became a favorite among those that were seeking that vaunted "film look." And that, of course, included us here at Stark Insider where the T2i (called the EOS 550D in Europe) is found hanging from my neck almost every waking moment.
It has certainly changed the game for the segments we produce for Stark Insider TV, be it an interview with James Franco or Cheryl Burke, or an on location Napa shoot, or a behind the scenes look in the kitchen during a Michelin star dinner, or a mini-doc on Steve Wozniak and the history of computing — deep breath, plug over — the Canon T2i has been a reliable workhorse. I've even taken it down to the Baja where it faced the rugged terrain along the Sea of Cortez without a hitch.
Looking back on the year it's hard to believe we were still shooting with a Canon Vixia HF100 in January. Still a mighty fine little camcorder, it too could record at 1080p (but not true 24fps), plus it had autofocus which DSLRs have yet to achieve in video mode.
However, the T2i gave us beautiful depth-of-field when required. The battery life is pretty darn good too, although I always carry two spares (and if you plan to shoot all day you'll need many more on hand). Considering its powerful features, it remains easy-to-use. In full automatic it's the same as any point-and-shoot. Turn the dial to "M" however, and you have a powerhouse of a DSLR that can shoot 3.7 frames per second.
Stigma be gone: 2010 may well go down as the year that shooting on DSLR became perfectly acceptable in a professional context. In January I'm not so sure that was the case.
I received many a skeptical look when I showed with a T2i rig for a shoot. Less than twelve months later and I'd suggest the reverse is now true. At a recent press event at the Computer History Museum  here in Silicon Valley, DSLRs were the overwhelmingly weapon of choice, while the older video rigs such as the one CNN was carrying looked somewhat old school (but I realize they are still appropriate in many situations). Then again, maybe I'm just slightly biased. Still, marquee film directors such as Danny Boyle (127 Hours, Slumdog Millionaire) and Tom Hooper (The King's Speech) were more than eager to strike up conversations with me about using the 5D/7D DSLRs for their big screen projects.
Some upgrades worth mentioning: 32GB memory card (something you'll appreciate if you shoot a lot of video), a Rode Videomic external shotgun mic, a Canon 18-200mm EF-S lens, ND filters, and a fluid tripod. For external audio we use Handy Zoom recorders and sync in post using Adobe Premiere Pro.
Here's a few samples of what you can get expect to achieve when shooting video on the brilliant Canon T2i:
Inside Cavalia
Woz
Cheryl Burke / Dancing with the Stars

A final note: if you're in the market, also check out the new EOS 60D which has all the bells and whistles as the T2i, but adds a removable LCD viewfinder and some other technical improvements for only a few hundred dollars more. It's the one I'd get if I were in the market today.
More Canon T2i articles:
Hands On: Canon T2i with Canon 18-200mm lens (test shots, video)
First Impressions: Zoom H1 pocket field recorder
Canon T2i DSLR: 5 tips for shooting video