One of the hottest trends this year in indie filmmaking is shooting video on DSLRs. The Canon T2i is a perfect example of high end trickle down economics at work in the world of tech. Moore's Law strikes again. Under $1,000, the DSLR camera provides aspiring filmmakers (and even the pros it turns out) capability that was previously only available in far more expensive gear.
To use an over-worked expression, the Canon T2i — and DSLR video in general — changes the game.
Cullen Hoback, who directed the film Friction, told me on Facebook: "I shot a whole music vid on the beast… it's better than the $100,000 HD Varicam I shot on in 05."
On Stark Insider, we've been shooting video segments and coverage of events in-and-around the Bay Area for about twelve months now (including Edward Norton, Sam Rockwell and Annette Bening). Previously, we used a Canon Vixia HF100. While it was decent enough — shooting up to 1080p — it lacked some of the higher quality attributes many of us look for in achieving the "cinematic" film look. Ah, yes: Valhalla! Depth of field. Rich layers of color. Flexible lens set-ups.
Then came the T2i in January of 2010.
A successor to the T1i, it was a dream come true for many: 1080p at the highly desirable 24 frames per second (same as film), an imaging sensor on par with the successful Canon EOS 7D line which costs twice the price, and lots of accessories and after-market filmmaking components to make a seriously killer rig.
So we upgraded. It felt like the first step towards producing serious video (but still only twice as fun / half as smart).
Along with Premiere Pro CS5, a green screen, wireless mics, and plenty of unbridled enthusiasm we set out to conquer the world, one 1080p video segment at a time. We covered events such as Pebble Beach Food & Wine, Toast of the Town, and the SubZERO Festival in San Jose. We also shot a number of interviews in our continuing series with filmmakers, directors and actors as part of our SSC Presents segments. And we also we're "on location" for a number of shows including Peter Pan in San Francisco and the recent world premiere of Girlfriend at the Berkeley Rep.
Talk about a learning curve!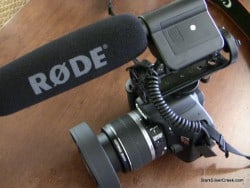 Let me admit right up front: I'm one of the last guys you should be looking to for advice on shooting video using a Canon T2i. There are many superlative examples out there on YouTube especially of guys who do brilliant stuff (Check out Andyax on YouTube, great demos of working with DSLR – apparently he's working on a feature film now).
So take these 5 tips below with a grain of salt. It's really the adventures of a guy trying to take that next step, moving from a decent HD camcorder into the world of DSLR video shooting, and what I've learned so far.
1. External audio is a must
The built-in Canon T2i audio is mono. Say no more. You must use an external device to get pro or semi-pro results. I three primary options depending on the scenario.
I use the Rode Videomic for most of our on-the-street shoots. It works surprisingly well and its 3.5mm jack conveniently plugs into the mic-in port. It's rugged, runs on a 9V battery and doesn't cost much. The Videomic may well just be my favorite all-round piece of gear — it is on my T2i about 95% of the time.
For wireless, I hook Loni up with an Audio Technica transmitter and lavalier mic (ATR 288W). It also works well. But, given the lower price point compared to professional grade systems, there is occasional static or hiss. Still, for our purposes it works well enough. For the sit down interviews, we usually used wired lavalier mics.
For real film projects, obviously you'll want something better. Capturing external audio and then syncing in post is probably the only way to go, using booms and a recorder such as the Zoom H4n which gets stellar reviews.
2. Focus and Run-n-Gun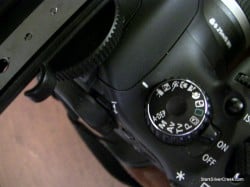 Here's one of the big differences between a camcorder and a DSLR: Focus.
A camcorder has auto-focus. You don't need to think about it; the subject is always in focus. With DSLR, you can only auto-focus one point at a time. As you move the camera while shooting video, the focus needs to be manually adjusted. You can hold the shutter half-down and re-focus while shooting video, but it creates an unusable moment while the lens grinds out the focus. For sit-down interviews where subjects are still, this is fine. Focus once, shoot away. But for run-n-gun, when I'm chasing Loni around the streets of San Francisco, for example, it creates a challenge.
For best results you should go manual focus.
That can be difficult for a few reasons. First, the LCD, while large-enough for traditional photography, is too small for getting HD focus just right—at least for my eyes. This is where an external monitor would help. Also, tweaking focus is often tricky because of the small focus rings used on some lenses (i.e. the Canon kit lens). One obvious solution is to get a better lens. Some sort of follow-focus solution would be better. These attach to the camera and provide a special focus knob to the side that, using a clever gear assembly, can adjust the focus ring.
Still, I've captured decent enough footage using a combination of auto-focus for stationary shoots, and then manual focus for some run-n-gun stuff at events (see the Star Chefs video below for example, at 8:44 I change to a 50mm f2.8 lens with manual focus).
3. Go manual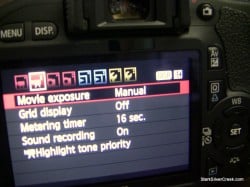 I've learned this the hard way.
When shooting video, you should adjust everything manually: shutter speed, ISO, aperture. If you don't the T2i will adjust it for you on the fly. While that sounds nice, it creates "hiccups" in the video where lighting changes, for example, as the Canon changes settings. Also, I find in low-light situations it will almost always ratchet up the ISO to max (6400) resulting in grainy video. I've learned that ISO 1600 is probably the maximum for achieving usable footage, while providing enough low-light sensitivity. Anytime you seen grain in my footage (see examples below), it's probably because I had ISO on automatic and was shooting at 6400. Now, I manually cycle it down to lowest possible setting.
Same for shutter speed. Here, I'm not quite sure what is optimal. I use 50, and it seems to work fine in all situations.
For the aperture, of course, it depends on lighting. For indoor interviews with enough lighting it's usually around 5.6-8. For outdoors, such as when we filmed atop Mount Tamalpais at an outdoor theater, I went around 10. Looking back on the footage I should have gone higher, as the footage looks slightly over-blown, washed out.
The one setting you can't over-ride is the audio auto-gain-control. Unfortunately, Canon did not include a defeat option. This means the camera is constantly adjusting gain to compensate for source volume. It can create swings in audio levels. For the most part, it has not been a problem for us. But, again, for professional film work and videos, you'll need to adopt several of the workarounds available, or, better yet, use external audio recording.
4. Stabilization
Some sort of stabilization is probably a must, even with the built-in optical stabilization on some of the lenses (which works quite well). However, do as I say, not as I do. Being the run-n-gunner, we're rambunctiously trying to get "the shot" or capture "the moment". This often means there is no time or space for a tripod, or stabilization rig. So, almost all of the samples you see below are shot handheld. Yes, I know, you can tell! It's yet one more area I need to improve upon. For sit down interviews, I use a tripod. For the handheld, I'd like to get a monopod, and/or steadicam of some kind. Part of me, though, likes the street edge feel. Especially when Loni has the Flip and I have the Canon T2i, and we cut back-and-forth; effectively a two cam shoot, for better or worse.
I find my arms fatiguing quickly these days, especially the day after the gym or a hockey game. I get the shakes. Usually at the worst times, when an interview is going well, or when I've caught Loni in an impromptu moment (like losing a shoe while talking with director Stuart Bousel at EXIT Theater in San Francisco – I live for those goofs). Embarrassingly I need to call time to rest, stretch it out for a moment. Or brace myself on a nearby structure, or place the camera somewhere. Anything to finish the job, and get back home to an ice cold beer.
5. Batteries, memory cards: The more, the better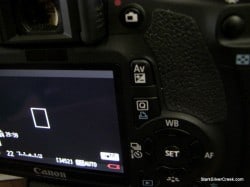 Stock up on lots of batteries and lots of SDHC memory cards. I only have three batteries, but need more. That will barely get us through a two hour event, shooting a combination of videos and photos. When shooting video constantly that number will fall dramatically and you'll end up cycling through batteries quickly. Fortunately, the cheapo $7 third-party batteries work fine. You don't need to spend $70-100 for originals. Just stock up on all the China-made ones and you should be okay, at least that's my experience.
One thing to watch for: the T2i dies fast. Once the red low battery warning comes on, you have virtually no time to swap out the battery. Be ready for that.
At 1080p, 17Mbps you can imagine this thing sucks up memory fast. With 16GB I think I get about 30 min. Twice that with 32GB. So not too bad. Get class 6 cards at least. Stick with major brands. Buy spares, and don't get stuck without enough memory to finish the shoot!
What next?
I have a theory when it comes to loading up on gear, especially when you're learning as you go. Less is more. Buy a piece. Experiment. Learn. Then move on. I believe an incremental approach is better than buying everything all at once. That way you can upgrade your rig as your skills evolve instead of overwhelming, and likely producing dodgy video.
Some evenings, over a glass of wine, I skim the forums notably DVinfo.net and dvxuser (although I'm sure there are many other good ones) and I read reviews on Amazon and B&H Photo. What to get next?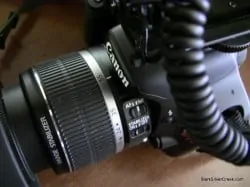 My priorities are focused on audio, image stabilization and optics. So, in that vein, I'll be upgrading our wireless audio system soon from the Audio Technica to a dual channel solution with better range and quality. For image stabilization I'm looking at some sort of steadicam. I'd like one that doesn't sacrifice portability as we work in tight spaces a lot (backstage, in dressing rooms, etc.) and can easily pack up so that we don't need a monster truck to transport the stuff. And, then, finally, the lens. The kit lens is decent, but for video man is it slow. While it might not seem like long, in the heat of the moment-like when Loni is playfully sparring with chef Michael Chiarello) I need the thing to focus faster. And better low light performance would be nice too (the Canon 50mm 1.8 is better for that but has no zoom for example).
Equipment check list
Here is a list of the equipment I've mentioned in this post that you might want to consider for your video set-up. My list never ends, of course. It not only morphs as new products are announced, but also as my neophyte skills evolve ever so slightly.
This is the Daddy! Although if I were in the market I'd opt for the EOS 60D which adds an articulating LCD screen, and slightly improved performance. If I really had my way I'd be shooting on something like a RED Scarlet… but we can all dream.
Absolutely great shotgun mic. Sits in hot shoe (but draws power from a 9V battery) and plugs into 3.5mm mic in.
Audio-Technica transmitter/receiver + lavalier ATR 288W
This is a decent wireless setup, especially considering the price. But don't expect perfection. Almost every shoot ends up with static and pops occasionally on the audio track which can be frustrating. Also, even when the recording is relatively clean, there is some hiss. Not horrible by any means, but it's there. I'd suggest considering this an entry set-up.
Canon EF 50mm f/1.8 II Camera Lens
This is a fun lens for low-light situations and for that film-like, low depth-of-field. Keep in mind images will appear close up because of the frame multiplier which means you'll need some distance between you and the subject. For the price it's unbeatable.
Zoom H4n and Zoom H1 digital field recorders
The H4n is a stellar bit of kit. A little bit big though for run 'n go. If you need XLR multi-track field recording, though, it's a strong choice for just about anything other than feature film. It's obviously still pro-am gear. For a lighter alternative, check out the new Zoom H1 which is a lightweight single track solution with 3.5mm input. (UPDATE 10/2010: You can read my first impressions on the Zoom H1 field recorder here)
Sample Canon T2i footage
This is where I begin to cringe. Please remember, this is not film here, yet. Merely event coverage. These are edited usually in half a day, most times even less. Time is of the essence (but of course), so we're not producing months long pieces. Although that may happen (and I hope it does for some projects), for now, we're mostly run-n-gun.
Inside Cavalia — this is all shot with Canon T2i & Canon 18-200mm (no b-roll) + Rode Videomic
Chef David Kinch Talks Truffles — Zoom H1 Handy Recorder for voiceover
The Rockettes — shot with Canon 18-200mm lens and Handy Zoom H1
Woz — Rode Videomic + Zoom H1, shot with Canon 18-200mm
James Franco — standard wired microphone connected to Handy Zoom H1 + Rode Videomic