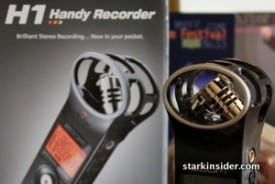 The new Zoom H1 Handy Recorder has just arrived (finally) at the Stark Insider offices. I'm not sure why it took so long as I pre-ordered it in August and was expecting it to get here on or near its September launch. Those that follow portable audio or are involved with on location video are probably familiar with the Zoom for its much-loved H4 multi-track field recorder. The H1 incorporates some of the same features (X/Y mic design), but is dirt cheap (from Amazon). Below are some first impressions, and a photo tour.
I intend to use the H1 in the field when recording video segments, mostly interviews and backstage shoots. I continue to marvel at the Canon T2i and it's never let me down yet. One glaring (and well documented) weakness, though, is its lack of audio monitoring. So if you plug-in an external mic, like a wireless mic or a shotgun mic, you'll be blissfully ignorant of audio levels. You can use earphones, but still the T2i should have on-board monitoring (and at least a few base controls).
With the H1 I can set it down to capture dual audio and then in post we can use it as necessary. If a wireless mic drops for example because of interference, my hope is that the Zoom H1 will save the day.
It can also be used as a wired recorder, capturing audio from a mic or lav. Just put the Zoom on the subject and it can record on the go. Of course, you'll need to sync later, but I've found that syncing audio in post on Premiere Pro is not all that difficult, and the results are very often worth the effort.
My biggest question about the H1 is its sound quality.
I've read mixed results online. Some say it's fantastic, especially given it's low price point. Others say it's disappointing and can't touch it's bigger brother, the H4. So which is it? I'll put the little guy to the test over the coming weeks and report back. For now, some initial impressions.
Zoom H1 First Impressions:
The Zoom H1 is very light! On the upside this will be great for tossing in to the gear bag without a second thought, but it does feel somewhat fragile (it's designed in Japan, assembled in China)
In the hand, it feels like holding a traditional audio recorder (but with space-age mic array at top).
Standard control buttons line the side (play, forward, backward, stop) and are responsive, easy to use.
It uses micro-SD memory, 2GB is included.
Micro-USB 2.0 connector facilitates file transfer using a cable.
Three slide switches on the rear for setting options: (1) Lo Cut (Off/On), (2) Auto Level (Off/On), (3) Rec Format (WAV/MP3).
Records WAV to 24-bit/96kHz for high resolution audio (57 min recording time at max quality with 2GB card).
Records MP3 to 320kbps for maximum time (13hrs 53 min recording at max quality w/2GB)
A small red LED on front indicates REC/PEAK (see photo).
It operates on a single AA battery.
Zoom H1 Handy Recorder

Buy: Amazon

Planned use: dual audio for use with Canon T2i set-up; interviews, backstage, etc.

First impressions: light, possibly fragile, feels good in the hand, easy to use, MP3/WAV recording flexibility… sound quality tests to come.
I'm still awaiting the accessory package which includes a stand, a wind sock/foam mic cover and other bits.