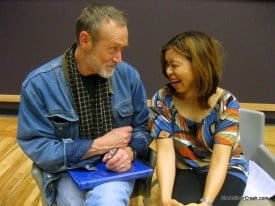 We run the risk of sounding like a broken record, week in and week out, but once again all I can say is: Go forth and conquer! The Bay Area is all a stage. Live free or die. Or, far more eloquently, James Carpenter once told Loni at an interview at Aurora Theatre, "I got my makeup off and I came out into the house, and my father walked around the corner and he was beaming with pride."
"This is live theater!" said Stuart Bousel after Loni lost a shoe and stumbled to the floor during a tour of the EXIT Theatre in San Francisco.
If you're playing catch-up, recall that the San Francisco Bay Area is the third largest theater market in the country (after New York and Chicago), and has thousands of theaters, stages, concert halls, opera houses, amphitheaters, museums, art galleries. Large (Berkeley Rep) and small (Dragon). Wide (ACT) and narrow (SF Playhouse). Funny (Improv Comedy Club) and serious (Cal Shakes). Eccentric (Circus Finelli) and outrageous (Teatro Zinzanni).
Highways 101, 880, 280, 680 are much-loved friends, opening their–newly paved in the case of 101–arms to us night after night as we trek up and back again, in search of the best the stage has to offer. And it's not just Loni and I, of course, it's the tremendous contributions we receive from those that are also passionate about supporting theater and the arts: Cy Ashley Webb, Patricia Reardon, Eugene Lee. My eternal gratitude for helping to make it possible for an independent web publication like SSC to expand and cover more Bay Area venues.
On with the weekend. Get out your pencils and favorite stationary. Here's what's happening this weekend in the Bay Area. And if I've missed anything, well then, someone will get the boot. But, I'm reformed, and promise that it won't be a cat this time.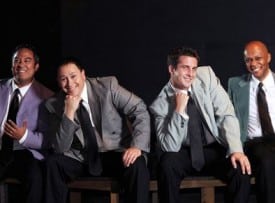 Smokey Joe's Cafe
Bus Barn Stage Co, Los Altos
Opens: September 3
Smokin', sizzlin' or scorchin' – this tribute to the talented twosome of Jerry Leiber and Richard Stoller is a summer stroll through a legendary catalog of rock 'n' roll songs – 42 songs in all. Memorable melodies such as "Stand by Me," "Poison Ivy," "Hound Dog," "Jailhouse Rock," "Love Potion #9" and "On Broadway" are just a few of the great hits in this vibrant and nostalgic musical revue. Get out of the September heat and come into the heat at Bus Barn with the jukebox musical that was the most acclaimed of 1995 and nominated for the Tony Award for Best Musical!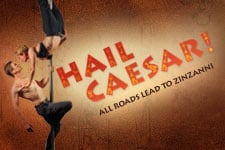 Hail Caesar!
Teatro Zinzanni, San Francisco
Now Playing
Set along San Francisco's historic waterfront, Teatro ZinZanni is a bewitching evening of European Cabaret and Cirque, Divas and Madmen, Spectacle and Sensuality with Live Music and a Gourmet Five-Course Dinner – set in the nightclub of your dreams!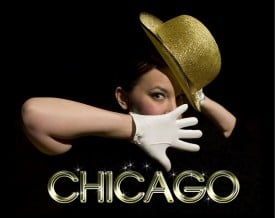 Chicago
Hillbarn Theatre, Foster City
Opens: September 3
In roaring twenties Chicago, chorine Roxie Hart murders a faithless lover and convinces her hapless husband Amos to take the rap…until he finds out he's been duped and turns on Roxie. Convicted and sent to death row, Roxie and another "Merry Murderess" Velma Kelly, vie for the spotlight and the headlines, ultimately joining forces in search of the "American Dream": fame, fortune and acquittal. This sharp edged satire features a dazzling score that sparked immortal staging by Bob Fosse. Chicago won six Tony Awards!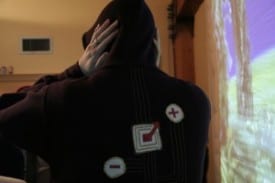 Project HoodiePlay Workshop
01SJ Biennial, CFC Media Lab, San Jose
Monday, 9/6/10, 2pm-7pm
Wednesday, 9/8/10, 2pm-7pm
Do you have a favorite hoodie? Are you thrilled by cutting-edge technology and ideas that you can create yourself? Do you love to play outdoor street games with large groups of people? We will instruct you on how to incorporate electronics into your hoodie so that you can create your own signature interactive hoodie. The finale of the workshops will take place at AbsoluteZER0's evening street festival on Friday, September 17 where participants will battle it out in a giant game of zombie tag with an interactive twist.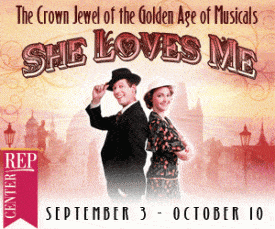 She Loves Me
Center Repertory Theatre, Walnut Creek
Opens: September 7
The Center REP cast includes Kelsey Venter as Amalia, the new clerk in the Budapest shop who is often at odds with the manager Georg, played by Ryan Drummond. As each describes the "Dear Friend" of their affectionate letters, the audiences realize the two are matched as pen pals before they do.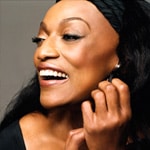 SF Symphony 2010 Opening Night Gala with Soprano Jessye Norman
Davies Symphony Hall, San Francisco
When: September 7
The incomparable soprano Jessye Norman joins MTT and the San Francisco Symphony to open the season in spectacular fashion. Revered around the world for her sumptuous sound, her joy of singing, and spontaneous passion, she joins the Orchestra in quintessential American repertory, promising an unforgettable beginning to a memorable season.
Sip complimentary sparkling wine amid the sparkle and glow of Davies Symphony Hall's grand lobbies during the pre-concert Promenade. Following the concert, continue the celebration at two after-parties with complimentary cocktails, savories, live entertainment, and dancing.
Proceeds benefit the San Francisco Symphony's education and community programs, providing music education to more than 75,000 Bay Area children each year.

Black Pearl Sings!
San Jose Repertory Theatre
Opens: September 8
Susannah, a white, driven ethnomusicologist for the Library of Congress, is about to find out in her quest to find authentic, pre-slavery, African-American music. When she encounters Texas prisoner Pearl Johnson, an unlikely partnership develops between the street-smart Pearl and the ambitious Susannah. It isn't long before Pearl is belting out radiant, soul-baring songs with the strength and beauty of the unaccompanied human voice. These vocal artifacts remind us of the power of music to help heal in the struggle between our collective past and the desire for individual histories. Does our past define us, and at what cost?
Now Playing
The Light in the Piazza, TheatreWorks
Trouble in Mind, Aurora Theatre Company
The Fantasticks, SF Playhouse
Macbeth, California Shakespeare Theatre
Dreamgirls, SHN San Francisco
Disney's Aladdin, Berkeley Playhouse
San Francisco Mime Troupe
Send your news, calendar listings and story ideas to press@starkinsider.com. Don't forget to follow us @StarkInsider and like us on Facebook for the latest in SF Bay Area Theater, Arts, Food, Wine, Tech… and maybe even a blooper or two.
SSC – "Twice as fun / Half as smart."