Allegory lives! Once again, SF Playhouse pushes the boundaries. If you think there's no way a musical production such as The Fantasticks could possibly be staged in such a small space, you'd be wrong. Artistic director (and director of the show) Bill English once again demonstrates that good things do come in small packages. While possibly my least favorite production of their season (allegorical 1960s fables just don't do it for me, baby), it's sure to please fans of the original and anyone in the mood for a love story with hints of Shakespeare and a bendable fourth-wall.
To a generation, The Fantasticks is timeless; there's a reason why it's the longest running musical in history with an astonishing 17,162 performances over its original 42-year run. It's a cautionary tale about love, unpredictable human nature, the harshness of life, and, certainly, poetic and creative license. A simple story told in a fantastical manner and with some catchy tunes courtesy of Harvey Schmidt, it does indeed stand the test of time.
Someone who plants a garden is a very happy one!
This is the first musical I've seen at SF Playhouse. And I wondered: how would the relatively low ceilings and lack of microphones impact the singing?
It turns out, not one bit.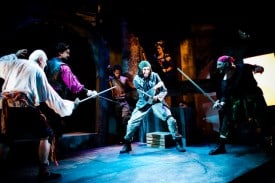 The songs are one of the highlights of this occasionally uneven production. Voices are clear, vibrant; especially Sepideh Mafi (as the love-smitten daughter Luisa) who's soprano had a particularly pleasant and smooth tone. I had last seen her at San Jose Rep's re-imaging of As You Like It and was equally impressed then. An upright piano, restored amidst a world devastated by ecological disaster (looking very much post-apocalyptic, see Escape from New York), provides an upbeat and, at times, a surprisingly effective accompaniment to the performers. Although I wasn't quite sure how the almost green scenario fit into the story, it did, however, make for an intriguing, brooding set, in a Mad Max sort of way.
Plant a carrot, get a carrot.
Performances are decent, with a few less convincing moments. Ray Reinhardt, as the over-the-top Shakespearean actor was a crowd favorite. Popping up from below, he sauntered, gleefully delivering classic lines. Later he entertains as a would-be Captain Hook. Equally amusing were the extended death scenes. What's not to love about a slow, funny, Monty Python-like death? Yusef Lambert dies at least once thanks to an imaginary arrow that he yanks at, pulling in and pushing out, until about 10 minutes later, he finally takes his last gasp. Tarek Khan even pauses his death sequence for a moment to take a shot. What flare!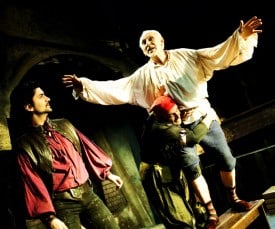 Another highlight is the scene when Jeremey Kahn as lost love Matt gets a does of reality. He takes the brunt of a harsh world round and round; beaten to submission, set on fire, and almost torn to bloody shreds. Lover Luisa looks on in a dreamy state, while a feathered mask distorts her view of the savagery.
It depends on what you pay.
Watching The Fantasticks, I was reminded of the good work Stuart Bousel has done in Giant Bones which played earlier at EXIT Theatre. A clever assembly of Peter Beagle's work, it shares a lot of the same allegorical, fourth-wall story-telling style combined with mystical and psychedelic elements.
If you like The Fantasticks, then you're in for a treat. If you prefer contemporary, less-generational material, or theater sans psychedelic 60's styling then it could be a long evening.
The Fantasticks
SF Playhouse
3 out of 5 stars
By Tom Jones and Harvey Schmidt
Directed by Bill English
Starring Joan Mankin, Ray Reinhardt, Yusef Lambert, Norman Munoz, Louis Parnell, Sepideh Moafi, Jeremy Kahn, Tarek Khan
Through September 4, 2010