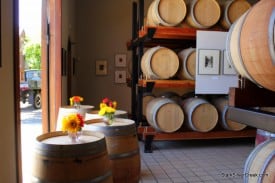 On occasion I like to "make the rounds" – surfing the Internet for the latest headlines on a specific topic. Focusing allows me to dig deeper and get in the zone, as opposed to hopping randomly, as the Web is so enticingly designed to encourage, for better or worse.
Saturday mornings are perfect for exploring wine; the weekend is kicking-off, small planes buzz about next to the foothills here in San Jose, and I'm already envisioning my post-show glass of wine, later tonight in the backyard, hopefully capping a fruitful Saturday. Tonight the show is a children's production, Disney's Aladdin, at the Berkeley Playhouse.
Wine is one of those subjects that encompasses a diversity of writing styles, perspectives and opinions. Unlike tech news and coverage, prose tends to be more colorful and the stories… well, they can be grand and tall.
My least favorite style of wine writing is the cliche-ridden use of sexual overtones. You know: I felt a tingle in my thigh as the Pinot romanced me with its velvety panache. What a gentleman! Oh, please. In my best Ed Grimley voice I say, "Give me a break I must say." For those that like to have sex with wine, I salute you. For the rest, the written world of wine is thankfully more grounded.
So here are some of the top stories that caught my eye this Saturday morning.
Making sense of restaurant wine lists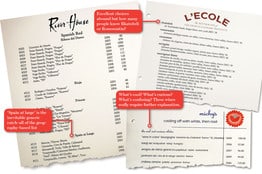 Lettie Teague of the Wall Street Journal describes a dream restaurant list in her latest article. She writes, "There are shortcomings to every kind of wine list and certain compromises must always be made. And yet, I can think of a few changes that could easily improve each type of list. For example, lists that emphasize geography should contain maps. If the place where a wine is made is important, it should be illustrated somehow."
Lettie highlights A16 in San Francisco as one of three examples of a wine list done right.
Full story: Building a Better Wine List
Wine in vending machines
This story, about machines that sell bottles of wine in Pennsylvania, has been circulating for a while. There is plenty of controversy. But I wonder why; isn't buying a bottle of wine from a machine easier than dealing with a sweaty teenager?
We called it the "Napa-matron" in an article covering the story: Big Brother selling wine in Pennsylvania. For more, you can watch the video below to see it in action.
Given the state's strict alcohol laws, it will be interesting to see if: (a) consumers take to buying wine from a robot; (b) the idea spreads across the U.S.; and (c) anyone outside of PA really cares.
Can Petite Sirah become the next Pinot Noir?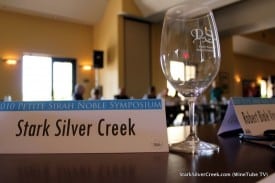 This was the question asked at a recent wine symposium in Livermore, California. The "families" as I called them arrived to discuss the little grape that could: Petite Sirah. What to do? Will consumers ever accept the bold, inky little guy?
Apparently so enamored with the topic, I wrote about it twice:
And others have also covered it with some insightful articles. Here are a few of the top ones:
Eighth Annual Petite Sirah Noble Symposium by Ken Payton (Palate Press)
Laura Ness: Some delicious petite sirahs are out there (The Californian)
Petite Sirah Stars at Symposium by Jon Bjork (Lodi News)
Did Brad Pitt send wine to Julia Roberts?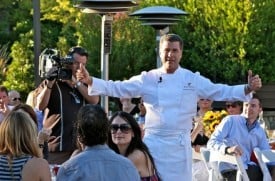 You got to give the guy points for taste. And possibly style to. I don't normally (ever) write about celebrity culture, but it was just too funny to go unnoticed. Whether Brad Pitt was merely celebrating the completion of the film which he produced, or was sending Julia Roberts overtures, is immaterial because the headline is what it's all about, no?
Also, for fans of Napa, the story also has a connection to friend of SSC and celebrity chef himself Michael Chiarello who treated the cast and crew to a gourmet meal replicated from the film at his new (and well-regarded) Napa restaurant Bottega.
Walla Walla… once more for the record…
Ah yes, misunderstandings. They are so amusing.
So, one last time, for the record, people of Walla Walla:
Stark Insider (us)… we're twice as fun, only half as smart.
It's us. Not you.
Walla Walla may, or may not be: "Twice as Fun / Half as Smart." That's not for us to say.
For all I know WW is twice as fun AND twice as smart. Or maybe they don't quite get innuendo and self-deprecation. It must be a Bay Area thing.