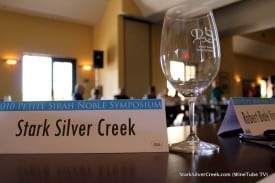 "The best bottle of wine is an empty one." And with those prescient words from Jim Concannon, the Godfather of wine (at least on this day) who presided with his son Jim at the head of the table, the "family" began discussing business. Fortunately I was there, and spent the day in one of my favorite places, Livermore, at Concannon Vineyards for the annual "PS – I Love You" symposium.
The symposium is all about the little grape that could: Petite Sirah. In its 8th year, the event brings out winemakers and industry folks from across Livermore, Napa, Sonoma, and also up to Mendocino, and seemingly just about every other place (e.g. Fair Play) interested in the mysterious varietal that delivers that oft-feared wallop of tannins and assertive fruit. All while asking, "Don't you like it inky?"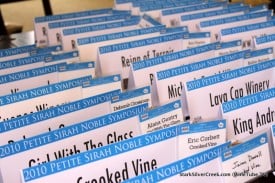 Concannon hosted for the second straight year, which feels historically (and visually) right. In 1961 Jim Concannon took the grape that was typically used in popular Burgundy blends and set a small lot aside. It was then released as the variety "Petite Sirah."
Throughout the morning there were four compelling sessions on everything from terroir (not to be confused with terror) and marketing, to enology and viticulture.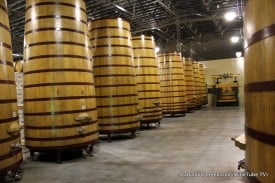 Dr Vino, author Tyler Colman of New York, kicked-off the day with a keynote ("Can Petite Sirah Become the Next Pinot Noir?") that touched on new media case studies (including, of course, flavor of the month: Old Spice!), wine drinking trends, and, also, "Criticism 2.0," a look into the crystal ball of wine ratings and influence. Are we indeed moving away from the all-mighty "hand-down of the score" to a new era centered around discussion and peer reviews (perhaps—dare I suggest—almost like Yelp)?
At one point, a slide show of vineyards presented by a proud winemaker reminded me of baby photos. Vines, with weeds undercut, standing proud and tall, 8 x 8. What cute faces!
More to come on all of this, including a summary of the sessions, with my analysis; for better or worse. While I'm not one to argue over matters of canopy or vine management–I'll leave that to the qualified–I do like to chime in on some of the new media aspects, including discussions around consistency of wine judging, marketing, and the future of wine criticism. Plus, let's not forget there were 45 producers on hand, pouring their PS hearts out.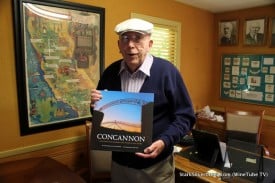 There were many highlights in this event that was, once again, well-organized by Executive Director Jo Diaz, and chaired by current President and fourth generation vintner, John Concannon. One of them was meeting the Godfather himself, Jim Concannon. A thrill for me. There's a long tradition in Livermore. And there are so many fabled families and figureheads, including the Wentes too. Momentarily, I felt like Christopher Walken in The Dead Zone; shaking hands electrified my senses with history, family, place and time. Turn of the century! Early vines! Prohibition! Expansion!
Then Mr. Concannon, adorned in a classic flat cap, said to me, "I just love all Canadians." We talked hockey, the history of Concannon, his new wine bar (hey, he's the ultimate sales guy at heart no?). All of this while standing in the original office where his grandfather pioneered the early days of a wine region that begs for re-discovery.