Looking for something to do this weekend? With the nice weather finally approaching, now's the perfect time to head to your favorite local theater house. No, not Avatar my friends, I'm talking about the stage… as in live, heart-pumping theater. There are several new shows opening this weekend up and down the peninsula. Plus there are a bunch more still playing.
Don't forget to check out and bookmark the SSC Bay Area Theater Guide for all the latest headlines, announcements, reviews, stories. A silly video or two with Loni on location is just icing on the cake, or the next best thing to a root canal. Just sayin'! Don't shoot the messenger. You can also follow SSC on Twitter and fan (like) us on Facebook to get all the latest zapped directly to your social media neurons.
Now onto this weekend's starting lineup, brought to you by your favorite local sushi restaurant.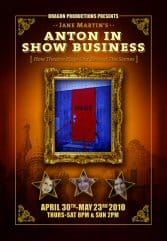 Anton in Show Business
Dragon Theatre Company Productions, Palo Alto
Opens: Friday, April 30
Anton in Show Business brings together three mismatched actresses, cast in New York City for an ill-fated Texas production of Chekhov's The Three Sisters. Life reflects art in this award-winning comedy where uproarious comedy and wild antics abound in a behind-the-scenes peek into those five magical words: "Let's put on a show!"
Also, congratulations to Dragon for their 10th anniversary! Quite a feat, and a real plus to the arts scene in downtown Palo Alto.  Join the celebration with a special event on Sunday, June 6 at 3pm which will also include a silent auction.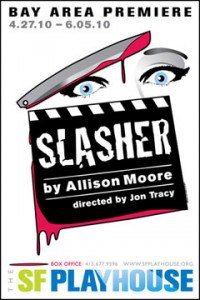 Slasher
SF Playhouse, San Francisco
Opens: Saturday, May 1
When she's cast as the "last girl" in a low-budget slasher flick, Sheena thinks it's the big break she's been waiting for. But news of the movie unleashes her malingering mother's thwarted feminist rage, and Mom is prepared to do anything to stop filming…even if it kills her. The new play was the hit 2009's Humana Festival. You will laugh…until you scream!
If you've been following the SF Playhouse Facebook fan page then you'll know to expect some wild sets on this one!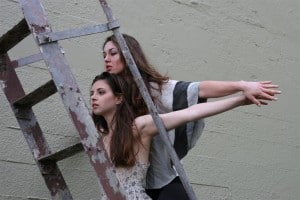 TERRORiSTKA
Threshold" Theater on the Verge, Berkeley
Opens: Sunday, May 2
TERRORiSTKA tells the true story of a young Chechen woman who attempts to flee her war-ravaged country by joining a rebel faction that trains her as a suicide bomber. As the play tracks this woman's journey from the Caucasus mountains to the crowded streets of Moscow, it contemplates her passage from innocence to menace and finally to an understanding of her own tragedy. On a broader scale, it examines how young people can become entangled in violence and enable the conflicts that destroy their lives. This expressionist drama is an important examination of the psychology of suicide bombers, as well as a serious meditation on women's involvement in war. In light of the recent tragic subway bombings in Moscow by two Chechen female suicide bombers, this play's subject could not be timelier or more urgent for us to address.
Still Playing
Rent by Palo Alto Players (review)
Steve Silver's Beach Blanket Babylon at Club Fugazi, San Francisco (review)
Teatro Zinzanni, San Francisco (review)
An Accident, Magic Theatre, San Francisco (review)
Dirty Blonde, The Stage, San Jose (review)
Sandy Hackett's Rat Pack Show, Marines' Memorial Theatre, San Francisco (review)
Girlfriend, Berkeley Repertory Theatre (review)
To Kill a Mockingbird, TheatreWorks, Mountain View (review)
John Gabriel Borkman, Aurora Theatre Company (review)
Latest Interviews

SSC Presents: Robert Kelley, artistic director TheatreWorks Palo Alto
Don't miss our talk with one of the Bay Area's most respected and influential figures in theater today. Robert Kelley sits down with Loni Kao Stark for a special episode of SSC Presents. Don't miss it! Link to video.
SSC Presents: James Carpenter
Everyone's favorite Scrooge, and one of the best actors around, James Carpenter talks theater, auditions. You may even hear his famous voice from Trevor Allen's The Creature. Good times. Link to video.