Fine dining with a twist. Yes, indeed, the brochure has it right. And what a twist… or twists would be more like it. Teatro ZinZanni is part cabaret, part circus, part improvisational comedy. All together, it's a wild evening of non-stop entertainment.
When the four-hour evening came to a rousing close last night at Pier 29 in San Francisco, I couldn't help but feel like I'd been struck by non-stop sinuous waves of cirque, exhibition and thrills. It was easy to forget there was a 5-course gourmet meal served, what with all the hub bub, laughs, and physical feats.
Of course this is the type of show that is engaging. Anyone—especially bald men—seated at a table close to the center of the colorful tent (imported from Belgium) is sure prey for any of the 10 featured performers.
On this evening, a special 10th anniversary performance of an institution the city has embraced, Cal (from the older, quiet table) and Toby (from the younger, party table) were unwitting, but very sporting participants from the audience.
Imagine having a very large woman with pointy breast cones (purchased from Target…) nicknamed Voluptuous Panic bearing down on you.
"This show has more cleavage than Peter Pan," she extorts with a thick German accent.
Oh, did I mention this is an adult show? Imagine Cirque du Soleil without the Disney-like element. Half dressed performers ooze sexuality with equal amounts of acrobatic prowess. Through the course of the night we get a bit of everything: Clowns, a Chanteuse, fabric act, Spanish web, straps.
And my favorite: Vita, the hottest contortionist and hoola hoop performance I've ever seen. This was one talented Ukranian performer that pretty much had every single man mesmerized by her every voluptuous, sinuous move. Hot. And reason enough to see the show again.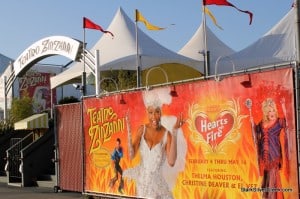 This is the kind of show that almost feels like it should be followed by a high-speed Ronin-like car chase in silver Audis up and down the streets of San Francisco. Or, perhaps, it would be a good setting for a Tarantino movie. In another life, you might've even seen Sean Connery as James Bond here swinging with a wide-eyed gypsy woman, looking at his watch before a bomb detonates somewhere in the distance. Yes, the imagination does fly on an evening at Teatro ZinZanni.
The five-course meal (by Taste Catering) was very good; especially when you consider the commotion taking place. Each course is preceded by a performance of some kind. Even the salad ("Salad!") was introduced with lavish fanfare. Later, the main courses (Choice of Ancho Rubbed Spring Lamb Sirloin, Herb Marinated Roasted Chicken Breast or Porcini Wild Mushroom Farro Risotto) are served with mucho gusto: performers remove the tops and clang them in celebration, while dancing across the stage. It's fun just watching the reactions of those seated around us.
Loni and I enjoyed a bottle of '06 Buena Vista Pinot Noir ($52) that suited the evening perfectly. It's worth noting the drink menu is extensive. There is something here to please everyone, from beer and wine, all the way to zany cocktail creations sure to please those in the mood for some excitement.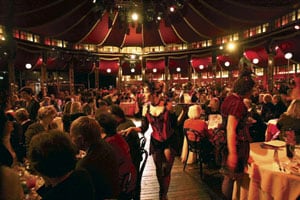 The audience was having an over-the-top good time. Not only was San Franciscans out in full force, they adorned all matter of dress, from flamboyant gowns, to colorful, throwback get-ups. A couple from Saratoga sharing our table was back to see the show after 10 years. They told us it changes up on a regular basis, making almost every performance unique.
Face painting, and opportunities for photographs adorn the antique lobby which is anchored by a large, well-stocked bar at center. Later, in the tent, we'd all get our groove on thanks to an energetic Studio 54 transformation that transformed the place into a giant disco party, as Grammy-award winner Thelma Houston strutted her stuff.
Because this was the 10th anniversary celebration, the show had some special touches on this particular evening. There was a silent auction, as well a spirited, live auction mid-way through. These were welcome breathers. You could take a deep moment, sit back and enjoy some wine and conversation with other couples nearby.
Also, Joan Baez was a special guest. The 1960s folk singing sensation still has a wonderful voice. She performed several numbers, and even danced with a mysterious, Phantom-like gentleman (Yevgeniy Vornin).
My only beef with the evening is a minor nit: At least one the audience participation numbers ran too long, and waned. I enjoyed the spontaneity and unpredictably for the first 10 minutes, but the show could have maintained its high tempo by moving on sooner. But worry not, though, because once it does get going, you're in for quite the ride.
Tickets start at $117, and range to $167 depending on how close want to get to the heat. Don't be surprised if a performer even borrows your tabletop for a moment or two. It may seem pricey at first, but when you consider it includes a gourmet dinner, plus over three hours of entertainment, it's actually reasonable. The bonus is a searing memory that should last for a lifetime.
A non-profit organization, Teatro ZinZanni also offers a summer camp for children from 9-16 years old, called Camp ZinZanni that teaches the basics of circus skills. On the last day of each camp, a student presentation for family and friends is held under the red velvet spiegeltent.
Teatro ZinZanni is outrageous cabaret; modern, yet antique at the same time, that respects and showcases the best in acrobatics and cirque. It's something that's ultimately easier to experience than describe. And that's largely the point. Hard to resist, and easy to recommend.
Teatro ZinZanni
4.5 out of 5 stars
Wed-Sun evenings