Summer love. Baseball. Drive-in movies. And music—plenty of it. Berkeley Rep might be onto something. First with the white hot, soon-to-open on Broadway American Idiot musical powered by Green Day and now Girlfriend set to Matthew Sweet's 1991 album of the same name, the Rep seems to be perfecting the formula of album-turned-musical.
Although comparisons are inevitable, the two productions could not be further apart in presentation. Both do share something in common, however: They wildly entertain.
But where American Idiot is a thundering, chaotic exhibition with raw energy and nihilistic tone, Girlfriend feels unplugged by comparison and sweet (pun intended). Character development is also much stronger, owing largely to the fact that we spend the entire show with just two characters, dreamy romantic Will (Ryder Bach) and conflicted jock, Mike (Jason Hite).
The boy-meets-boy story is told from Will's perspective and we gain access to his thoughts through humorous monologues and when he addresses the audience directly. He quickly wins us over with his quirky thoughts, ramblings about love, and, of course, his desires for Mike. Unfortunately Mike has a girlfriend, although she's conspicuously absent.
My life finally became the musical I always thought it was!
A drive-in outing between two "friends" evolves into another outing (to the same Nun-superhero movie!), and then another. The fact that the movie is nonsensical to Will is irrelevant as he can spend time with Mike, trying to get him to open up. Eventually, thanks to their love for music and a certain Matthew Sweet record, love blossoms. Complications ensue, though when Will learns of Mike's intent to leave town to become a brain surgeon, which would please Dad.
11 songs by Sweet drive the production and are well matched to the particular scenes: At times rocking, at others soft and dreamy.
Thanks to strong vocals and excellent harmonies, both Ryder Bach and Jason Hite shine in their roles. It is pure joy to watch the two perform the songs.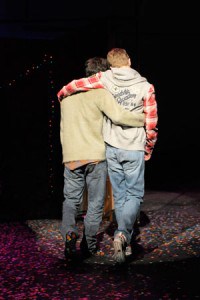 A four-piece band (Julie Wolf, Shelley Doty, Jean DuSablon, ieela Grant), hanging out in the back in what looks like a basement rec room with wood paneling, add punch and backing vocals without distracting from the the action on stage. The flow is relaxed and easy. Before you know it, we're swept up in the angst of young romance. I know this because Loni on multiple occasions—notably during romantic numbers—would look up to me with a love-torn, wide-eyed doughy look. Not sure if it was for me necessarily. Probably more a result of the melodic, smooth voices filling the Thrust Stage.
Being a brain surgeon is like saying you want to become a pirate.
I don't know much about Matthew Sweet. I do recall purchasing his 100% Fun CD years ago, but never really listening to it. Going into Girlfriend I wasn't sure what to expect. Yes, call me naive on this count (and others). When I ran into Ryder's father in line during intermission, after discussing the merits of Rode mics, he gave me a quick history lesson: Matthew Sweet was the power rock/pop guy. Embarrassing to say, several trips to Google and Wikipedia are in order.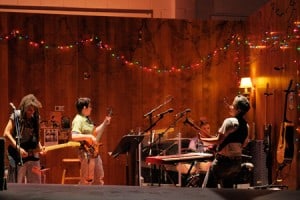 Loni and I both agreed the music was fantastic. As was the choreography. During several songs, there are playful antics, hand gestures, and dancing that add to the fun. "Okay, now sing like an Opera singer that is near death!"
I now feel compelled to dig out that 100% Fun CD, and head to iTunes for Girlfriend, and put them into rotation. Not sure if they'll last as long as American Idiot, but I'm sure Loni will welcome the change. But, still, please enough with those damn fireflies, no Owl City.
The set is dead simple, but also strikingly effective. Once again, I'm amazed at the creativity that designers can inject into minimalist sets that accentuate enjoyment of a show. The lighting in the drive-in scenes is clever, as is the old school lighting rigs at the baseball park.
If you ever wondered what to do when confronting a Satanic Barn, you'll learn in Girlfriend.
One thing that didn't feel quite as good as everything else: The ending. It felt a little rushed, a little too neat perhaps; especially considering how strong things started in the first act. There was at least one, maybe two, jarring turns that could use some breathing room, and at least one in-between monologue to make what follows seem more genuine.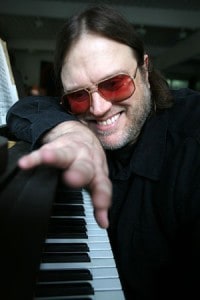 When the lights dimmed, and the guitar licks faded for the last time, the crowd was extremely enthusiastic, even rambunctious, with a rousing standing ovation throughout the house. Perhaps the biggest I've seen since, well, American Idiot. You just can't but smile when walking out of Girlfriend. It's an inspired, fun evening of musical theater.
Girlfriend
Berkeley Repertory Theatre, Thrust Stage (Limited Season)
4.5 out of 5 stars
Book by Todd Almond
Music and Lyrics by Matthew Sweet
Choreography Joe Goode
Directed by Les Waters
Starring Ryder Bach, Jason Hite
Band: Julie Wolf, Shelley Doty, Jean DuSablon, ieela Grant
Through May 9, 2010

Song List

I've Been Waiting
Reaching Out *
Winona
Looking at the Sun
Girlfriend
We're the Same **
Sick of Myself **
Evangeline
Your Sweet Voice
You Don't Love Me
I Wanted to Tell You

All songs are from the album Girlfriend except:
* From Altered Beast
** From 100% Fun