Indeed James Carpenter does make for the perfect lone wolf. Howling at the moon, so to speak, and trying to convince anyone that will listen to his delusional rants, he truly believes he was—and is—a savior in Aurora Theatre's John Gabriel Borkman. He's equally brooding and charismatic. And, as always seems to be the case with Carpenter, imminently watchable.
As the title character, he wants to spread happiness to the people. Supposedly, they are asking him for it. Oh, never mind the fact that, like a Bernie Madoff well before his time, he bilked everyone around him in a ponzi scheme. Although if you'd believe Mr. Borkman, he needed "only 8 more days" before everyone would've got their money back. Say it ain't so.
Possibly on the bright side, his disenchanted wife Gunhild (Karen Grassle) wants to see to it that their son Erhart (Aaron Wilton) keeps the family name despite the shame. Twin sister Ella (Karen Lewis) has other plans.
Mutual deception. The essence of friendship?
With John Gabriel Borkman, Aurora stages yet another deliciously, multi-layered production and continues a season (Awake and Sing!, Fat Pig, The First Grade) that can only be described as wildly entertaining.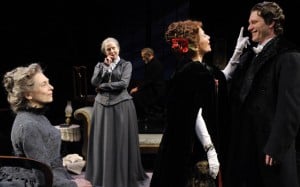 Before our very eyes James Carpenter is utterly consumed by Borkman and once again reaffirms his standing as one of the Bay Area's preeminent stage actors. Even when he fades to the background, you can't help but watch every fascinating movement; he's a self-possessed man chasing an impossibly deranged dream. Yet, somehow, we feel compelled to feel sadness and compassion for him. Carpenter is pitch perfect in his ability to capture haunting loneliness, stoic resolve and psychotic entrepreneurship.
Fortunately the  supporting cast is also up to the task. All are compelled and yet drawn to the enigma; footsteps from the apartment above constant reminders that Borkman is still there, even eight years after being caught, tormenting himself and others in a ceaselessly downward spiral of pity and contempt. Can he summon the courage to start-over from the ground-up, and re-invent himself, or are the financial sins of the past a forever cloak of despair?
"We all get run-over sometimes!"
Vilhelm Foldal (whimsically played by a spectacled Jack Powell, with just the right amount of incredulity), a struggling poet, is one of the only people who climb to the top for a visit with Borkman. The meetings can be frustrating and perplexing.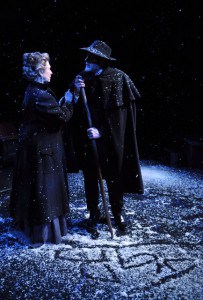 Pamela Gaye Walker also delivers the goods, in a wicked turn as a 19th century cougar of sorts, wooing young Erhart to escape the family melodrama by sled on a snowy winter's evening.
The lighting (York Kennedy), set (John Iacovelli) and costume (Anna R. Oliver) designs are all top notch. This is a period piece, and it's told with visual elegance: warm and dim lighting, lingering shadows, and rich wardrobe. It's impressive how vibrant this world feels on such a minimal set.
Some of the opening scenes, which do help set-up later drama, occasionally feel long and the on-going feuding between the twin sisters can get repetitive. Another nit: there is ample opportunity for JGB monologues that is never realized. Too bad, they could have revealed more of his mind-set, and helped us to understand the world from his perspective (however disturbed), in addition to the the domestic disturbances.
Thanks to Henrik Ibsen's intriguing (and clairvoyant) script and an update by David Elridge, we're not schooled in the tactics of fraud. Instead, we're witness to its impact on family and psyche. That perspective gives the play an interesting dimension, preventing it from becoming just a black-and-white cautionary tale.
John Gabriel Borkman
by Henrik Ibsen (new version by David Eldridge)
Aurora Theatre Company, Berkeley
4 out of 5 stars
Directed by Barbara Oliver
Starring Karen Grassle, Lizzie Calogero, Karen Lewis, Pamela Gaye Walker, Aaron Wilton, James Carpenter, Jack Powell
Through May 9