That didn't take long. Loni and I wondered where and when 'The Kite Runner' production would next surface. The world premiere here in the Bay Area at the San Jose Repertory Theatre company was a smash hit. The story, of course, is based on the wildly successful novel by Khaled Hosseini (now living in the Silver Creek area of San Jose… small world!).
I just found out that the Arizona Theatre Company will be staging the show from September 10 to October 25. I know it's not Bay Area news, but I'm pleased to see this fine quality material reach extended audiences. Given that a major portion of the story takes place in Fremont and other Bay Area locales, and that Hosseini is a Bay Area native makes it feel as if our home team is going on a road trip.
Those who didn't get a chance can read our review of the show here on SSC.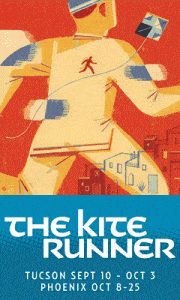 Also, 11 cast members from the San Jose production will reprise their roles with ATC, including the talented and good-spirited three that we interviewed in our StarkSilverCreek Presents series. They include: Barzin Akhavan, Craig Piaget, Lowell Abellon, and eight others mentioned in the release here.
The show will be again directed by David Ira Goldstein who pulled off a great debut here. This all makes sense since David is the artistic director at ATC.
Arizona theater fans: you're in for a treat. Enjoy the show, and please tell us what you think!
THE KITE RUNNER

Review:

Stark Insider Presents:
INTERNATIONAL BESTSELLER THE KITE RUNNER TAKES FLIGHT ONSTAGE AT ARIZONA THEATRE COMPANY

The haunting story of betrayal and redemption comes to life in an epic Southwest premiere

08.20.2009 – Imagine a story so powerful that it becomes an international sensation and touches millions of people across the globe. The Kite Runner, based on the novel by Khaled Hosseini and adapted for the stage by Matthew Spangler, tells a deeply moving story of life in Afghanistan and America that is epic, tragic, loving and inspiring. The Kite Runner, directed by David Ira Goldstein, plays in Tucson at the Temple of Music and Art from September 10 through October 3. It continues its run in Phoenix at the Herberger Theater Center from October 8 through October 25. The Kite Runner is sponsored by Bill and Shirley Estes, Wells Fargo, Blue Cross Blue Shield of Arizona, and contributors to the "Jessica L. Andrews Tribute Fund." Arizona Theatre Company's season underwriters are I. Michael and Beth Kasser.

The Kite Runner is the story of two boys, Amir and Hassan, growing up in Afghanistan in the same household, but in two starkly different worlds. When the innocence of the boys' childhood is confronted with the brutality of prejudice and hate, Amir begins a journey of self discovery and enlightenment. His journey will take him on a perilous journey to a new home in America. But a cry for help from on old friend calls him back to Afghanistan, where fate and global politics threaten his ability to make amends for his past. A bracing look at the human face beneath the headline news, The Kite Runner is a powerful story of friendship, betrayal and redemption.

"When I wrote this book, I thought it would find its niche, most likely among readers who had an interest in the Middle East and Central Asia. I never expected this story to make the impact that it did," said Khaled Hosseini, author of The Kite Runner. "Over the years, the story has continually confounded my expectations and expanded its readership. Again, I think it had to do with the universality of the themes. No matter where you are born, what language you speak or what religion you practice, there are human experiences that bind us all, and The Kite Runner speaks to those experiences."

The Kite Runner combined with its muscular and poetic language make it a natural for the stage," continued artistic director David Ira Goldstein. "Like all the best and most beloved stories, it has universal reach and resonance precisely because its richly human characters are so rooted in the specifics of a time and place that few of us have experienced. The characters in The Kite Runner all struggle with the most basic of human emotions: love, envy, fear, joy, guilt. In Amir's struggles we all recognize our own failings, and in his redemption we discover a hopeful way forward."

"Its epic structure, its powerful moments of high drama and its engaging characters make this an ideal story for live performance," states playwright Matthew Spangler. "I fell in love with the book and knew right away that it would make an excellent play."

"The challenge in transforming the novel to the stage is to honor a book that is so beloved by so many, while focusing the story into its essence," continued Goldstein. "Matthew's adaptation is a miracle of expansive concision. Retaining the epic scope of a novel that spans two continents and nearly 30 years, while bringing us intimately close to the iconic characters has been our goal."

Khaled Hosseini (Novelist) grew up in Kabul where his father worked for the Afghan Foreign Ministry and his mother was a teacher. The family moved to Paris, France in 1976. While the Hosseini family was still in France, the Soviet Union invaded Afghanistan. Hosseini and his family were granted political asylum to the U.S. and moved to California in 1980. In 2003, Khaled Hosseini's first novel, The Kite Runner, was published and became a New York Times bestseller (it has since been published in 38 countries – though not in Afghanistan). In 2006, Khaled Hosseini was named a Goodwill Envoy for the UNHCR, the UN Refugee Agency, to help raise awareness about refugees around the world.

Matthew Spangler (Playwright) is an Assistant Professor of Performance Studies at San Jose State University, where he directed the original developmental production of The Kite Runner. He has adapted more than 30 novels and short stories for the stage. His plays, which have been produced throughout the U.S., U.K., Ireland and France, include a one-person show of James Joyce's Dubliners; an adaptation of Ernest Hemingway's short stories; and Mozart!, a musical-theatre adaptation of Wolfgang Amadeus Mozart's letters.

David Ira Goldstein (Director) directed the world premiere of The Kite Runner this past spring at San Jose Repertory Theatre. This year, he celebrates his eighteenth season as Artistic Director of ATC. He has directed over 30 mainstage productions for ATC ranging from classics to musicals to numerous world premieres including Dr. Jekyll and Mr. Hyde by Jeffrey Hatcher and seven plays by Steven Dietz. He has been a guest director at theatres from coast to coast including the Pasadena Playhouse, Berkeley Repertory Theatre, Seattle Repertory Theatre, Florida Stage, Geva Theatre, The Children's Theatre Company of Minneapolis and Northlight Theatre.

The cast of The Kite Runner includes eleven of the members of the world premiere production last spring at San Jose Repertory Theatre including Barzin Akhavan (Amir), who played Amir in the premiere of The Kite Runner. His other credits include The Arabian Nights at Berkeley Rep and Lookingglass Theatre, the world premiere of Vestibular Sense at Mixed Blood Theatre, as well as Twelfth Night, Romeo and Juliet; Thomas Fiscella (Baba, Ensemble) has extensive credits in theatre, TV and film, including the role of Tevye in Fiddler on the Roof at the Civic Light Opera of the South Bay Cities of Los Angeles, and Frankie and Johnny in the Clair de Lune at International City Theatre, a performance for which he was nominated for a 2009 Los Angeles Backstage Garland Award; Gregor Paslawsky (Rahim Khan, Zaman, Ensemble) has appeared on New York stages in Not Knowing, Pegleg! and Bad Science with 'mixed message' theatre and Hotel Universe and Princess Turandot with Blue Light Theater Company. Regionally, he has been seen at Actors Theatre of Louisville, The Old Globe and Williamstown Theatre Festival. James Saba (Ali,Omar Faisal, Ensemble) has appeared in New York productions of Widows at 59E59 Theatres and poortom production's all-male As You Like It at HERE. Regional credits include The Old Globe, La Jolla Playhouse, The Cleveland Play House and San Jose Repertory Theatre. Mr. Saba's television credits include Law & Order: Criminal Intent, Conviction and 30 Rock; Rinabeth Apostol (Soraya,Mrs. Nguyen, Ensemble) has appeared in The Vagina Monologues, as well as in The Balcony and the world premiere of Imelda: The Musical at East West Players. Some of Ms. Apostol's TV and film appearances include Just for Kicks (Whoopi Goldberg/Nickelodeon) and Alpha Dog (New Line Cinema); Craig Piaget (Young Amir, Ensemble) has performed in Yellowjackets at Berkeley Rep, Lucas in Laughter on the 23rd Floor and Estelle in No Exit. A founding member of Pi: The Physical Comedy Troupe, he has performed with companies such as Teatro Zinzanni, The San Francisco Circus Center and Circus Velocity; Lowell Abellon (Hassan,Sohrab, Ensemble) has played Ed in Evil Dead: The Musical and Annas in Jesus Christ Superstar at Willows Theatre Company, in The Pirates of Penzance with Woodminster Summer Musicals and the Barber in Man of La Mancha with Puppet Art Theatre Company.

Also returning from the San Jose Repertory Theatre production are ensemble members Zarif Kabier Sadiqi, who recently appeared in the 2009 Shakespeare Santa Cruz season, as well as in the West Coast premiere of A Girl's War at Golden Thread Productions; Lani Carissa Wong, a recent graduate of San Jose State University where she appeared in numerous theatre performances including the developmental production of The Kite Runner where she originated the roles of Hassan and Sohrab; and Wahab Shayek who made his theatrical debut in The Kite Runner and before that, he could be seen doing stand-up comedy and spoken word poetry around the Bay Area.

New to the cast of The Kite Runner are Remi Sandri (General Taheri, Farid, Ensemble), who returns to Arizona Theatre Company where he appeared in Much Ado about Nothing and Pride and Prejudice. In New York, he appeared Off-Broadway in Spring Awakening. His regional credits include The Mystery of Irma Vep, Three Days of Rain, Camelot, A Flea in her Ear and A Chorus Line. His film and television credits include Law & Order: Criminal Intent, Deadline and Conviction; and Korken Alexander (Assef, Ensemble), who played the Emcee in Cabaret at Musical Theatre of Los Angeles; his other credits include 1001 at Boston Court Theatre,as well as Sojourn at Ararat, A Midsummer Night's Dream and Gershwin's Tip Toes. Mr. Alexander recently starred in, produced and directed the film Lyfe Lost.

Salar Nader (Composer/Tabla Player) is of Afghan descent. He was born in Germany in 1981 and, at the age of three, immigrated to California. He remained connected to his passion, the Tabla, and began studying with renowned Tabla Maestro Ustad Zakir Hussain, who remains Mr. Nader's guru to this day. With over 20 years of guidance, he has developed versatility for accompaniment in a diverse realm of musical genres.

The creative team for The Kite Runner includes Vicki Smith (Scenic Designer), who returns to ATC where she designed numerous shows including A Raisin in the Sun, Jitney, Touch the Names and Love, Janis. She has also designed for Denver Center Theatre Company, Kansas City Repertory, Seattle Repertory Theatre, Actors Theatre of Louisville, and Milwaukee Repertory Theater, among many others. Kish Finnegan (Costume Designer) has been with Arizona Theatre Company since 1989, and her ATC costume designs include Hair, Touch the Names, Molly's Delicious, Tuesdays with Morrie, Copenhagen, and 2 Pianos 4 Hands, among many others. She also designed for the Burbank Repertory Theatre and the Chamber Theatre, where she won the Los Angeles DramaLogue award for Costume Design. David Lee Cuthbert (Lighting and Projection Designer) returns to Arizona Theatre Company where he designed last season's Enchanted April. He designed the Broadway, national and international productions of Billy Crystal's 700 Sundays. He also designed the national tour of The History (and Mystery) of the Universe and two tours with The New Pickle Family Circus. Internationally, he designed Terminal, directed by Joseph Chaikin. Scott W. Edwards (Sound Designer) returns to ATC where he designed A Midsummer Night's Dream. He is the Resident Sound Designer at the Guthrie Theater, where he has designed over 80 productions in the last ten years. Humaira Ghilzai (Cultural Consultant) is an advocate for the Afghan people and Afghanistan. Born and raised in Kabul, Ms. Ghilzai and her family fled Afghanistan after the Russian invasion in 1979. They settled in the San Francisco Bay Area, where she serves as Chairwoman for the Board of Directors of the Afghan Friends Network and has spearheaded many educational programs to improve education for females in Afghanistan. Ken Merckx is the Fight Director; Lisa Anne Porter is the Dialect Coach; Glenn Bruner is the Production Stage Manager.

Accessibility Options

Arizona Theatre Company offers accessibility services for patrons with disabilities for select performances. Audio Description provides patrons with vision loss a running audio description of the movement and activities onstage through an infrared broadcast system. Audio-described performances are offered on October 1 at 2 PM. Interested patrons may request a tactile tour one hour prior to curtain. American Sign Language interpretation is presented by professional, theatrically-trained ASL-interpreters for people who have deafness or hearing impairment. An ASL-interpreted performance is offered on October 1 at 7:30 PM. Open-captioning allows patrons to read the play's dialogue on an LED screen as the play progresses. An open-captioned performance is offered on October 1 at 2 PM. For open-captioned or ASL-interpreted performances, patrons should request seats best suited to ASL interpretation or captioning when purchasing tickets. Large Print and Braille playbills and Infrared listening amplification devices are also available at every ATC performance with reservation. TTY access for the box office is available in Tucson at (520) 884-9723 or via Arizona Relay at (800) 367-8939 (TTY/ASCII).

Ticket Information

Tickets range from $26-$50 depending on date and section choice and are available at arizonatheatre or by calling the box office at (520) 622-2823. Discounts are available for students, seniors and active military on specific performance days. Half-price rush tickets are available for balcony seating for all performances one hour prior to curtain at the ATC box office (subject to availability). Ten Dollar Tuesday for The Kite Runner is September 15. Balcony seats for this preview performance are available for a suggested $10 donation. (Tickets must be purchased at the ATC Box Office starting at 11 AM on March 10. Seating is first-come, first served and is not guaranteed. Cash only, please. Two tickets per person maximum.) For discounts on groups of eight or more, call (520) 622-2823.