Breville has announced the Vertuo Creatista. Here's some thoughts about the all-in-one espresso machine that promises to (almost) do it all.
Super automatic coffee and espresso machines are, no doubt, super convenient. They make our lives easier and get us caffeinated in a jiffy.
You get up in the morning, head to the kitchen and simply drop in a pod and push a button. Moments later your beverage is ready. If you want a milk-based drink like a Latte or a Cappuccino or the every trendy Cortado then you pour a bit of milk into an auto milk frother (like the Nespresso Aeroccino) and also, once again, simply touch a button again. The Jetsons had seen this coming.
But, what if you're the type that wants to get involved in the burgeoning home barista movement?
Maybe you want to try your hand at frothing your own milk using a conventional steam wand. And, perhaps even dabble a bit in the pursuit of latte art?!
Breville has an answer for you.
It's called the Vertuo Creatista. Yes, it's a tried-and-true pod-based Nespresso machine that we all know well, but it has something we're not used to seeing on these sorts of do-it-all machines: a steam wand.
Sitting to the right of the traditional pod system is, indeed, a want for steaming and frothing milk. The idea is you can push a button and while the pod is doing its bit, you can manage the milk process. When the pod is done you can take your freshly frothed milk and pour it into your drink. Alternatively, of course, you could pour the espresso shot into the milk — it depends on the type of drink you're preparing.
As always, Breville does guide you through the process. So, to be clear, it's not absolutely manual. Its so-called "Auto MiiQ" feature ensures you get the right result even if you use alternative milk types (almond, oat, etc.).
It's a pretty neat idea.
Unlike the Aeroccino and other automated milk systems, this one can give you that silky smooth microfoam suitable for finishing off drinks with whimsical Latte art. If you dare to learn the mystical and arcane skill. (watch some Youtube videos and try it for fun!).
In the case of Auto MiiQ, Breville says there's 3 milk temperature settings in addition to 3 for milk texture. So you should be able to dial in a drink to your particular taste, and repeat it daily with similar results. Consistency is key in the world of coffee shops and here Breville brings some of that to the at-home experience.
Breville Meets the At-Home Barista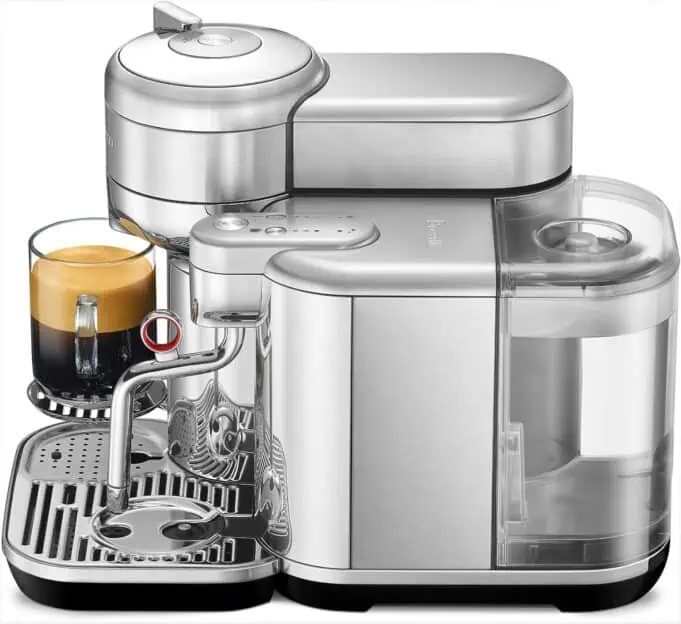 So what to think of all this tech?
Yes, I think it's pretty cool. Lots of people will gravitate towards this particular product, especially those who want a quality coffee or espresso without all time consuming workflow associated with a traditional semi-automatic machine. Those with busy jobs, active kids and other commitments will appreciate the speed and convenience. And I like that Breville sort of splits the difference and meets this market halfway by providing an all-in-one system that does it all, but still has a (sort of) traditional steam wand. A bridge between the world of single-serve and the world of the barista.
However…..
It's not for an espresso nerd like me. Call me snobby, but I love the whole manual process thing. It's a moment of morning Zen when prepping a drink, either just for me or for myself and Loni. These are awesome moments for reflection while quietly going about prepping an espresso shot, or a moment for irreverent conversation at the kitchen counter. In this case, the espresso machine becomes a center for a small, personalized town square with Italian flare. Well, okay, maybe not entirely, but there's no reason why we shouldn't get a little carried away with all things espresso.
Espresso on Stark Insider
Regardless of who may or may not like something like the Vertuo Creatista I still think it's pretty slick. The price isn't bad too for what you get — you no longer need to buy a separate frothing system. You still get the Nespresso convenience, and you get more control of the milk process, with Latte art texture now a possibility should you want that.
The Breville Vertuo Creatista is now in stock at places like Amazon and retailing for $750 USD.