A special moment calls for a special treat. And the Affogato may just be one of the most epic desserts ever created.
Essentially a scoop of ice cream topped with a shot of espresso, this Italian classic is easy to make, refreshing, and crazy delicious.
Given all my latest espresso adventures here on Stark Insider I would be remiss not to give it a try. So I whipped up my own slightly unique variation: Clinton's Toblerone Affogato. Not entirely creative. But the idea is the Affogato — or Affogato al Caffe — is up for interpretation. Feel free to modify and make it your own, that's part of the fun.
Here's how you too can make an Affogato.
Affogato: The Ingredients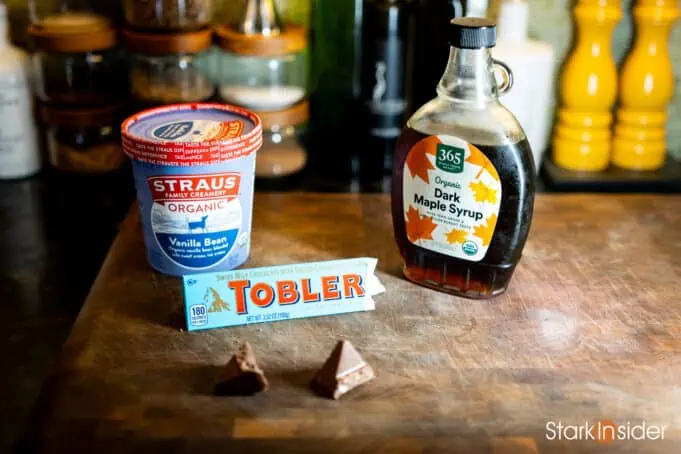 1 or 2 Scoops of Vanilla Bean Ice Cream

2 Pieces of Toblerone Chocolate Bar

A Splash of Pure Maple Syrup

1 Double Shot of Espresso
At the heart of an Affogato is ice cream. Any flavor should work and you can go with your favorite. However, it seems that Vanilla Bean is the staple most often seen in a classic version of the recipe. That's what I went with here.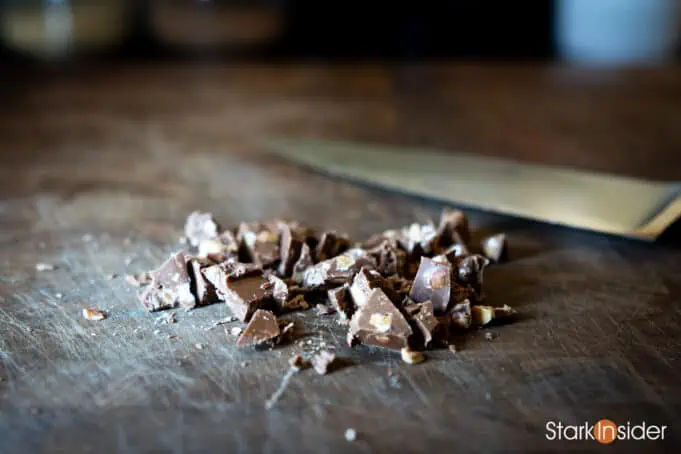 Next I chopped up two pieces of Toblerone and sprinkled them on top. This was admittedly a bit random. Recently I was stranded in a long, extremely delayed layover at Newark. I spent the day wandering around the airport and killing time in the United Club (quite nice!). United provided some food vouchers for the inconvenience and the iconic Swiss treat caught my eye. It works well with the Vanilla Bean thanks to the texture and almond bits.
I decided to top it off with some Maple Syrup. Pure stuff. No additives. Why not? All for a sense of occasion.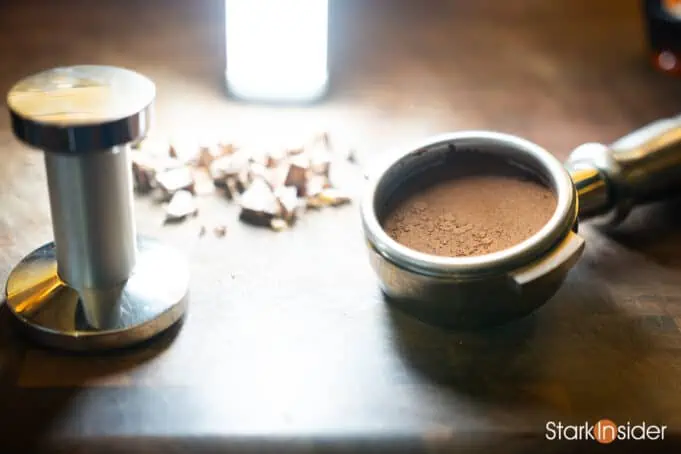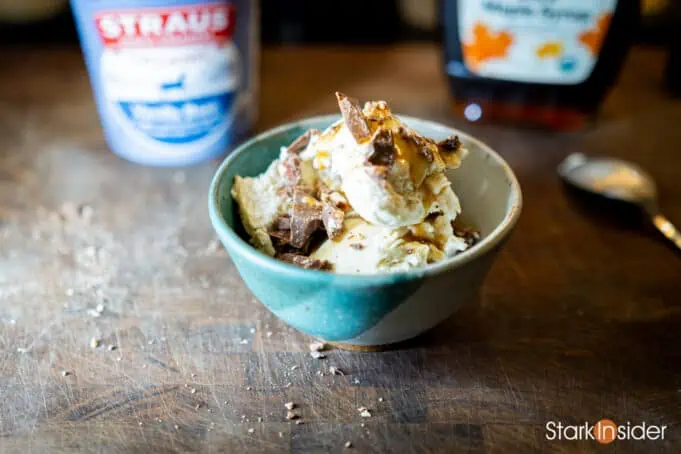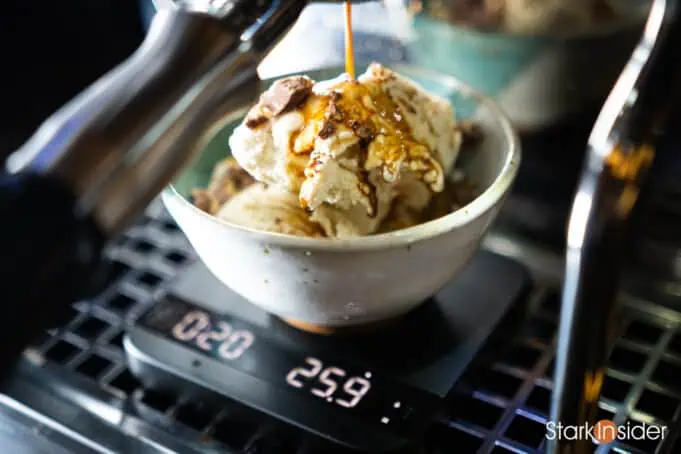 Finally, the magic. Pour a double shot of espresso (about 2 ounces, or 36 grams) over the entire thing. I have some tips on that in a moment so that you don't melt the ice cream as I did here in these photos — for dramatic effect!
The Final Result
And this is what an Affogato looks like è pronto.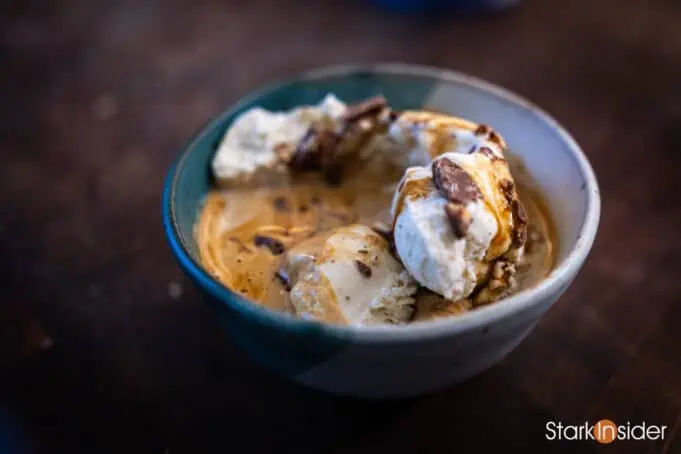 Affogato Nutritional Information
(This space left intentionally blank)
The Espresso Shot and a Few Tips
Keep in mind you can use any sort of espresso machine. You don't need to use a fancy one as I do in this example. Nespresso. Breville. Gaggia. Anything should do the trick. In my case I opted for a decaf shot since this was served at dinner time.
Obviously one of the challenges in preparation is minimizing the melting of the ice cream. Pouring hot espresso on top is going to make for a not-so-great combination in terms of temperature. You can see my Affogato is a bit on the runny side with some of the ice cream melting in a soup-like puddle.
RELATED:
To avoid this here's a tip: pour the espresso shot into a separate glass or pitcher. Let it reach room temperature or even place it in the fridge for a few minutes. After the coffee has cooled then pour it over.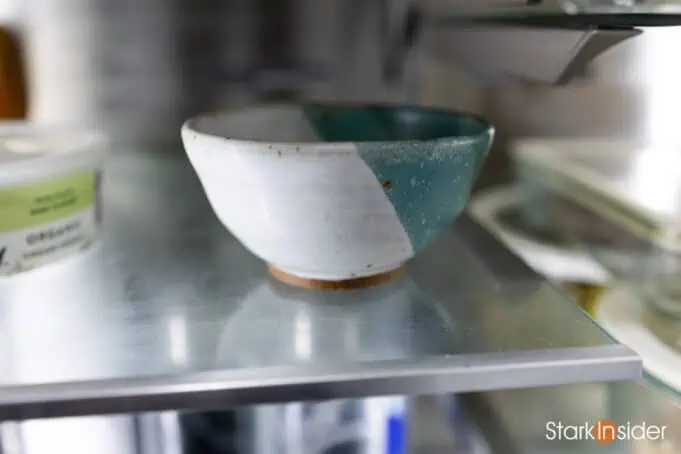 Also, you can go another step further and pre-cool the dish you plan to serve the Affogato in by also placing it in the fridge in advance of preparation.
Optional Affogato toppings include: strawberries, blueberries, nuts, honey, coconut flakes, and just about anything your imagination can whip up.
If you're planning to serve a few friends or family you may want to prepare several shots of espresso in advance and have them at the ready.
Then assemble all the dishes and simply pour them when needed. Since pulling the shots is the most time consuming part of the recipe this will keep the workflow streamlined.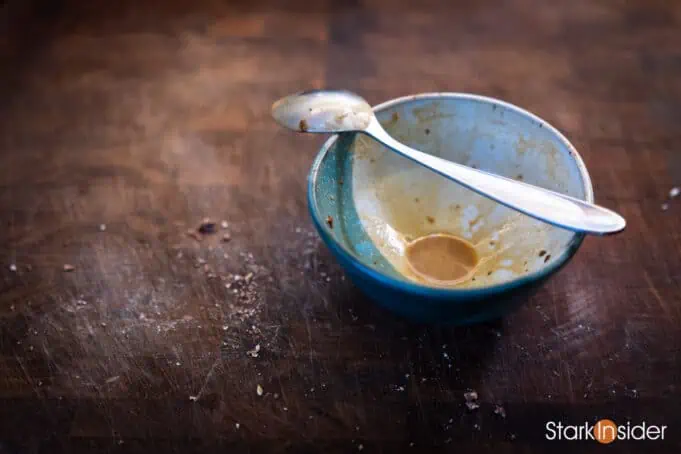 When the time comes consider adding some drama and pouring the shot tableside while discussing the history of the wonderful dessert that is the Affogato with your guests. I assure you the memories will be very sweet indeed.