Seattle Coffee Gear just revealed an updated version of its in-house espresso machine.
The Diletta Bello+ is a single boiler with PID, shot timer, Eco mode and is handmade in Italy. Available in three colors — black, stainless steel and white — the machine is now available for order with a retail price of $1,899 USD.
Other key features per the manufacturer include:
Programmable pre-infusion (up to 10 seconds)
Large drip tray
Warm-up time: 13:30
Auto shot-off
Cup tray
1.8L boiler
3L water reservoir
1500W
Steel build
Portafilter: 58mm
Dimensions: 11″ W x 17.75″ D x 14.5″ H
Overall, this is a pretty nice looking machine. If you're familiar with the E61 HX design language you'll immediately identify the chrome-forward aesthetic, and dual knobs with steamer and water dispenser set to the left and right, respectively. Probably best described as steampunk? SCG published the below video providing a brief overview of the Diletta Bello+.
WATCH: Introducing the Diletta Bello+ with PID Display
Look for the power switch on the front top — a nice, old school toggle which I like.
Down below also on the front panel are a PID temperature control display with touch-based up and down buttons. Like other similar models this doubles as a handy shot timer.
To the right is a large gauge featuring two needles, for brew and steam pressure. Also nice to this included.
Diletta Bello+ Competition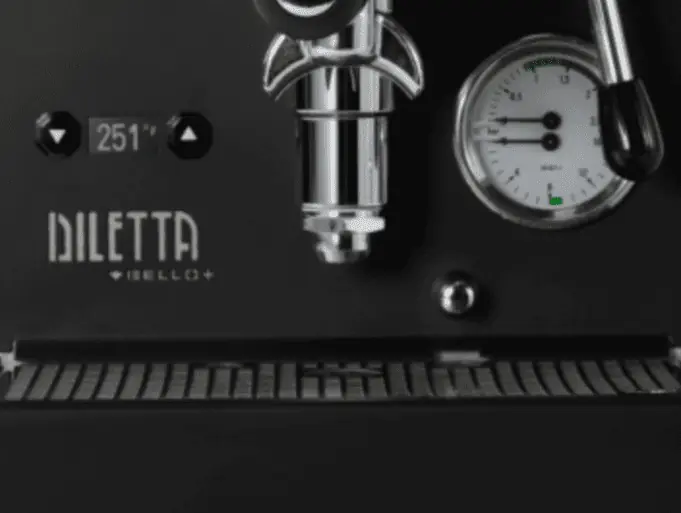 Heat Exchangers in the $1,800-$2,000 USD is a pretty crowded space, and the Diletta slots right in against some established players.
First to mind is the fan favorite Rocket Appartamento. Wouldn't you know it? The Appartamento, which is also an E61 HX, sells for the exact same price. However, the Diletta does one up that gorgeous espresso machine by offering a few extra features, most notably the built-in PID, which is welcome on a heat exchanger than can suffer from wild temperature swings when sitting idle for long (and requiring a cooling flush before pulling a shot to bring down temps).
Other options in this price bracket include:
Lelit Mara X ($1,699)
Lelit Elizabeth ($1,799)
Breville Oracle ($2,199)
Ascaso Steel Duo ($1,725)
La Spaziale SI Mini Vivaldi II ($2,195)
Bezzera BZ10 Bianco ($1,699)
Bezzera BZ13 DE ($1,999)
Rancilio Silvia Pro X ($1,940)
Quick Mill Arnos ($1,995)
ECM Mechanika VI Slim ($1,949)
Profitec Pro 400 with Flow Control ($1,699)
Profitec Pro 300 Dual Boiler ($1,849)
Profitec Pro 500 PID ($1,949)
As I mentioned, a crowded field to be sure!
Models that stand out to me here include the Lelit Mara X, La Spaziale (though a sizable price jump over the Diletta), Profitec Pro 400 (which seems like a really good deal with flow control), and Bezzera (I've had a Pasquini Livia 90 which is made by Bezzera and it's still going strong after 18 years). If you're into thermoblocks and interested in quick heat up times, the Ascaso also looks compelling with its beautiful Spanish design.
The biggest challenge I see with this new Diletta Bello+ is the same thing that probably challenged the first edition, and that is brand recognition. In a world of heavyweights like Rocket, Rancilio, La Spaziale, Bezzera, ECM/Profitec it can be hard to win over consumer attention.
Another issue could be quality control. I've read many online reviews talking about leaking with the original Bello, though I haven't experienced any of this first hand, so take that with a grain of salt. If any of that was the case, hopefully they've now sorted production challenges. And knowing SCG you don't need to worry about warranty or customer service, as this is a top notch espresso vendor in my experience.
I'd have to say: make mine that stunning black finish!