Blackmagic held a presentation today as part of IBC, an annual conference focused on media and tech. Typically broadcast gear including switches, cameras and lenses, among other professional products are revealed at the show.
Once again, Blackmagic was decidedly low key. CEO and co-founder Grant Petty held a solo live stream and introduced several new products including:
Blackmagic Studio Camera 4K Plus G2 / $1,345 USD
Blackmagic Micro Studio Camera 4K G2 / $995 USD
Blackmagic Cinema Camera 6K (Full Frame) / $2,595 USD
Blackmagic Camera App for iPhone / Free download available on the Apple App Store
Once again, Blackmagic targeted the value category, and definitely kept prices reasonable for filmmakers and broadcast operations on a tight budget — apropos for today's inflationary times.
Many BM fans will be happy to see a full frame version of the popular 6K Cinema Camera (though I really wish they'd move away from that wide/odd form factor). At $2,595 USD the price is competitive. By comparison the RED Komodo-X 6K sells for a cool $9,995, itself considered entry level in the world of cinema cameras. Though I should note that one features a S35 sensor. More direct full-frame peers would include the Sony FX6 ($5,998) and FX3 ($3,898). On the Canon side there's the EOS R5 C ($3,399). And a more recent entrant, the Z CAM E2-F6 6K Cinema Camera ($2,999).
However, at only $2,595 Blackmagic undercuts all of them. Plus, buyers get a free copy of the popular DaVinci Resolve NLE. For those interested in pushing post color production as far as possible will appreciate that these cameras can record to Blackmagic RAW which doesn't burn in color/exposure information into files.
Blackmagic Camera App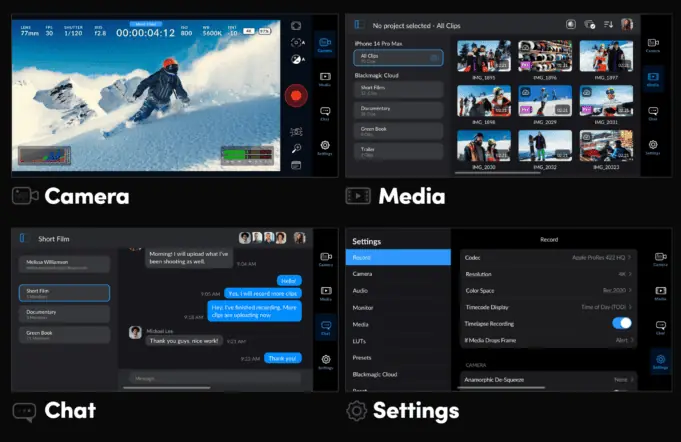 The most interesting product of the bunch, for me at least, is the new Blackmagic Camera app.
Free, and available now on the Apple App Store, Blackmagic positions it as "introducing digital film for iPhone!" and says it provides users with the ability to create the same cinematic "look" as Hollywood feature films.
While that might be a bit of a stretch — just a bit!? — it does provide a great option for those looking to take full control when recording video footage on the iPhone. And how about that timing? The new app announcement comes just two days after Apple introduced the iPhone 15 line-up. Once again, a key emphasis on these new models are the cameras (and expanding number of built-in optical focal lengths). Apple continues to push the idea of filmmaking on the iPhone. With the ability to record to external SSD storage with USB-C and the 15 Pro models the company has taken one more step towards that goal. Blackmagic smartly is surfing some of the buzz.
With Blackmagic Camera you can do things like adjust white balance, shutter angle, and frame rates. In addition, there's a bevy of tools to help you monitor things like focus and exposure. Timecode is automatically applied to clips. Real-time collaboration is available via a chat feature which can be accessed via different project folders.
Those familiar with the BM design aesthetic will immediately appreciate the look and feel of the app. Slick, well designed and intuitive would be my first reaction. If you've worked with their cameras before, you'll feel right at home. In this regard, the Blackmagic design team is one of the best out there.
Like the Filmic Pro app's integration with Frame.io, Blackmagic too now has a camera-to-cloud (C2C) solution. After setting up an account, and signing in on both the app and DaVinci Resolve (on a laptop or desktop) recorded footage is automatically uploaded to the cloud. Clips then appear under a "Camera Uploads" folder in Resolve and are made available for editing without any manual transfer of files using SD cards or SSD drives. Quite convenient. Although, all of this cloud-based workflow will vary in performance depending on the quality and speed of the internet connection.
Hedging Bets in a World of Declining Camera Sales?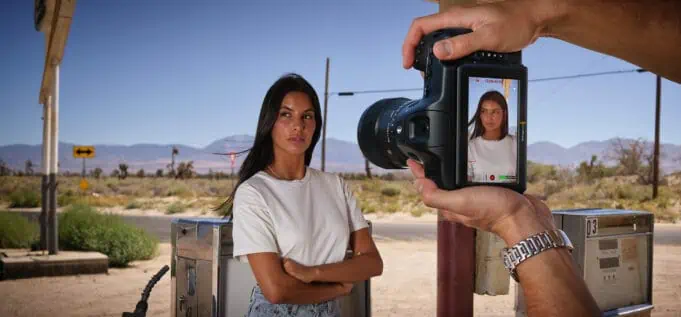 With the continued rise of the smartphone camera and computational photography (most notably by Apple and Samsung), camera manufacturers would do well to think ahead. Dedicated cinema cameras may not be long for this world. Or, at the very least, it will becoming an increasingly smaller niche. My guess is all the high end stuff from Hollywood and around the world will continue to use cameras from Arri, RED and Sony. Most of the rest of the market will use what's already in all of our hands: a phone.
So with Blackmagic introducing this camera app and cloud service, they're in a sense hedging their bets and ensuring there's a future runway lest camera sales fall completely by the wayside. Indeed, we're already seeing that trend.
One potential threat here would be Apple itself. It's only a matter of time before Apple too introduces these types of controls to its native camera app. Or, maybe it would even develop a purpose-built cinema camera app with pro features?
RELATED:
One final side note. Isn't it interesting how antithetical Blackmagic is when it comes to Apple and product launches?
Apple is showy. This week's iPhone (and Watch) reveal was flashy, featuring skits and super polished video clips. Drone shots, match cuts, music videos and high end video effects. Apple brought it all — for better or worse.
Meantime, here's founder Grant Petty, by himself, just casually showing off his new toys. It's sort of like hanging out with a buddy in his garage over a beer, and seeing what's what. Just chilling already. I quite like it.