If you shoot video on an iPhone take note of this particularly important new feature on the new Apple iPhone 15 Pro and Pro Max.
Apple once again stole most of the tech headlines this week — at least so far. The new Apple iPhone 15 has been unveiled, and, once again, the team from Cupertino took us through a mostly dazzling presentation (though not without the requisite cringe here and there).
As you might expect all the new models are faster, lighter, and better in most everyway imaginable. No surprise there. And virtually all the predictions and rumors proved, once again, to be true, so we pretty much saw all of this coming anyways.
Price-wise I was pleasantly surprised. Despite inflation and the eternal supply chain challenges, there wasn't much of an increase. In fact, the Apple iPhone 15 Pro Max now starts for only $100 more than last year's model. But, it now includes 256GB of RAM for the base model ($1,199 USD), which is double that of the iPhone 14 Pro Max. So is it really much of a price increase if we're getting more?
In any case, there was a lot of sizzle. Titanium bodies (for the Pro models). Impressive CPU updates and performance (A17 Pro chip). A slick new customizable Action button. And so much more.
But, for me at least, the biggest headline of all was: USB-C.
There's several reasons why.
USB-C is Everywhere, but 10Gb/s Data Transfer is the Key
Like most of us, our household is mostly standardized on the USB-C connector and cables. All modern MacBooks use them. The iPad has included the port for five years (time flies). So these things are ubiquitous. Which means, we'll have more than enough for charging a potential new Apple iPhone 15, both at home and on the road. I can't emphasize enough how this feature alone makes me desperately want to update from my iPhone XR as soon as possible. Ditching Lightning will warrant a small victory party to be sure.
However, the second reason why I'm thrilled about USB-C is something that Apple glossed over ever so briefly in the "Wonderlust" presentation yesterday. That is the ability to also use the port for data transfer (direct record).
In a world of cloud storage and services why on earth would using an old school cable for data transfer be a big deal?
Video.
Video files, especially 4K/60, are large.
I found in the past when using my iPhone to shoot video I was constantly hitting my phone's 256GB internal storage limit quickly, and then having to painstakingly transfer it using the slow Lightning connector. At 480 Mb/s (USB 2.0) it could take a while and made video workflow almost untenable. Everything was jus too slow. So I opted a few years back to keep shooting using my Panasonic GH5 (and now GH6) as a travel rig.
With the iPhone 15 Pro all that potentially changes.
Faster Video Workflow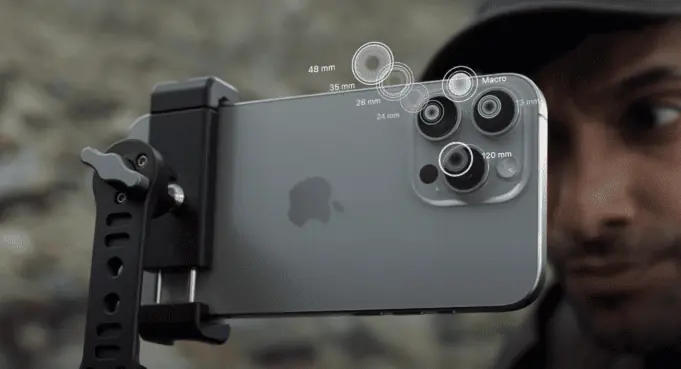 Now, Apple has given us 10 Gb/s capability thanks to USB-C. That's fantastic. Plus, during the presentation it was mentioned we'll be able to actually connect hard drives directly to the iPhone for real-time recording storage. Again, fantastic!
That solves a big pain point for me when using the iPhone as a video camera. I'll be able to use just about any USB-C drive and it will run at 10 Gb/s when connected to the phone. During offload, I can then copy footage over at a brisk 40 Gb/s (Thunderbolt 3). Basically, the workflow will be far improved over previous iPhone models. Again, thanks in most part to the adoption of USB-C.
For the first time I found myself revisiting mobile filmmaking, thanks in part to some subtle cajoling (and enthusiasm) brought on by my savvy sister-in-law.
With the iPhone 15 Pro I get several focal lengths (13mm, 24mm, 28mm, 35mm, 48mm) and even a 120mm telephoto option (all optical) in a device that slips into my pocket and doesn't break my back. Though there's no Periscope feature as found on Samsung devices this is still more than enough options for most video projects. Best off, I'll no longer need to shlep a bag of lenses through airports, or spend inordinate amounts of timing rigging up my camera (now a GH6 for travel projects). Instead I can work with a nice and light iPhone and a few accessories. Also, it's kind of nice to know that with the Max you get a large, built-in 6.7″ monitor.
I'll probably also re-visit the Filmic Pro app. I tried it years ago and was extremely impressed. I did keep running into the aforementioned phone storage limitations, but that was a function of the phone and not the app.
But What About iPhone Image Quality?
Reservations of jumping into the iPhone for video projects?
Yes. I still wonder about the image quality.
I'm convinced the Apple engineering team does everything it can to make footage (photos and videos) look as Social Media-ready as possibly. That is, the results are super saturated, and, too my eyes, overly sharpened. All of it designed to give a big POP on someone's timeline. To grab attention from the crowd.
RELATED
That's all well and good, but I have a thing for organic (ahem, "filmic") footage. I adore film grain. That 1960's and 1970's look in particular, and all those imperfections you see like weird lighting defects, pieces of grit, hair, etc. In my estimation there's magic to be found there. For studio work on Stark Insider I suspect we'll still use the RED Dragon where possible. Redcode (.R3D) footage is just beautiful, both in how it looks straight out of camera, and how it can be so easily tweaked to taste in post. But that's a very heavy rig, not well suited for travel or run and gun.
In the modern era, the Apple iPhone is really the anti-thesis of film and legacy cameras. But that can be a good thing. Computational Photography is only going to get better, especially as AI is thrown into the mix. This is an area for traditional camera companies like Canon, Nikon, Sony and Panasonic are at distinct disadvantages. They simply don't know software as well as Apple and Google.
All of this to say, I'm excited to once again give the iPhone and mobile filmmaking another shot.
I'm liking Titanium Black with 256GB.