If you're looking for an almost fully automated barista for making espresso at home Breville has the answer.
The Barista Touch Impress ($1,489 USD) is the Australian consumer products giant's latest machine. And it's very impressive.
Sporting a similar l brushed stainless steel look to existing Barista models, you can expect to find a familiar layout with a steam wand on the right, brew head in center and grinder on the left.
However, the headline feature here is automated tamping. Often the trickiest part of pulling an espresso shot, this Breville can help out by automatically dosing the correct amount of grind and then tamping precisely at 22 pounds to produce a professionally ready espresso puck. Fanciter still, the machine even applies a 7º barista twist to finish off in style.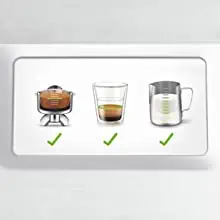 Like most modern Breville Barista machines this one too is built around the company's ThermoJet technology. Essentially similar to thermoblock systems it means it can heat up in only 3 seconds. Indeed, quite handy for the rushed mornings.
Aside from the assisted tamping other key features on the new Breville Barista Touch Impress include:
Built-in "Barista Guidance" — with real time feedback, the Barista Touch Impress navigates you through the Impress Puck System, precise extraction and hands-free silky smooth microfoam
Auto MilQ — with three new settings that let you choose the type of milk and temperature depending on the espresso drink and is capable of latte art
Baratza European Precision Burrs — built-in grinder with 30 grind settings
Touchscreen Interface — with 8 built-in café presets
Should You Buy the Breville Barista Touch Impress Espresso Machine?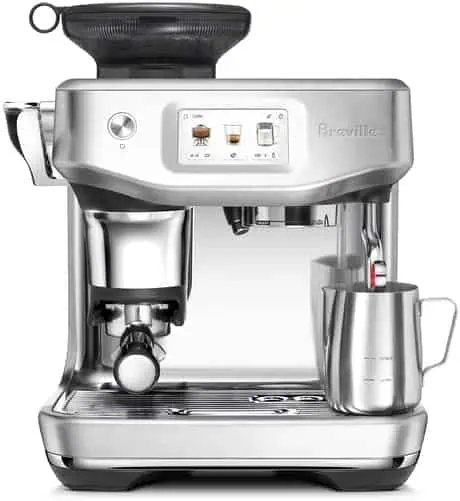 Breville makes extremely well-reviewed machines. They're also frequently cited by enthusiasts as favorites. Check coffee and espresso forums and sub-Reddits and you'll find plenty of references to the Barita line. The Bambino ($349 USD) and Bambino Plus ($499) are often recommended for espresso newbies who want to dive in, without breaking the bank. No question, these machines are capable of making great espresso shots. Those along with the iconic Gaggia Classic Pro are among the best entry-level espresso machines available today.
So is the new Breville Barista Touch Impress worth it?
I'd say yes. So long as you prefer the automated tamping system. If not, you could save a little, give up the assisted tamping and go for the regular Barista Touch which relies on the user for old fashioned tamping.
If you like the idea of having a bean-to-cup machine with freshly ground coffee just like a cafe or coffee shop, but with more consistency then the step-up Impress is really worth consideration. I can't think of any other competitor that offers anything remotely similar.
You get barista grade espresso drinks, but without the hassle of a completely manual workflow. The Impress sort of sits between a fully super-automatic machine such as those made by Jura and Miele and DeLonghi and semi-automatic machines made by Lelit, Rocket Espresso and ECM/Profitec, among so many others.
Breville Barista Touch Impress

Type: Semi-automatic espresso machine for the home

Key Features: Auto tamping and milk frothing, touchscreen, programmable

Model Year: 2023

Model ID: BES881BSS

Dimensions: 12.9″D x 13″W x 16.4″H

Price: $1,489 USD

Availability: Now shipping
Those who want the full at-home barista experience and have time on their hands in mornings may want to step up to the Oracle. Featuring a dual boiler, it's serious machine for serious enthusiasts. One trade off, however, is the Oracle's longer warm-up time, which can't come close to the Touch Impress and it's impressive 3-second readiness (thanks to the aforementioned ThermoJet system).
Breville says the Touch Impresso has been specifically engineered for those who enjoy Third Wave Coffee. Specifically that means four things: (1) the correct dosage of freshly ground beans (and don't forget to use good ones!); (2) precise temperature control; (3) optimal water pressure for correct espresso extraction; and (4) latte-art quality microfoam milk.
Given Breville's strong reputation in the coffee and espresso markets I'd strongly recommend the Barista Touch Impress for those who want to experience the ultimate at-home espresso experience. I expect this model to sell well.