Recapping the winner of our best automatic espresso machine for small offices: the Jura GIGA 10.
Your business probably runs on smart people with good ideas making the right decisions. But a little caffeine here and there never hurt productivity.
So today we're looking at the absolute best machine we've tested for your small office, breakroom, start-up or other business — including law and accounting firms, dental practices, car dealerships, and pretty much any environment with a dozen or so people who want on-demand espresso drinks.
Jura GIGA 10: High Quality Espresso Shots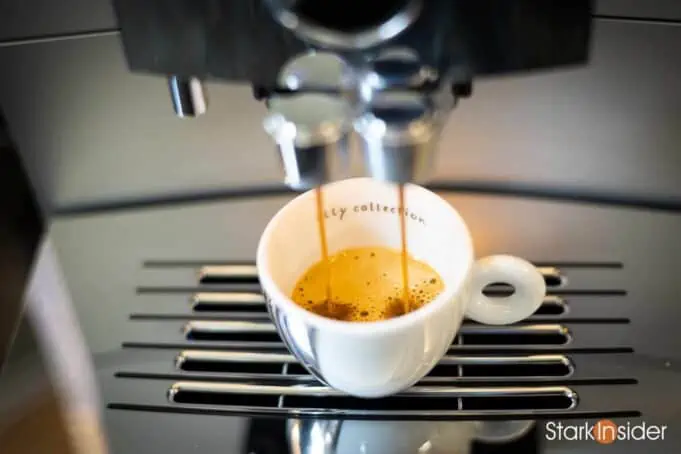 In our tests the mighty Jura GIGA 10 consistently came out on top.
There's just no denying the pedigree of this machine. Switzerland-based Jura specializes in super-automatic coffee/espresso machines.
No wonder then that their espresso shots consistently beat out the competition in blind taste tests: creamy, smooth and rich in crema and flavor. Not as strong or direct as, say, an Italian shot, but certainly a wonderful way to enjoy some a caffeine boost.
Keep in mind that since an espresso shot is the building block for most espresso-based drinks that means you'll also get café quality drinks like Lattes, Cappuccinos, Flat Whites, Macchiatos and Cortados at the touch of the button.
Jura GIGA 10: Key Features
Beyond high quality espresso, the Jura GIGA 10 packs a long list of features that makes it stand-out for office and small business use including:
A dual bean hopper with automatic grinder adjustment (depending on the drink being made) with ceramic discs
Hot and cold brew specialties
A large 6.7″ touchscreen "Panorama" user interface
Drink customization including volume, intensity, bean container, coffee to milk ratio
Eighth-generation brew unity
Parallel preparation for two simultaneous drinks
Intelligent preheating
MSRP: $4,999 USD
Jura GIGA 10: Dual Bean Hopper Offers Lots of Variety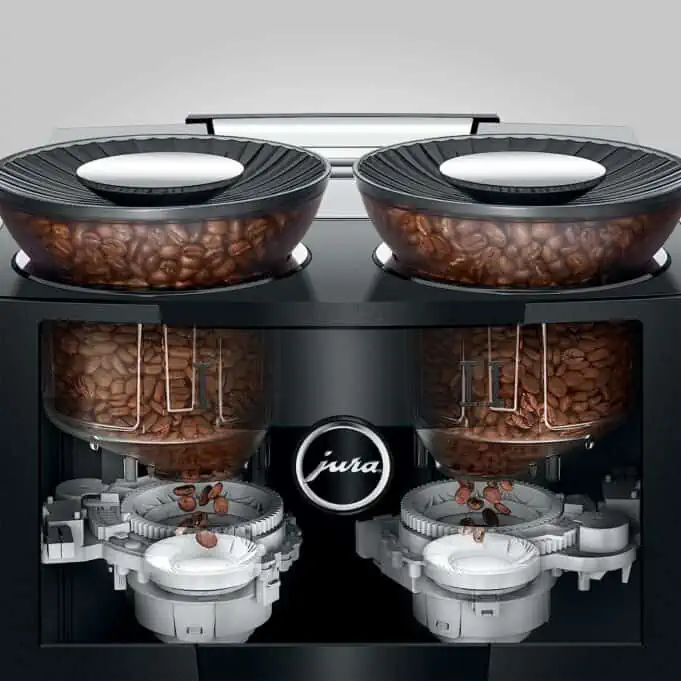 In particular we find the dual bean hopper to particularly appealing.
You could, for instance, use one hopper for strong caffeinated beans and the other for decaf. That way you can offer choice for employees who may want an afternoon Latte, but without the caffeine that may later impact sleep. Further, the GIGA 10 interface has a pretty UI that enables the user to choose a ratio of bean hoppers so you can dial in a 50/50 caffeinated/decaf drink if you so choose. There's plenty of flexibility.
Jura GIGA 10: Thermoblock Results in Fast Heat Up
Another feature worth pointing out is the thermoblock heating element.
Because it "flashes" water on demand there's no boiler required meaning there's little to no risk of water leakage.
Better yet, it means the GIGA 10 heats up quickly and is ready to brew a beverage in as little as 20-30 seconds. Contrast that to standard semi-automatic espresso machines and you'll see yet another reason why Jura comes highly recommended for professional environments.
Jura GIGA 10: Drink Menu
Chances are your favorite espresso or milk-based espresso drink can be found on the Jura GIGA 10.
You'll see in the image below a list of the GIGA 10 specialty range including cold drinks (marked with a snowflake). All told there's a total of 35 specialty coffees available.
In addition, note the GIGA 10 can also serve straight-up hot water for tea drinkers, milk foam and even jugs of coffee should you have an important and long meeting that will require all attendees at full alert.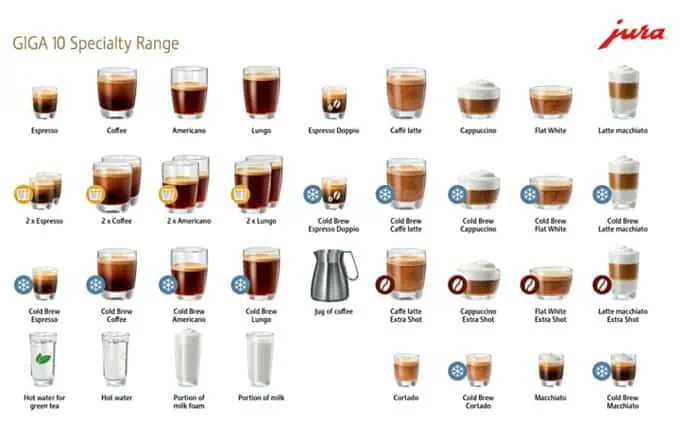 Jura GIGA 10: Cool Control for Milk Storage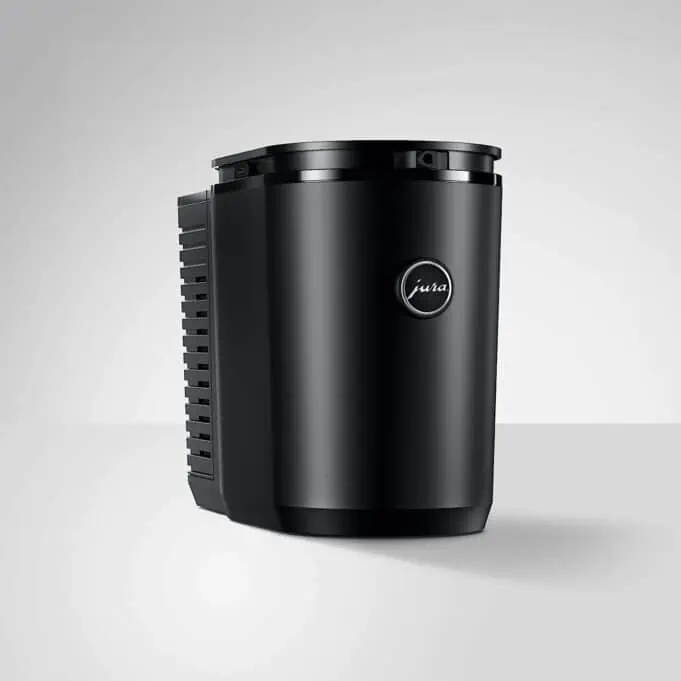 When shopping for an automatic espresso machine for the office don't forget about milk. Most machines need some sort of milk container from which to draw when making milk-based drinks. Be sure to check how that works on any model you're researching.
When it comes to the Jura GIGA 10 you can simply use any milk container. Attach one head to the brew unit using the included hose and then drop the other end into the milk.
However, a better option we've found in testing the GIGA 10 is to use what Jura calls Cool Control. This is an optional accessory which basically functions as mini fridge. It sits next to the machine and stores up to 2.5 liters/85 ounces of milk (or less depending on which Cool Control model you buy).
The nice thing about the Cool Control is that you don't need to run back and forth from a fridge every time someone wants to enjoy a Latte, or Cappuccino or any other milk-based drink. You simply just place a cup underneath select your drink of choice and away you go. A very convenient feature.
Why the Jura GIGA 10 is the Best Automatic Espresso Machine for the Office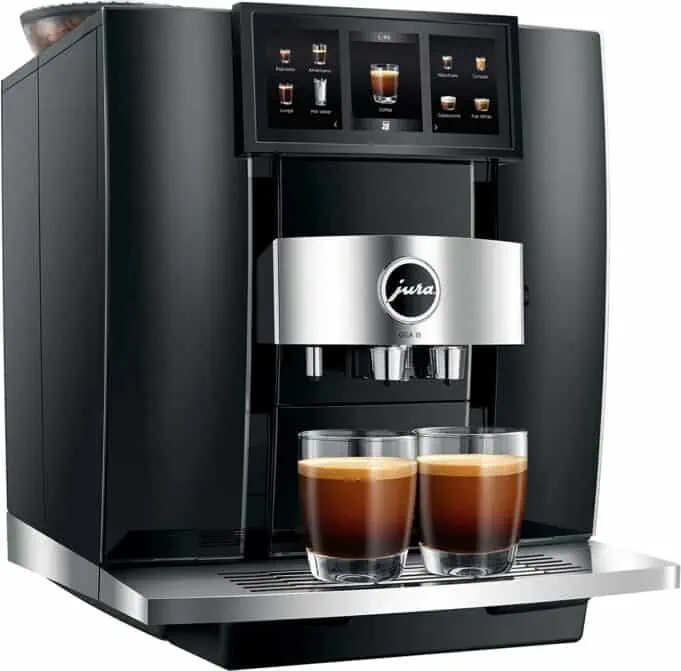 Just like the Jura Z10 is the all-round best automatic espresso machine for the home, we believe the same is true with the GIGA 10 for the office.
We used the following criteria below when evaluating an espresso machine. These could also help you when researching the market:
Drink Quality — How good is the espresso? This is the ultimate indication of how well a machine makes drinks. If the straight espresso shot (1 or 2 ounces) is not ideal then milk-based drinks will not measure up. This is the important factor to consider.

Ease of Use — How easy is it select a drink and start the brew process? Is there a touchscreen or buttons and how difficult or easy is it to access customization options and settings?

Maintenance — Is the machine easy to clean and maintain? What are the associated costs with maintenance items like water filters, cleaning tablets and milk hoses?

Noise Level — How loud or quiet is the machine?

Price and Warranty — How much is the machine itself and what about the warranty and reputation of the company?
Scoring each of the above factors (out of five) for the Jura GIGA 10 we arrived at the following result:
Drink Quality: 5
Ease of Use: 5
Maintenance: 4
Noise Level: 4.5
Price and Warranty: 4.5
Total: 23 our of 25 (92%)
We docked a point on maintenance because there are costs related to keeping the GIGA 10 operating. There's a daily milk rinse cycle required as well as occasional machine cleaning cycles required that use tablets. In practice the costs for a business aren't that considerable, but you should factor in the time and effort needed. Don't forget you'll also need to dump the drip tray and used coffee grinds on a regular basis. This is simply unavoidable. Every other machine we tested also faces similar processes to keep running well.
Aside from that, we're simply blown away by the Jura GIGA 10.
Jura GIGA 10

Machine Tested

Verdict:

Test summary:

Best-in-class espresso flavor.
Large touchscreen features one of the best and easiest to use interfaces we've tested
Relatively quiet
Flexible brew height to accommodate taller to-go coffee mugs
Dual hopper design means you can offer caffeinated/decaf on-demand or a variety of bean styles
Optional Cool Control milk storage adds convenience

Why we like it:

The Jura GIGA 10 brings the best of everything Jura has to offer. From the classic design that's become a hallmark of Jura espresso machines to the ease-to-use interface and extensive drink customization options the GIGA 10 is a well thought through engineering marvel. Espresso quality was consistently the best in our tests, as was the texture of the milk froth and steam.

Things to watch:

Maintenance is inevitable on automatics machines like these. So budget for that accordingly.
Essentially, Jura has taken everything it knows about making espresso, the decades of innovation and customer feedback, and crammed it all into the GIGA 10 flagship for the small office or business.
Aesthetically the Jura should blend easily into most decors. The modern lines and clean, uncluttered design should appeal to many.
At the end of the day, the promise of a super-automatic espresso machine is high quality espresso drinks at the press of a button. The Jura GIGA 10 does precisely that and receives our highest recommendation.