As promised Peloton (NASDAQ: PTON) today released a key piece of its rebranding strategy for 2023. And that would be the app.
It's now officially called the Peloton App. Further, the famous spin bike company is offering it in three new tiers, including a free one:
Peloton App — free
Peloton App One — $12.99/month
Peloton App+ — $24/month
According to Tom's Guide, App One subscribers will get access to strength and floor-based workouts, while App+ members will additionally gain access to cardio classes.
All-access memberships for owners of Peloton hardware — the Peloton Bike, Tread and Row — will continue to pay $44/month.
Also announced today is something called Peloton Gym. These are like circuit-based training exercises and are not timed. Instead members can follow them at "their own pace." The idea is that you can start one up in the park, for example, or in a hotel room or Airbnb if you're traveling. You could, as always, just use Peloton Gym in your own home gym as well.
In the announcement email from this morning — which was uncharacteristically short on details — the new Peloton Gym feature is referred to as "self-paced, whiteboard style workouts… designed to take anywhere."
Thoughts on Peloton Re-Branding So Far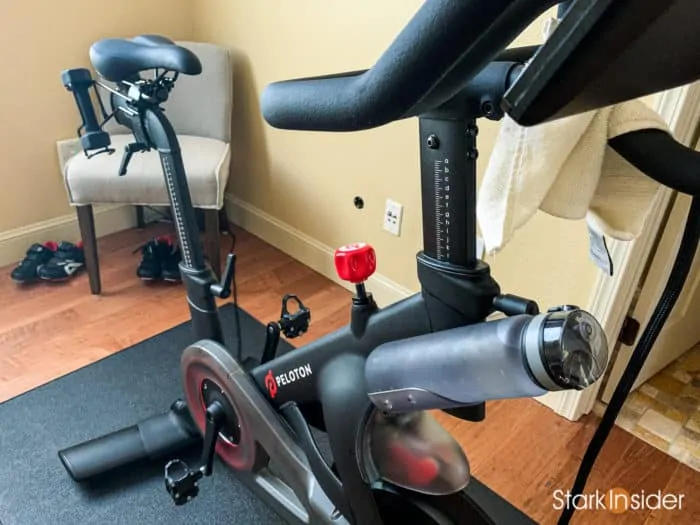 So far so good. There's a long way to go, but this is a solid first step and opens up much more potential for the Peloton App.
My guess is that with these moves announced today Peloton's management were aiming for a few key things:
Get more users on board, even if they're non-paying — Obviously this is the intent of the new free tier. Sort of like a video streaming app with ads, if you can at least get someone to try out your app or service you've got a shot at converting them into a paying customer.
Attempt to redefine the Peloton brand as not hardware only — Pretty much everyone associates Peloton with the iconic spin bike. This became especially true during the Covid pandemic, and was further emboldened by a series of infamous commercials. In reality Peloton has offered treadmill and, more recently, rowing classes for a while now. Further, there's a lot of workout content that doesn't involve any Peloton hardware whatsoever such as Yoga, Weight training, Core workouts, Stretching, etc. My guess is Peloton Gym and the new app tiering (based on class type) will help potential customers see Peloton in a new light — on that's more about gym-like workouts and less like just a spin class.
"Peloton is too expensive!" — Now that there's a free tier and a competitive middle tier at $12.99/month (Apple Fitness+ is $9.99/month) Peloton can more readily convince prospects that they're actually not as expensive as they believe. Peloton is truly for the masses.
Is any of this enough?
Hard to say how much this will really move the needle.
If I'm new to working out and I want to give it a shot and take a few, say, strength classes I have a lot of other options. As an iPhone user I'd probably start with Apple Fitness+ at $9.99/month (after trial) as it's less expensive than Peloton at $12.99/month and seems like a natural choice, more so too if I have an Apple Watch that can double as a heart rate monitor.
The case for Peloton App+ at $24/month becomes an even tougher sell at double the price.
I've been a paying Peloton All-Access member since 2020. Just as the pandemic broke we scrambled. Gyms were closing and we needed a substitute. After a quick demo at the Peloton store at the Stanford Shopping Center (which closed the next day due to Covid) we were sold. We cancelled our gym memberships as everything was shutdown and strictly began using the Peloton Bike and app as well for at-home workouts. However, the $44/month membership fee that covered both of us seemed incredibly reasonably by comparison to the legacy gym memberships that were costing us hundreds of dollars a month. Granted, the bike itself was expensive. But it was paid off at 0% in only a few years. The rest is now gravy.
That story is the same of many a Pandemic Peloton buyer. The stock price in 2020 demonstrated as much, and the brand became known as a (premium) spin bike company. But when trying to sell the fitness experience as an app only thing, Peloton is not going to have a fancy Bike, or Rower or Treadmill to differentiate, and to integrate an entire user experience. That's largely what attracted us to the Bike. Nothing else was remotely close. Peloton was the absolute best. Best workouts. Best instructors. Best hardware. Best app. Best everything. Take away the hardware and now Peloton is competing with massive app stores that offer never-ending, if generic, fitness content, a lot of it free as well.
Peloton is trying to open it arms to the masses — and right its financial prospects at the same time. Opening up a Peloton Store on Amazon was a good start. This seems to be the next logical step.
Still, for what has been, ultimately, a niche brand this is a tricky proposition. Peloton, though, seems to have no alternative at this point, save for an eventual acquisition.