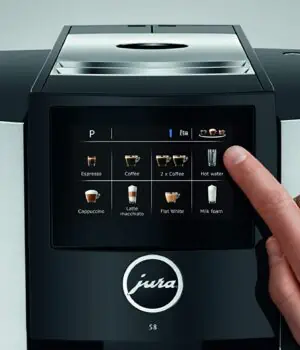 If you're looking to buy one of the best automatic coffee machines on the market now might be a great opportunity.
The Jura S8 is on sale right now on Amazon — at a whopping 46% off.
Yes, you read that right. That represents a savings of about $1,000 (!) off the normal retail price of $2,200. This is easily one of the best deals going right now.
In our experience and testing at Stark Insider, Jura machines consistently produce the best espresso shots. This is key as espresso is the building block for many of our favorite drinks such as the Latte, Cortado, Cappuccino and Flat White, and Macchiato.
With the S8 — and other machines across the Jura line-up including the new Jura Z10 — you can simply choose your drink of choice using the slick touchscreen display and moments later have it all ready to go. The Jura automatically grinds beans, tamps them, brews the drink and froths the milk.
If you like you can adjust the drink to your liking — maybe making it stronger in the morning — and save those settings so you have drinks served up exactly to your preference. Pretty handy if your days are busy, and you want to cut down on those daily Starbucks expenses.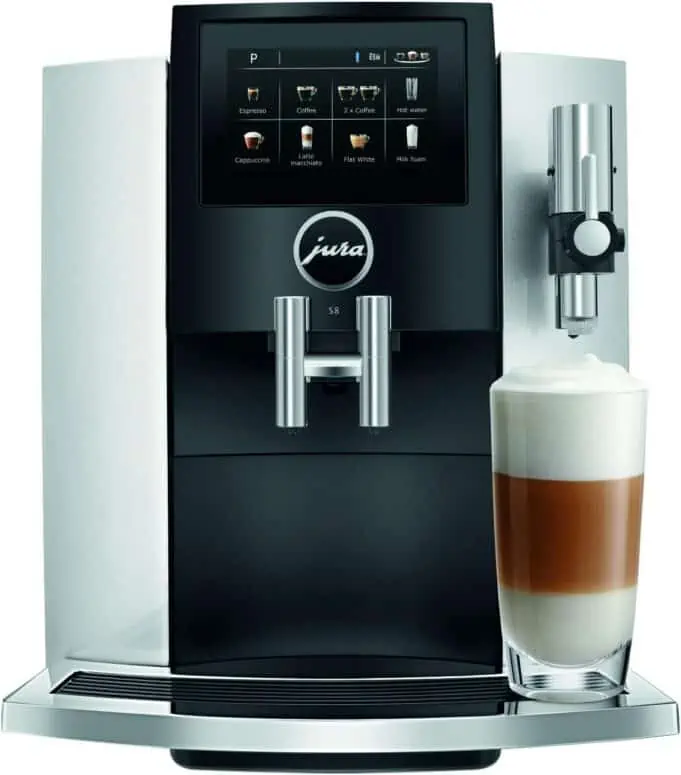 Again and again, in our tests the Jura comes out on top when it comes to a several key criteria:
Criteria for evaluating an automatic espresso machine

Drink quality and selection
Ease of use
Maintenance
Quietness of operation
One area where Jura tends to lose out on some comparison tests: price. Yes, you can find cheaper options such as the Philips LatteGo, Miele, and Gaggia. However, while those automatic coffee machines perform well, we find the Jura comes out ahead on the other categories we mention above. You'll have to decide how important those are relative to your budget and desire for the absolute best espresso drink available in the home.
IN REVIEW

Jura S8

Category: Super-automatic espresso machine

Jura S8
Switzerland
$2,899 USD
Highly recommended

The Jura S8 is a super-automatic espresso machine for the home, well suited for those who want one-touch simplicity to make a variety of espresso drinks and milk-based espresso drinks such as Lattes and Cappuccinos.

The Good:

Superb espresso quality
Beautiful touchscreen display and interface
Outstanding build quality
Large selection of drinks including classics such as espresso shots, macchiatos and popular milk-based drinks such as Lattes and Cappuccinos
Maintenance is largely automated (with some user assistance required when cleaning the milk system)
Generous water reservoir and drip tray

The Bad:

Expensive
Can consume significant amounts of water due to frequent rinsing and cleaning cycles
Maintenance costs (water filters, cleaning solutions)

Verdict:

If you're looking for the best in an automatic espresso machine, your search ends here. The Jura S8 is another first class example. Easy to use, with best-in-class espresso, we believe the Jura is worth the premium and that the machine will last given you follow the maintenance guidelines. Just a pure treat to use. Highly recommended.
Another thing worth pointing out. Unlike Nespresso and other pod-based systems with the Jura you simply pour your favorite bag of beans into the hopper and you're good to go for days, if not weeks, before a refill is needed. Best of all, beans are far less expensive than pods and you don't need to worry about what to do with spent pods.
The Jura S8 has 15 drink recipes available and features a conical burr grinder seen on many of its other models. Water reservoir (left hand side) capacity is quite good at 64 ounces, as is the bean hopper (on top) at 10 ounces. Dimensions are 21.4″ D x 12.9″ W x 17.4″ H so be sure to check your counter space, and cabinet clearance.
Now on sale: Jura S8 automatic espresso machine
What about the competition?
Here are some automatic espresso machine alternatives to the Jura to consider, from budget-friendly models from Philips (Saeco) to premium ones from Miele and Gaggia.
Convenience on a budget (under $1,000):
Premium German-made all-in-ones:
A time-tested brand name in the world of Italian espresso: