Google Fi is by far the best wireless plan I've ever used. It's reasonably priced, it's easy to see how much data you've used in a billing cycle, and it's convenient for when I travel outside the U.S. and don't want nasty surprises when it comes to bill time.
Now, for the first time since Fi's launch in 2015 Google is offering a second plan called "Unlimited". This plan should appeal to those who use a lot of data on the road.
For a single user — "Unlimited for 1" — here's what you get:
High speed data up to 22GB (slower after that)
Free data and text while traveling (International included)
Free calls to 50+ countries
100GB of Google One cloud storage
Mobile hotspot tethering
No contract (just like the current plan)
$70/month
Google has re-branded the current Fi plan as "Flexible". With Flexible you pay a base rate of $20/month and then $10/GB of data as you go. Same as before.
By way of comparison under the Flexible plan you'd hit the $70 per month fee after using only 5GB of data. So if you routinely exceed about 5GB of data a month it might be worth considering the new Unlimited plan — which gives you 22GB of data for the same $70.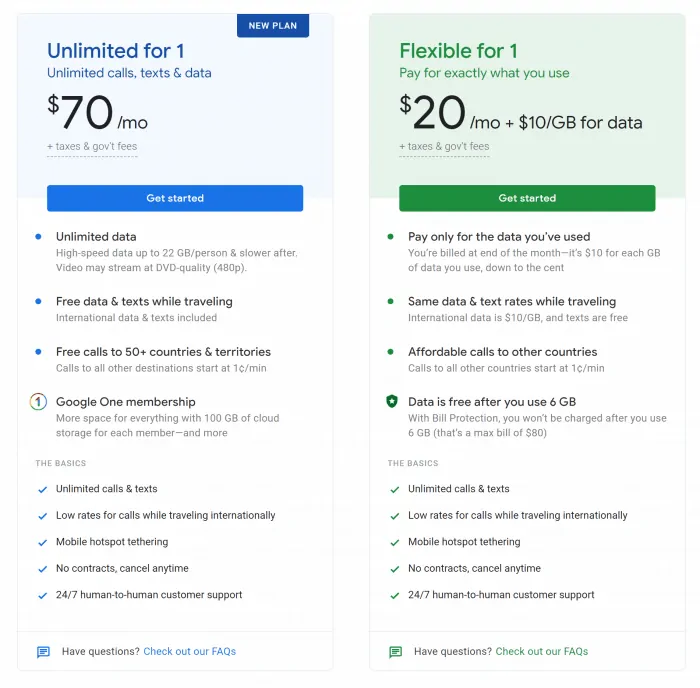 Those of us who use less data in any period, and frequently have access to wifi will likely want to stay on the existing Flexible Google Fi plan. When I'm not travelling I can get my bill down to about $40 month, which is pretty amazing considering the decent coverage and speeds I get here in Silicon Valley. Plus I can pop in data-only sims into other devices and benefit from mobile cell service using older phones and tablets.
Google has added a new web page that allows you to easily compare the Unlimited and Flexible plans. There you can enter how many people will be sharing the plan (1 – 6) and see how the two plans stack up:
Compare Google Fi Unlimited and Flexible plans
Don't forget if you're new to Google Fi to download the Fi app (Android | iOS). There you can see your real-time data consumption and costs in current billing period. It's simple and easy to use. Thank goodness. I remember the early cell phone days when you'd get nickel-and-dimed with all sorts of obscure charges and "fees". Fi to the rescue. I'm definitely a fan, and this new Unlimited plan should give data fiends a budget friendly option for wireless coverage.