This past holiday season the smart speaker was the hot seller. No surprise then that the market continues to grow at a rapid pace.
According to a new report, there are now over 66 million smart speaker devices in the U.S. That's up about 25% from the year prior (53 million units).
In terms of market share, the Amazon Echo continues to lead, at 70%. That's followed by a significant margin by Google Home at 24% and the pricey Apple HomePod at 6%.
"Holiday shoppers helped the smart speaker market take off again," said Josh Lowitz, Partner and Co-Founder of CIRP. "Relative market shares have remained fairly stable, with Amazon Echo, Google Home, and Apple HomePod accounting for consistent shares over the past few quarters. Amazon and Google both have broad model lineups, ranging from basic to high-end, with even more variants from Amazon. Apple of course has only its premium-priced HomePod, and likely won't gain significant share until it offers an entry-level product closer to Echo Dot and Home mini."
Another interesting data point to consider for those following the smart speaker (and smart home) market is the number of smart speakers owned. There's definitely a trend here. That is owners are increasingly buying more than just one smart speaker. As of December 2018, according to the CIRP report, 35% of owners have more than one smart speaker (be it an Amazon Echo, Google Home, Apple HomePod, or something else).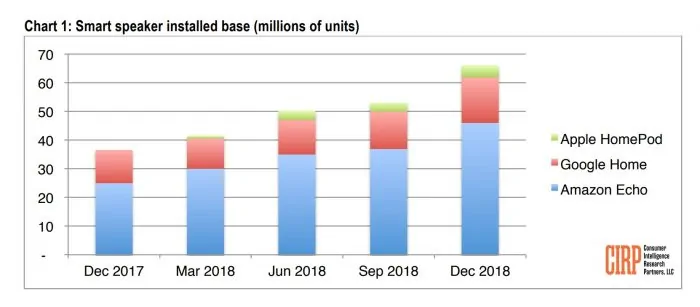 Given the declining growth of devices such as smartphones and tablets, I expect tech companies to, as they say here in Silicon Valley, double down on all things smart speaker. That there is an affinity for multiple unit sales suggests the opportunity is absolutely huge. In that regard, you could consider the low-priced entry models such as the brisk selling Echo Dot and Google Home Mini as gateway drugs to smart home nirvana. Those can often be found on sale for as little as $24 (USD). And it's common to find them bundled in smart home bundle package such as those with smart light bulbs, and security systems.
Amazon continues to push the hardest in this space. Recently, it announced the Echo Auto and the Echo Link, both Alexa-enabled devices targeted at automotive and home audio users respectively.
In addition, Amazon released an Alexa-enabled microwave; perhaps a move to demonstrate to potential OEM partners that Alexa can add utility to many devices found around the home, not just its own Echo speakers.