Welcome to Trendspotting on Stark Insider with Clinton Stark (@clintonstark).
People apparently love Echo devices and, in particular, the Echo Dot smart speaker. Turns out they also love a good (corny) joke.
In a blog post today Amazon revealed Everything Alexa learned in 2018.
While the Seattle-based tech giant didn't reveal the exact number of Echos sold (aside from hinting at "tens of millions"), we're pretty certain it's a lot, and likely more than any other company including even mighty Google and its Home speaker line.
Amazon's smart home/speaker product category is growing at an alarming rate. It's hard to believe the technology is a little over three years old. Since 2015 Amazon has added am increasing number of products that feature the Alexa voice assistant. Echo Dot. Echo Show. Echo Spot. Echo Show. Echo Dot Kids Edition (!). Recently, Amazon also introduced a smart home hub, the Echo Plus, which includes a Zigbee radio enabling home owners to pair various sensors and devices without the need for a traditional hub such as Samsung SmartThings or the Wink Hub. It's easy to see where this is going. Amazon is gunning for home automation in a big way. And so far Team Bezos is winning.
Other interesting tidbits in the Amazon blog post summing up Echo in 2018:
Alexa now has over 70,000 skills available from 4,500 brands — up 6x in just 12 months
A new featured called "Remember" now means Alexa can help you remember important things (Google Assistant has this feature now too)
You can now create your own personalized skills with Alexa Skill Blueprints
And let's not forget the really important stuff. According to Amazon, Alexa told more than 100 million jokes this year — proving that everyone needs a healthy amount of levity these days.
The coming years for the smart home market category is going to be very interesting. Amazon and Google are leading right now. Apple has been slower than expected –at $349 USD the Apple HomePod is priced as a niche product and doesn't have the budget appeal that something like a $24 Echo Dot does making it a tough sale for all but the most ardent Apple loyalists.
Companies/Services Threatened by Amazon and its ever-expanding army of Echo Devices

Sonos home audio (sadly, as a Sonos customer I just don't see their l/t survival, up against Amazon, Google, Apple…)
Smart home hubs like Wink, Samsung SmartThings
Just about anything related to streaming music that doesn't offer Alexa support
Digital photo frames
Home automation installers
Any company that makes timers, clock radios, remote controls
Smart automation cloud apps like IFTTT — will they become less important over time?
Your Uncle and his corny one-liners ("Alexa, tell me a joke")
As a guy who once tinkered with X10 home automation (and mostly failed miserably), I find devices such as the Echo Dot (and Show), and Google Home Hub with its beautiful screen, to be outstanding for controlling the home of the future… today. Hyperbole? Not really. Adding devices is a snap, as is creating automations or "routines" as Amazon and Google refer to them.
Speaking of routines, Amazon has the lead here too. As of now anyways, Amazon enables various triggers to set off a series of instructions. It could be the time of day (though sadly no option yet for sunset or sunrise), a sensor detecting motion or a door opening, a custom voice command, a person arriving or leaving, or even the press of a large Echo Button (kind of silly looking, as it's designed primarily for Alexa games). The possibilities are mind boggling. Yet creating routines is magically simple. On the other hand, at this point Google only offers routines triggered solely by a voice command.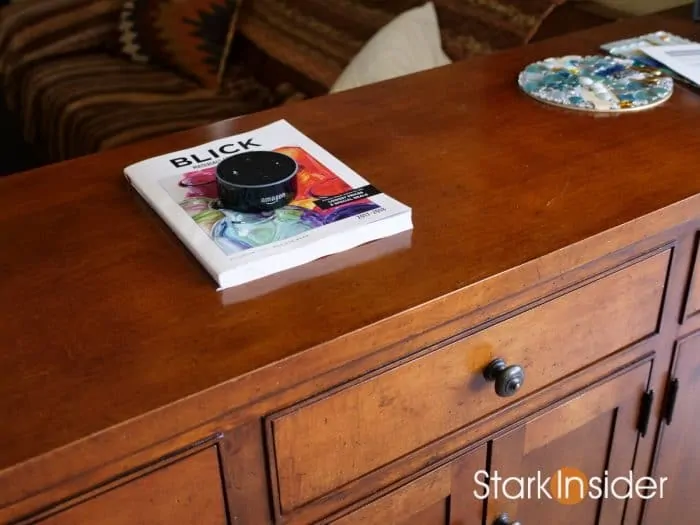 Given that devices like Echo and Google Home are perpetually connected to the cloud and hence Amazon and Google's massive computing platforms, software updates come fast. Though we typically don't know when. Unlike an app which has a changelog and requires us to take action to update it, these speakers are getting smarter and smarter all the time as updates are pushed automatically to the cloud and our devices typically without us none the wiser — at least not until an email from Amazon or Google teaching us how to use new features lands in our inbox.
Regarding product cycles it looks like Amazon has adopted an annual smartphone-like refresh. Time will tell if the Echo team decides on minor annual updates with major ones happening every other year, just like Apple. I'd expect to see a significant trade-in program too. If someone has a bunch of Echo speakers, and wants to upgrade, Amazon I'm sure will be more than happy to oblige, take them back and offer some sort of discount on new models.
Since these devices represent massive market opportunities and revenue pipelines for both companies (and others), you can bet large amounts of R&D are pouring into these departments. Don't forget this isn't just about the home. It's also about assisted living, nursing and care facilities, people with disabilities and others who can benefit from voice assistant technology.
I think it's not unreasonable to suggest that the introduction of Amazon's Echo Dot in 2015 was as big a tech milestone as Apple's iPhone was in 2007. Maybe even bigger.