If you're a content creator and looking for a superb, compact camera for shooting short films and docs, VLogs, and YouTube videos, you may want to jump on this deal.
Panasonic has a sale running on the venerable Panasonic GH5.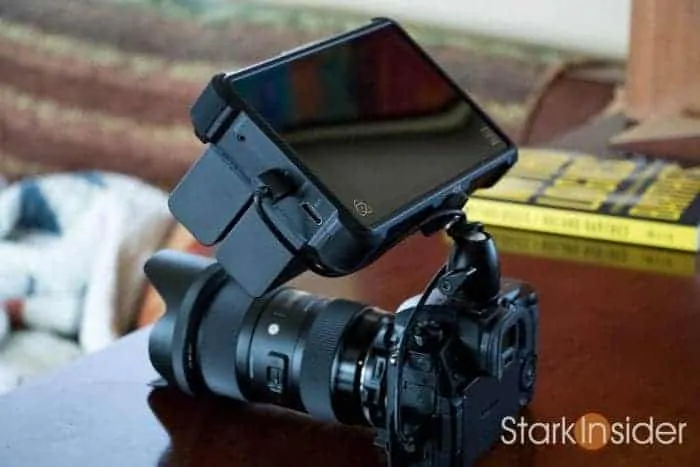 Though it might not seem like much of a discount keep in mind this camera is only a bit over a year old, and it shoots 4K 10-bit 4:2:2 video… internally. If you like to color grade and give your videos "a look" you'll appreciate what these data rich files offer during post production.
Long-time Stark Insider readers will know I've raved about this camera since it came out — probably too much. I was formally a Canon guy. Though I still use the superb 80D for stills, it's really hard not to use the GH5 for just about everything else. So we shot a David Lynch event, short films 3 Days in Sonoma and Crazy or Die, and used it also to cover the spectacular foodie extravaganza here in California known as Pebble Beach Food & Wine.
I especially like that the GH5 — as with other mirrorless and DSLR bodies — can also take high quality stills. A perfect hybrid really. Shoot some nice 4K video. Rotate the knob, and, in an instant, you can fire off some quick photos as well; really handy when you're trying to pull together the full story using mixed media.
At $1,698 it's certainly not cheap, but if you consider what the GH5 offers you'd very least have to say it's a phenomenal value.
Key Panasonic GH5 Features for Video Shooters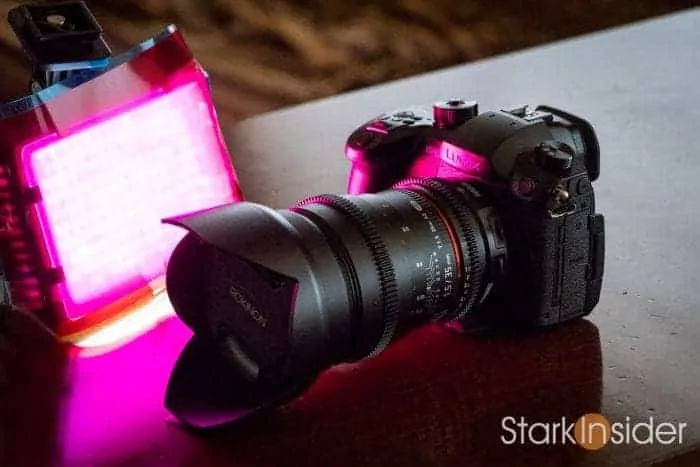 Don't forget, you also get a laundry list of comprehensive features:
Dual SD slots
VLog shooting profile (optional software upgrade, but I think essential)
HFR modes for in-body slow motion
In-body image stabilization (it's best-in-class, just amazing stuff from Panasonic)
Extended tele mode for punching in without resolution loss (handy for getting a close-up without changing lenses)
One caveat, though, is the lens mount. This is a Micro Four Thirds (MFT) camera so the sensor is relatively small compared to APS-C or full-frame. That means you don't get a wide field of view. Not a deal breaker. But something to be mindful of when planning shoots. Solutions include the obvious such as using wide angle lenses, or, my general preference, using an EF adapter. I especially like the Metabones Speedbooster Ultra. With the Speedbooster, not only can I use all my Canon glass, but, importantly, the FOV opens up by a factor of 0.71. As a bonus, you get a bit more light as well (1 stop I believe).
Panasonic GH5 Articles
GH5: Still the One
I've shot with a lot of cameras here on Stark Insider over the last 14 years. Canons like the 60D/70D/80D. Sonys like the a6000 and a6500. Olympuses (say it fast) like the various EM-D series and their confusing model naming conventions. REDs including the Raven and, more recently, the Scarlet-W and that absolutely brilliant Redcode (R3D).
However, if I were stranded on a dessert island, aside from hoping for a decent espresso machine, I would want to have a GH5 at my side.
Videos: Shot on GH5
Short Film: Crazy or Die
By Clinton and Loni Stark
Gear: Panasonic GH5, Rokinon 35mm f1.4 Cine. Sigma 18-35mm f1.8 ART. Metabones Speedbooster Ultra. Genaray LED panels. Zoom H6. A wig. (and a very willing and supportive spouse)
David Lynch — Festival of Disruption (Los Angeles)
Gear: Panasonic GH5, Panasonic 12-35mm (a small and superb all-in-one lens for run-and-gun on the GH5). RED Scarlet-W with Sigma 18-35mm for studio shots.
Wedding videographers. Indie filmmakers. Music video, travel, VLoggers and YouTube shooters. I think all would be well served to at least consider the GH5 on their short list of potential video cameras.
At this new low price the GH5 is more tempting than ever.
Just make sure you grab some ND filters and extra batteries.
Happy shooting!
Research/buy:
My recommended accessories for first time GH5 buyers: