Wemo today announced that its Mini Wifi Smart Plug now supports Apple HomeKit.
That means you can now use your iPad, iPhone, Apple Watch, and even the HomePod speaker to control devices connected to the Wemo Mini plug. You can also use Siri to give voice commands — "Siri, turn on the coffee machine".
The new capability is available via a firmware update for iOS 11.3 users and, best of all, doesn't require new hardware. Existing users will also enjoy the HomeKit integration.
HomeKit is Apple's smart home platform. Although slow out of the gate when it was first announced in 2014, third party manufacturers are finally coming on board in numbers. One of the nice benefits of HomeKit is that it's built into iOS devices. That means, for example, you can swipe up on your iPhone to access control center and access smart home buttons to control lights and devices. Apple's Home app provides further capability, including standard smart home options such as scheduling and other automation tasks.
The Wemo Smart Plug uses wifi to sync with your devices. If you enable the feature, you can even control it, and other Wemo devices, outside of your home, when you're on vacation for instance.
In addition, Wemo works with other popular smart home devices and apps including Nest (for home/away automation), IFTTT, Amazon Alexa (Echo speakers), Google Home and Assistant and others.
Mini not withstanding, other Wemo devices require a bridge to interface with HomeKit — so keep that in mind if you have other Wemo switches and want to control them using HomeKit. Fortunately, at $39.99 the Wemo Bridge is reasonably priced. If you're like me, though, it means yet one more bridge in an increasingly mumble jumble of wiring somewhere in your home. Mine is a growing list of smart home Bingo: Samsung SmartThings, Hue, Insteon and Lutron. Hubs, hubs, and more hubs. It will be interesting to see if over time the market consolidates to a few major platforms. So far that hasn't happened.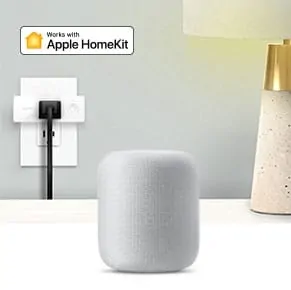 In my tests over the past year, Wemo products have performed well. They're easy to setup, and work without a hitch. Just as you'd expect a smart home device would. My only caveat: since these operate using Wifi adding more will potentially increase congestion on your home network. Something to keep in mind. For small projects with under a dozen or so Wemo devices I don't think this would be an issue, but for large projects it could pose a problem for a network that is already supporting many Wifi devices. Just anecdotal thoughts, you should, of course, do your own planning and testing in advance of embarking on a major smart home project.
Perhaps the biggest benefit of this bit of news is that Wemo users will be able to control their lights and devices using their iPhones and iPads and without having to open the (dreaded) Wemo App. Instead, simply swipe up to access the control center to access controls, or open the Apple Home App for more advanced stuff like scheduling and automation. An added benefit: other Apple users on the WiFi network who are authorized will also have the same smart home control access.
One final note: Apple HomeKit does require a bridge. You can use your Apple TV, HomePod or even an old iPad.
The Wemo Mini Smart Plug retails for $34.99 (USD) and is now shipping.