Wonder why flagship smartphones drop in price so fast these days?
The answer may lie in Mary Meeker's most recent internet trends report (see end of this article for her full presentation). Meeker spoke at the annual Code Conference in Rancho Palo Verdes, California. Once again, her findings are essential reading if you're in anyway involved or interested in the tech sector.
One of the key takeaways is that smartphone growth has hit a wall. In fact, for the first time ever, last year (2017) smartphone shipments didn't grow at all. 0% y/y. Ouch.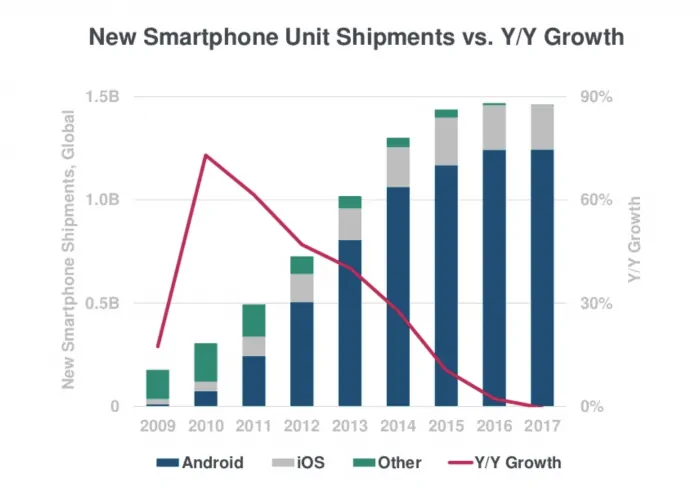 That may explain why we're seeing phones like the flagship Samsung S9 getting discounted only months after release. High end phone sales are seemingly a tougher sales proposition each year. After all, chances are your one-year-old, two-year-old, or even three-year-old phone is probably running just fine. Email. Web. Social media. Not exactly the kind of apps you need the latest and greatest internals to run.
I still believe that the annual or biennial upgrade cycles are becoming less and less of a sure bet for companies like Samsung and Apple and Google.
Rumor has it that Apple will bifurcate the iPhone X line. We're likely to see three models this Fall. My suspicion is that this will enable Apple — if Tim Cook gets it right — to still scoop up high margins with a flagship device that early adopters must have, while also selling budget and mainstream handsets that will hopefully shake loose upgraders sitting on the fence (not to mention, help dig deeper into emerging markets).
Meeker's report further revealed a few bits of information related to the smartphone  and internet market worth noting:
2017 smartphone shipment growth = 0%
Android still dominates; although, after growing share it looks to have plateaued 2016-2017 with about 75% share of all smartphone shipments
Internet growth also declined, and is at about 7% y/y
Meeker notes that smartphone devices are "Better / Faster / Cheaper"
Indeed, ASP (average selling price) of smartphones has dropped y/y to just over $300 (USD)
So where is potential growth for tech companies?
Smart speakers and voice-controlled devices.
One look at the sales chart for Amazon Echo speakers will tell you all you need to know about the potential for that market. It's growing like gangbusters. Up and to the right. Big time.
Machine learning. AI. Smart home. These seem to be big trends right now in tech — among others.
Basically, the smartphone has matured. We don't need the latest and greatest CPU or graphics processor to get stuff done. That's why companies like Google, Amazon, Samsung and Apple are attacking on other fronts now. Emerging tech like VR, is an example, in addition, to the aforementioned smart speaker (and overall smart home strategy) are increasingly important parts of a well-diversified product portfolio.
Mary Meeker's report is available now. Be warned, it's 294 slides. Still, it's a quick read, and is likely to make your head explode with the amount of interesting and helpful data and information contained within.
Meantime, I'm going to go looking for a steal of a deal on an "old" Pixel XL smartphone. The $1,000+ smartphone? Your days are numbered friend.
Presentation: Internet Trends Report – 2018
By Mark Meeker (Kleiner Perkins)