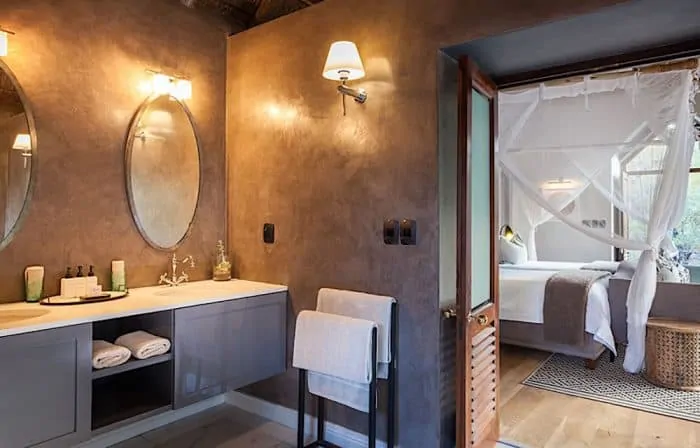 As a travel writer, I've been fortunate enough to visit almost 100 countries. My accommodations have ranged from a tent in Ethiopia where my guide proudly showed off the al fresco toilet he had concocted by placing a wooden toilet seat on top of a large cardboard box, to a lavish Asian retreat (where my $10,000 night suite included personalized, gold embossed stationery) which has long been my number one favorite spot. However, after my recent trip to South Africa, there has been a surprising upset with Thornybush Game Reserve taking over first place for my most memorable stay.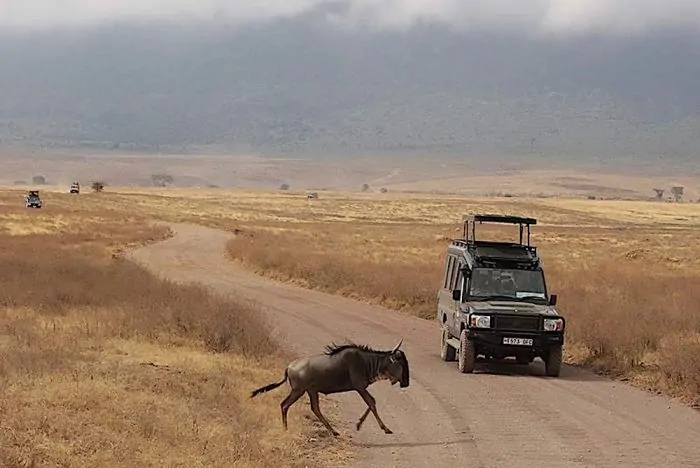 It was surprising because while so many people have 'Go on a safari' leading their bucket list, it was never even on my top 20, since to me it always looked like it was just tons of jeeps bumping along dry, dusty, pot-holed dirt roads, all fighting for a spot to view some animals from miles away. WRONG!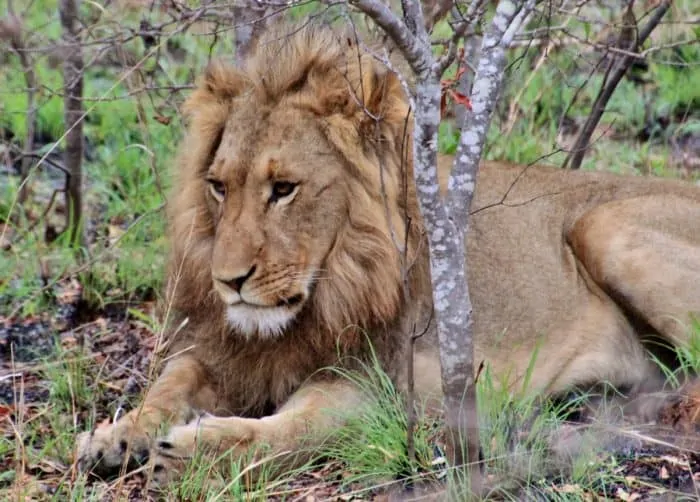 My three-day stay at the upscale Thornybush Main Lodge, a private game reserve adjacent to the Greater Kruger National Park, was literally life changing. The reason 'going on safari' is the quintessential African adventure is because there is absolutely nothing more exhilarating than coming face to face with the Big Five (so named because they were considered the most dangerous to animals to hunt).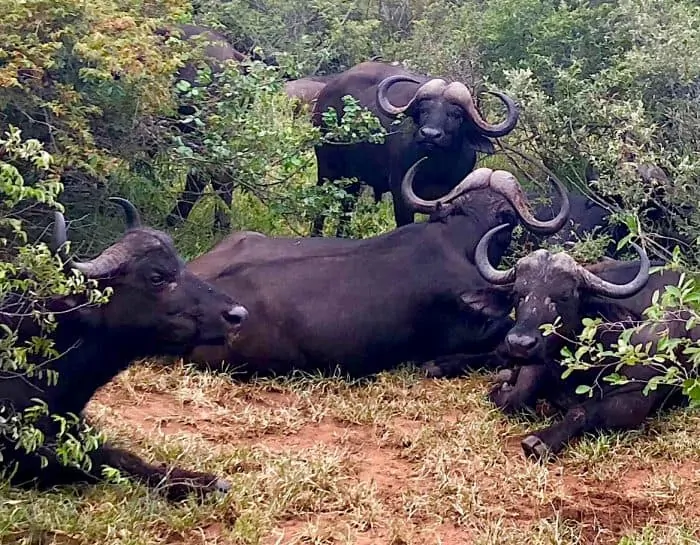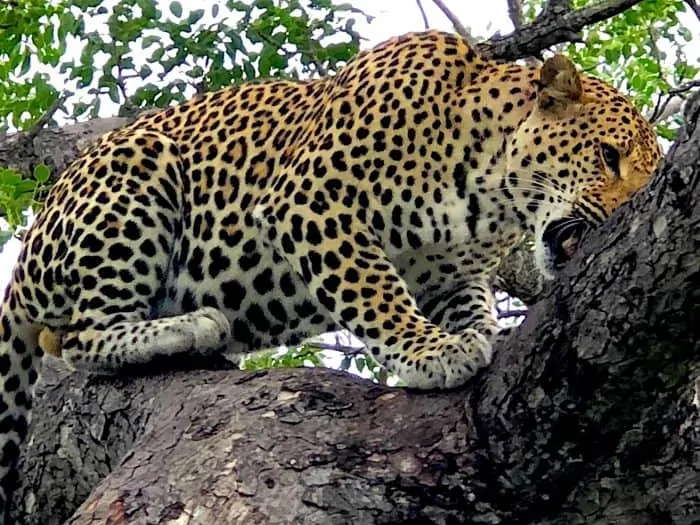 I was thrilled that thanks to our top-notch guide and tracker we saw them all: a pride of lions, a leopard tearing into a recent kill, a herd of trumpeting elephants AKA 'King of the Beasts', the amusing Cape buffalos, whose horns reminded me of Princess Leia's hairstyle although it turns out these docile appearing animals are actually the most dangerous of the five and finally, the critically endangered rhinoceros. A very sad commentary on our times was when we were asked not to post any rhino photos on social media since savvy poachers scour sites looking for leads on where to find these threatened species. I was shocked to find out that African poachers killed 1,028 rhinos last year!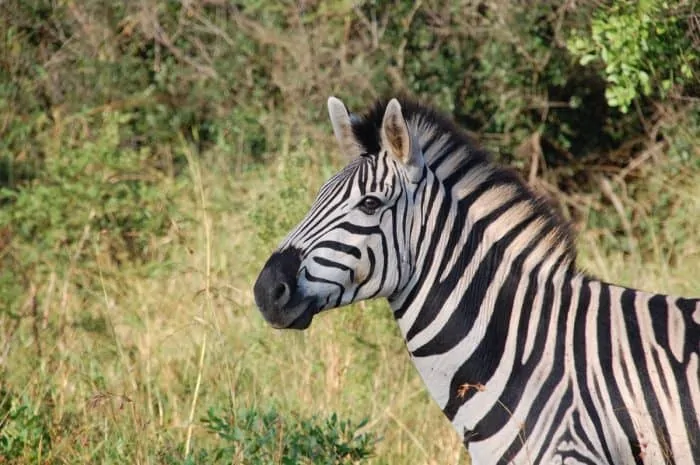 Extra-credit points were handed out for also finding us stately giraffes, blue wildebeests, zebras, hippos, homely warthogs, ostrich, kudu, a strikingly beautiful antelope with long spiral horns, and an impressive array of birds including a Kori Bustard, the largest flying bird native to Africa which looked like something out of Jurassic Park.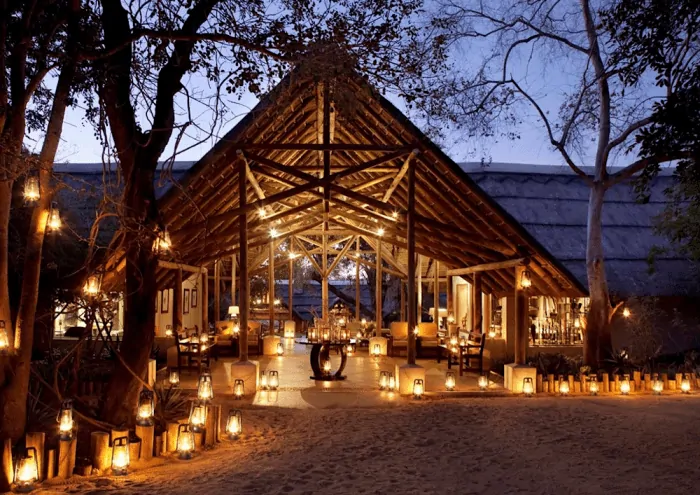 The artfully designed Thornybush Main Lodge provides the perfect bush-chic base camp. It's located in the wildly beating heart of 14,000 hectares of the Thornybush Nature Reserve, adjacent to Kruger National Park.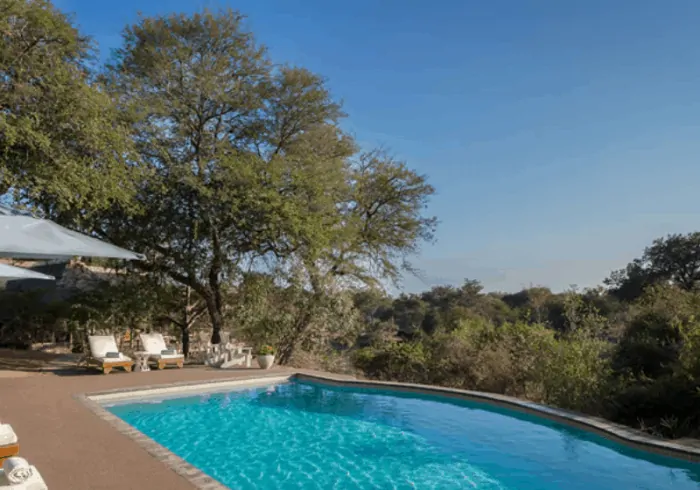 When sending emails back home during my stay, my "thumbs-up" emoji was put to constant use since everything about this lodge was spot on. The scrumptious fresh food, the Afro-luxe accommodations, and the warm friendly staff left me complaint-free. After our bush excursions, we looked forward to returning 'home' to our roomy suite where we would bask in the sun on our private viewing deck, laying in wait, cocktail in hand, for whatever animal would wander over to the ever-active watering hole. Other options included paddling in the pool, shopping at the boutique filled with a fab collection of African crafts, or a pampering session at the fully equipped Amani African Spa where the relaxing massage comes backed by soothing bird sounds.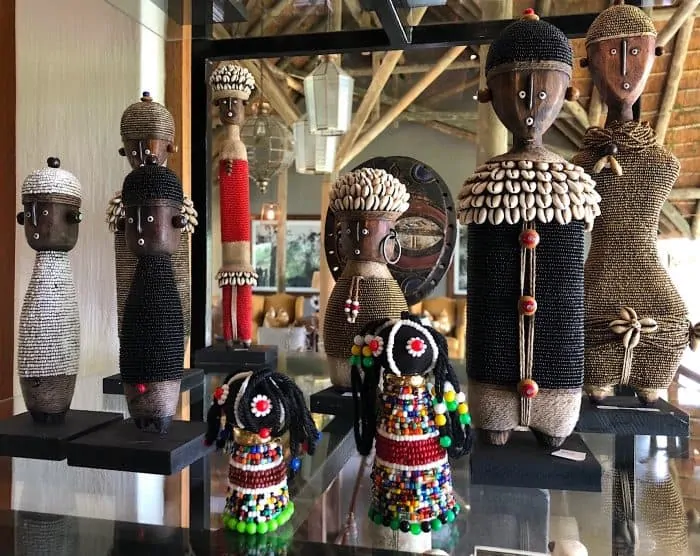 The lodge has 20 stylish air-conditioned suites with high ceilings, twin or king-size beds, an en-suite bathroom surrounded by large glass windows so that even while you're applying mascara you won't miss any animal viewing opportunities, a soaking tub, plus an indoor and outdoor shower. I loved showering outside under the star-studded African sky even although I did see a couple of peeping monkeys laughing at me from the trees.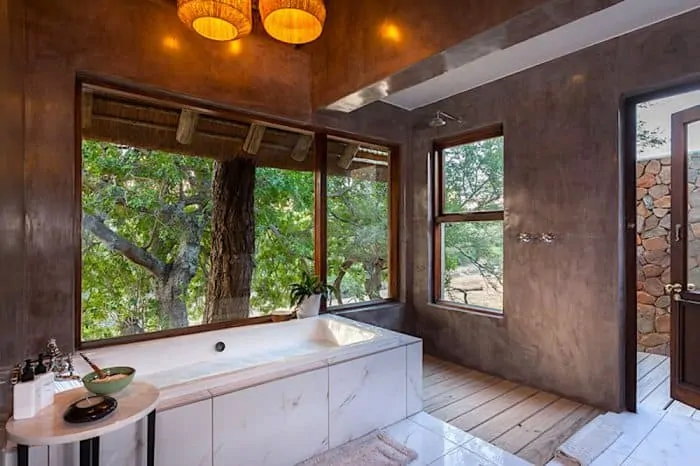 Three meals, high tea, drinks and snacks, often, are included in your stay. The chefs produced sophisticated renditions of local favorites, using local produce with lots of healthy salads and veggies, which balanced out the endless parade of home-baked sweeties offered throughout the day. We'd kick-start the day with hot muffins and these addictive crunchy rusks (way better than biscotti) perfect for dipping in the indigenous rooibos tea. Our post safari brekkie was a buffet of seasonal fruit, meat, cheese, your choice of egg dishes, and the most amazing granola. One morning our guides drove us to an off the beaten bush spot, where two cooks surprised us with a lavish outdoor hot breakfast.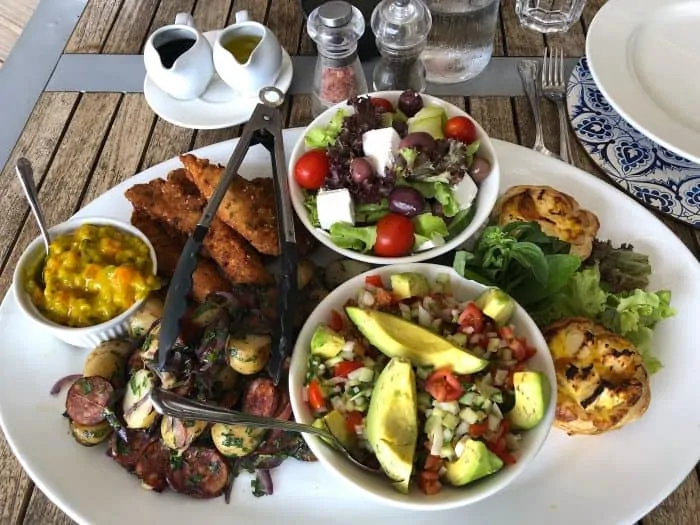 Lunches were usually self-serve with pasta, roast meat, vegetables, and inventive gourmet salads. If I wanted anything special I'd just place my order with our butler Elvis or Pride, the Food & Beverage manager, who both were anxious to please.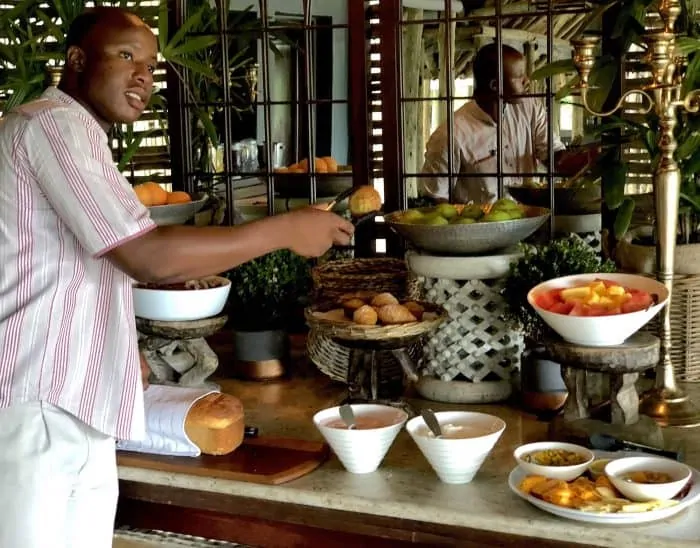 Dinners were three-course affairs featuring local fish or exotic game with plenty of vegetarian options. Venue choices ranged from a romantic candlelit table on the terrace to a BBQ in a traditional boma (outdoor enclosure).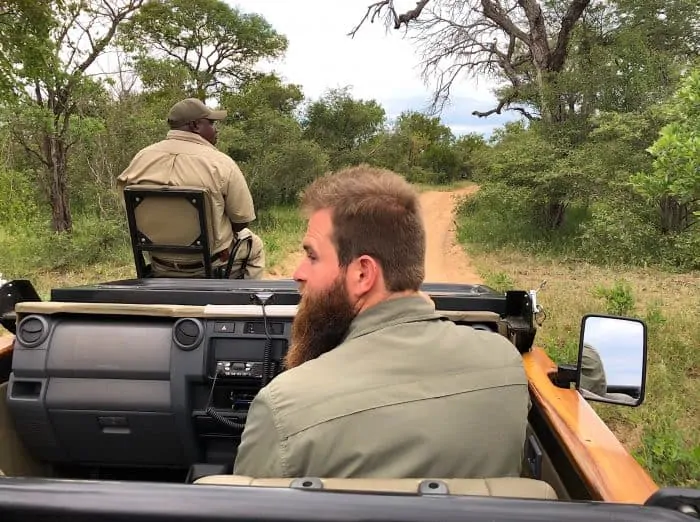 But as wonderful as the food was, the highlight was absolutely the safaris. I swear this was the only trip where I eagerly jumped out of bed at 5:00 am, just in time for a quick coffee before I ran down to the lobby to meet our stellar tag-team, Jack and Ishmael, our guide and tracker. This dynamic duo was so in sync that it was like watching a finely choreographed ballet as Ishmael, leaning forward from his perch in front of the 4×4, sharp eyes scouring the bush for hidden animals, sniffing the air like a finely trained retriever, would, with the merest flick of his hand, motion to Jack who immediately would interpret the movement and silently navigate in that direction, while whispering to us what we were searching for. Sometimes they would hop out, armed only with a stick or at most, a machete, to check the freshness of the scat (animal pooh) or head deeper into the bush to follow an animal cry.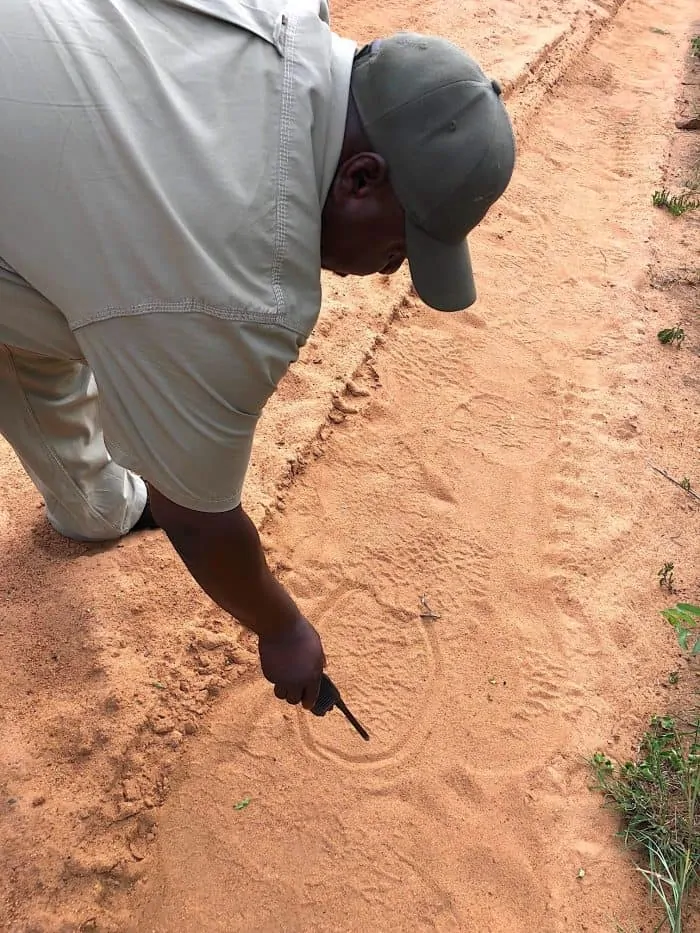 The two never lost their enthusiasm, which greatly added to our experience, whether they were telling a hysterical story, such as when Ishmael was almost attacked by a lion and turned to his friend (not Jack) for help, only to find out that said friend "just happened" to be running away in search of a baseball cap that had blown off. Jack, a natural born teacher, regaled us with fascinating tidbits of animal lore while teaching us many insider safari tips such as how to identify the animal foot prints, or how to stealthily (not my strong point) track a gang of buffalo during our thrilling walking safari.
Stark Insider Travel

Recent articles by Janice Nieder
Although the custom embossed stationery was pretty classy, thanks to Thornybush, I think I've turned into a safari junky!