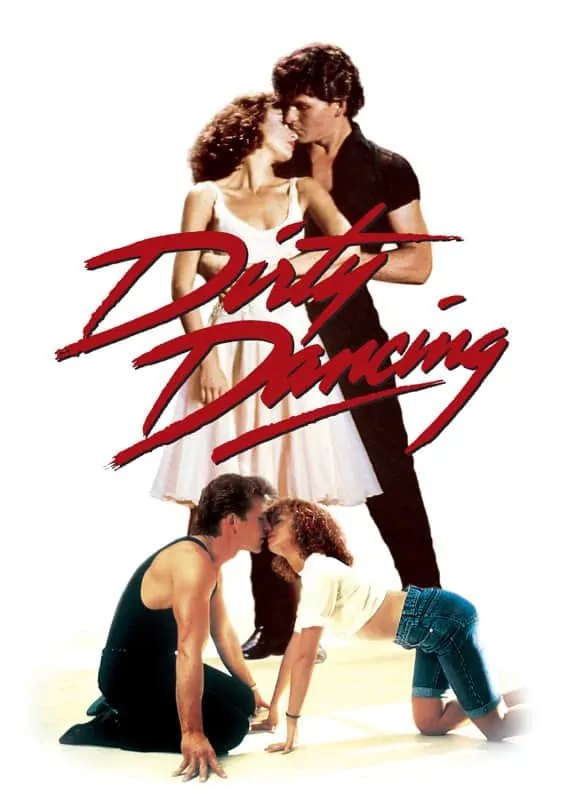 Shout out to all Dirty Dancing film fans: Mark Your Calendars now for the August 18-19th Dirty Dancing Festival held in Lake Lure, North Carolina. If you're thinking, "But wait, aren't we in September now?" you'd be right. However, I'm giving you advance notice for 2018 because you're not the only one who's down for "having the time of your life". There are well over 1,000 other fans who want to relive Dirty Dancing alfresco on the big screen, humming, singing or dancing along to the timeless songs.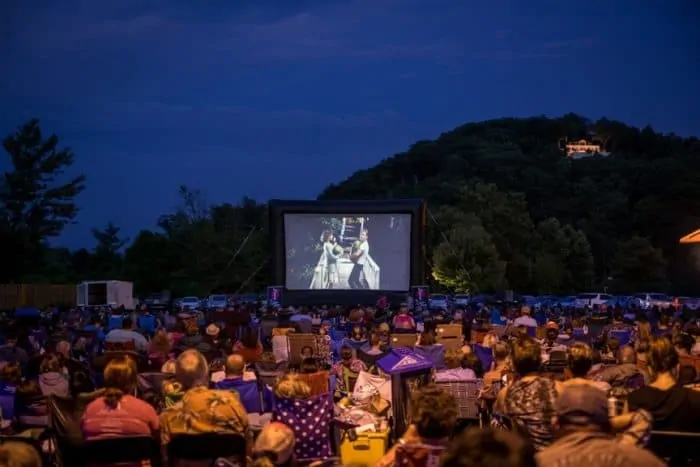 Plus, the best rooms fill fast so if you're thinking of booking the exact rooms where Patrick Swayze and Jennifer Grey stayed (psst-they roomed at the historic 1927 Lake Lure Inn and Spa) while shooting the film, a mind-blowing 30 years ago, you'd better act fast!
The crazy fun weekend also includes live bands, dance performances, sing-alongs, watermelon games, D.D. dance lessons where you can learn all the moves, from Lisa's iconic hula dance to The Shag, taught by professional dancers imported from the Asheville Ballet.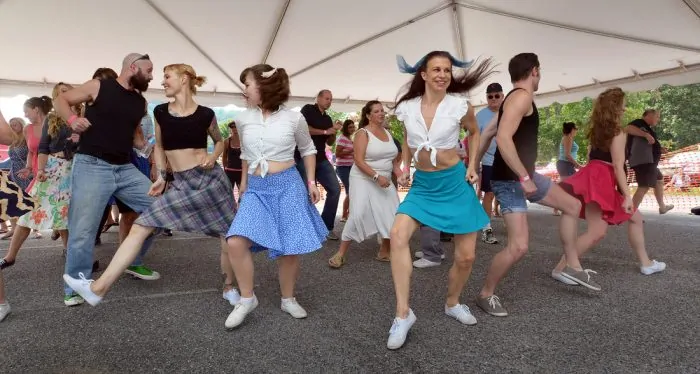 If you try really hard you might even be picked for the Kellerman's Talent Show! Don't worry about people laughing at you (the crowd is super supportive) because most the laughter comes when watching the infamous (and hysterically funny) "Lake Lift" competition.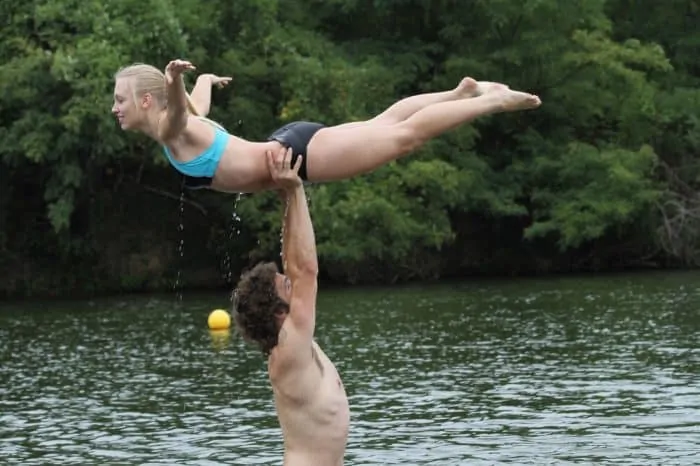 The final shebang is the After Party, where, just like in the film, you can get-down with the actual dancers.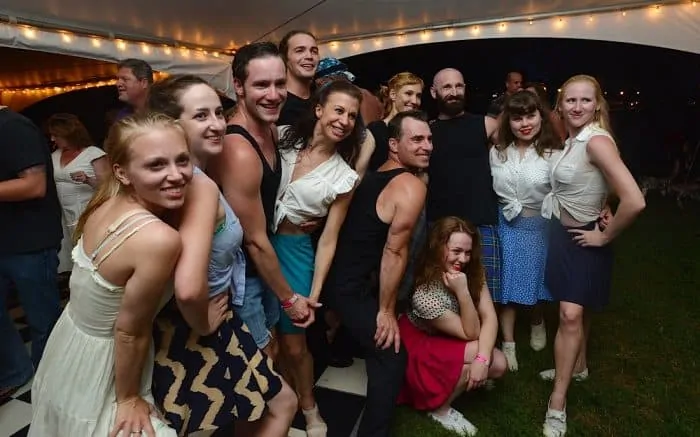 D.D. FILM SPOTS TO CHECK OUT
While Lake Lure provided the perfect romantic backdrop for many of Johnny and Baby's dance scenes there are other Lake Lure film locations you might want to check out. There's the former Boy's Scout Camp which was used for the camp counselor's cabins shots (although the footbridge and the foundations of camp buildings are about all that's left), the white bridge and stone steps which are now on private property but you can see them while boating on the lake, and the golf course at Rumbling Bald Resort, where baby asked her father for money for Penny's abortion. Head to the main lobby of the Esmeralda Inn and to see the original dance floor where Johnny and Baby had their final dance.
Pop in to the Rutherford County Welcome Center where you can view an original film cell, photos from the filming locations as well as a great mockup of the staircase Baby practices her dance moves on. Perf for selfies!
THINGS TO DO AFTER THE D.D. FESTIVAL
Lake Lure certainly lives up to its name, luring you in with its peaceful beauty, and relaxed pace. Whether you're in the mood to just chill out and just contemplate your navel or perhaps you'd rather hike, bike, paddle, or row your way around Lake Lure here are a few activities to get you started.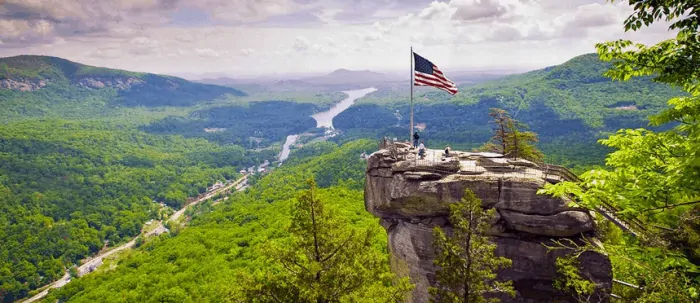 1. Hike Chimney Rock at Chimney Rock State Park
Choose an easy walk to the Hickory Nut 400 ft. waterfall or take the challenge and climb the 499 steps to the top of Chimney Rock, where you'll be rewarded with a 75-mile panoramic view taking in the unbridled beauty of the Blue Ridge Mountains. It's easy to understand why Chimney Rock State Park was one of the filming locations for the movie "Last of the Mohicans"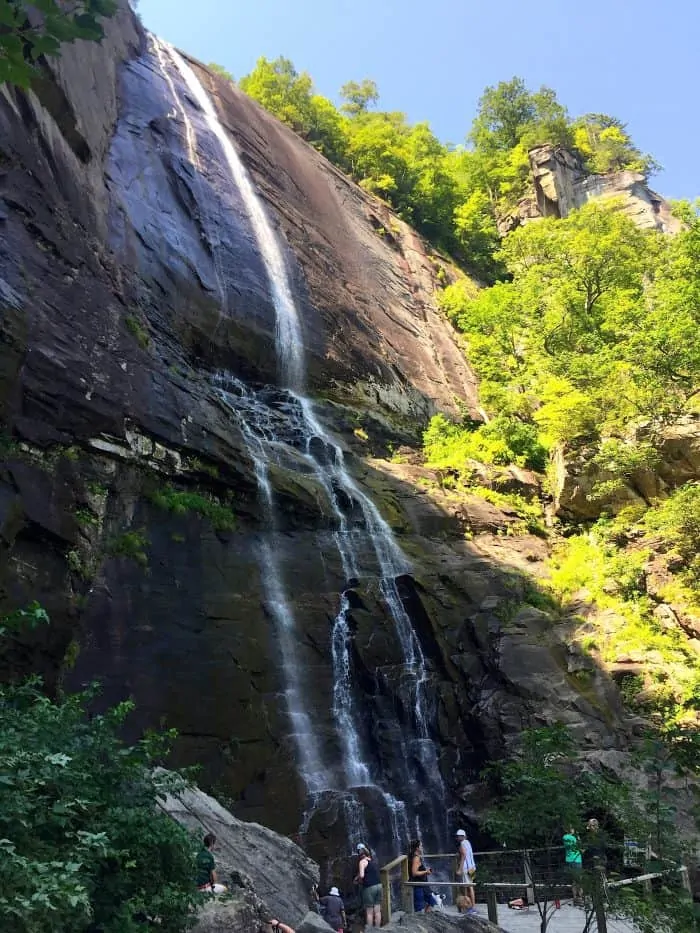 Inside Tip:

Adrenalin junkies can sign up with the certified instructors at Fox Mountain Guides for rock climbing adventures for beginners to advanced climbers.
Afterwards, celebrate your climb, head down to the village for a well-deserved drink on the deck of the Riverwatch Waterfront Bar & Grill that overlooks the Rocky Broad Riverwalk and Chimney Rock. It's so close you can wave to the climbers.
There's no shortage of souvenir shops in Chimney Rock Village main drag — but bar far the best one is Bubba O'Leary's General Store.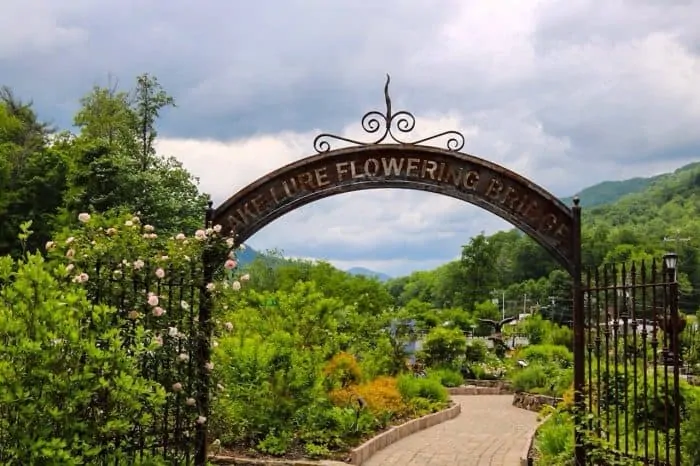 2. If you'd rather stick to a slow stroll, head to the Lake Lure Flowering Bridge.
Once a bustling thoroughfare, this historic bridge was repurposed into a gorgeous pedestrian walkway, only the second of its kind in the U.S. The walkway is made up of a mind-boggling, 700 different plants and flowers, all arranged in a crazy quilt of twelve themed mini -gardens, including a sensory garden for the visually impaired. The most amazing part is that this dilapidated old bridge was due to be torn down until a dedicated bunch of volunteers spent over two years of their lives collecting donations to turn it into the flowering work of art it is today.
If you see a volunteer weeding, ask them to point out some of the unique growies such as the amazing Peanut Butter Tree (smells just like it), the hard-to-find, green roses (hint- look in the rose garden) or Harry Lauder's Walking Stick, a cartoonish twisted shrub found in their charming, whimsical garden.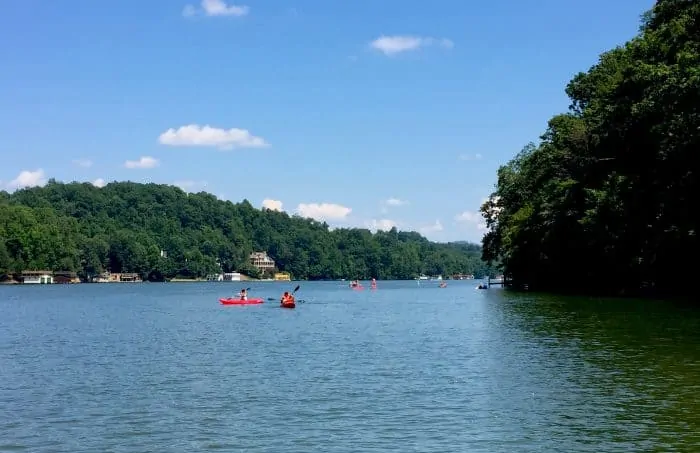 3. Head the call of Lake Lure and take one of the hourly pontoon boat tours where you'll learn more about the cultural history of the area.
For something a bit more strenuous they also rent out canoes, paddleboards and kayaks, or you can charter a fishing boat.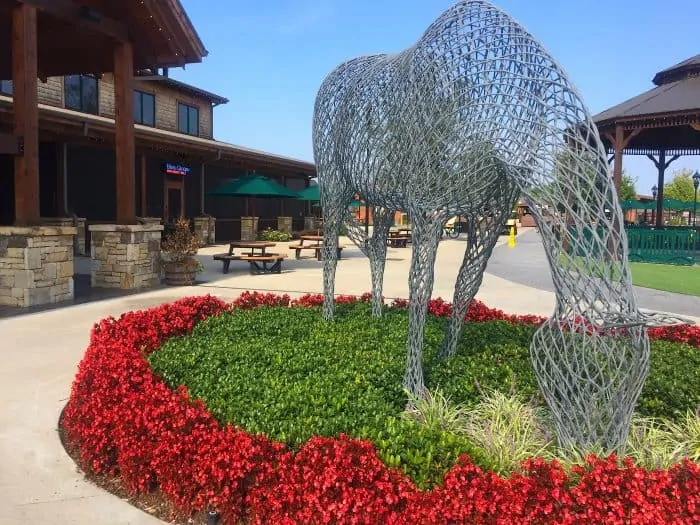 4. Horse lovers will be in horsey heaven at the new Tryon International Equestrian Center located about 20 miles away in Mill Spring.
In 2014 this was just a pile of dirt and rocks, but a few short years later it is now one of the premier Equestrian Lifestyle facilities in the world, created by one man's vision (Boston developer Mark Bellissimo) and approximately $175 million. It will be the home to the 2018 The FEI World Equestrian Games™ (FEI WEG), which is THE major international championship event (think Olympics for Horses) for the eight core equestrian disciplines of show jumping, dressage and para-equestrian dressage, eventing, driving, endurance, vaulting and reining.
Admission and parking at the center is complimentary which offers live music, free Venetian Carousel rides, and a wide selection of dining and shopping choices. Their calendar is filled with eclectic events ranging from equestrian competitions or non-four-legged events like outdoor movie night, trivia and themed evenings.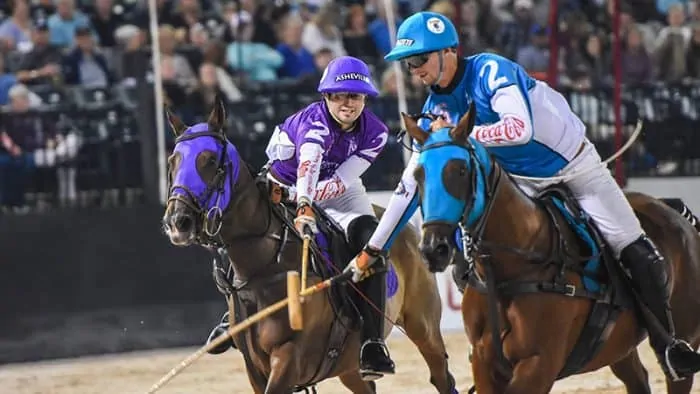 One of the most popular events is Gladiator Polo, a sport that was invented by Bellissimo. The inaugural Gladiator Polo game, presented by Coca-Cola on June 24, 2017, was filled to capacity with over 10,000 cheering spectators. He believes that this action-packed sport, which he describes as "hockey on horseback" will appeal to football, wrestling, and hockey fans worldwide so next year he will be bringing it to Rome, Paris and China.
At the moment you can stay on-site at the 150-room hotel or opt for one of the modern log cabins, although Bellissimo is busily working on a handful of new hotels due to open before the 2018 Games.
Where to Stay: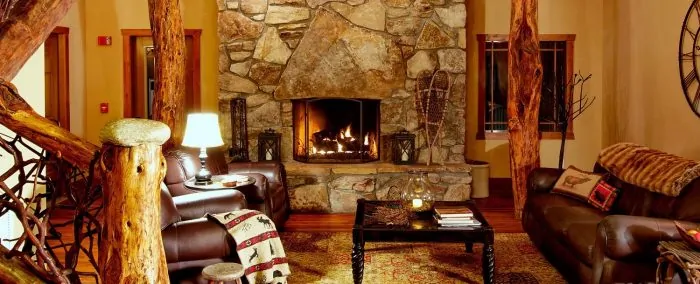 The 125 year old, Esmeralda Inn, once served as a stop on the Stage Coach route. The newish innkeepers, a lovely couple who have years of experience in the hospitality industry, feel in love with the area and decided that running the rustic, cozy 14-room Esmeralda Inn and Restaurant was exactly what they wanted to do.   They spruced up the property and now the rooms offer sumptuous Anichini linens and bathrobes; quality spa toiletries, extraordinarily comfortable beds, 32″ high definition flat panel televisions, Bose Wave music systems, wireless internet access, fireplaces, hot tubs, an outdoor pool, a full breakfast to start you day off right. They even offer hot cookies!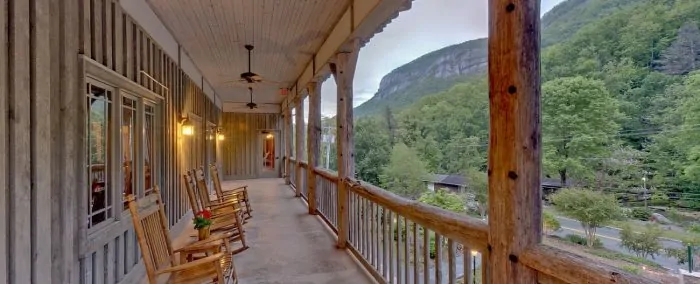 Nab a rocking chair and Order a glass of wine from their well-curated list as you take in the views of Chimney Rock from a rocking chair on the porch or while soaking in the outdoor Jacuzzi.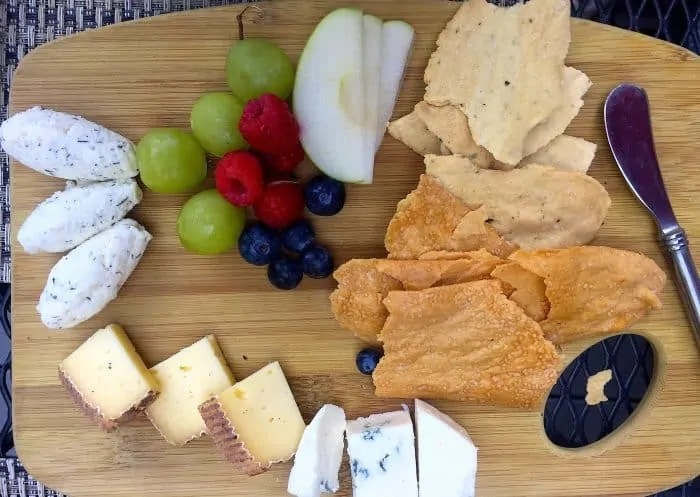 Feast on the scrumptious Southern-with-a-twist fare served in the wood timbered dining room or out on the patio. I opted to "go native" by starting with artisan local cheeses and creative shrimp & grits spring rolls followed by a panko-crusted, fresh Lake trout.
For a fun experience, reserve The Chef's Table in the kitchen, where you'll be able to watch Chef Keith Chinn whip up your meal!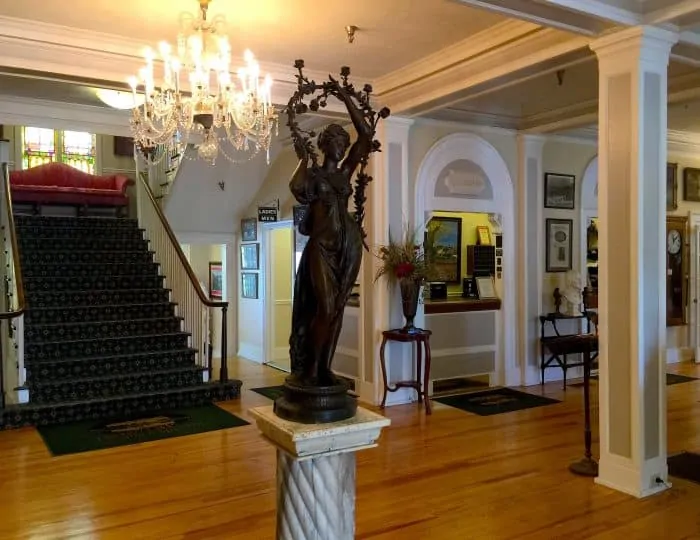 Another oldie but ever so goodie choice is The 1927 Lake Lure Inn and Spa – where "Modern Comfort Meets Historic Charm".
This landmark, lakefront property has a gorgeous lobby filled with antiques including a stunning Baccarat Crystal chandelier from the 1870's and 25 restored music boxes. Join the ranks of past guests such as F. Scoot Fitzgerald and Franklin Roosevelt and of course, rooms where Swayze and Grey.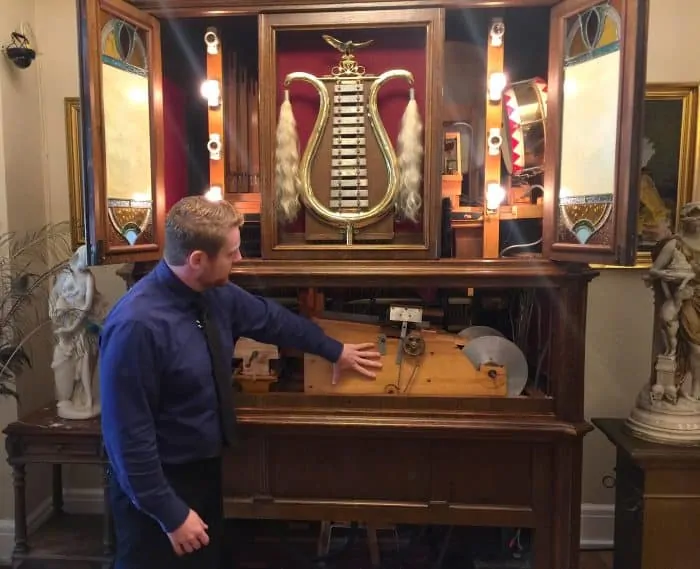 Indulge in deep-tissue massages, body wraps, or a variety of other services before dining in the Veranda Restaurant or the Moose & Goose Lounge. If you're there on a Sunday don't miss their festive Sunday Brunch Buffet served in the Grande Lobby.
Italian Eats: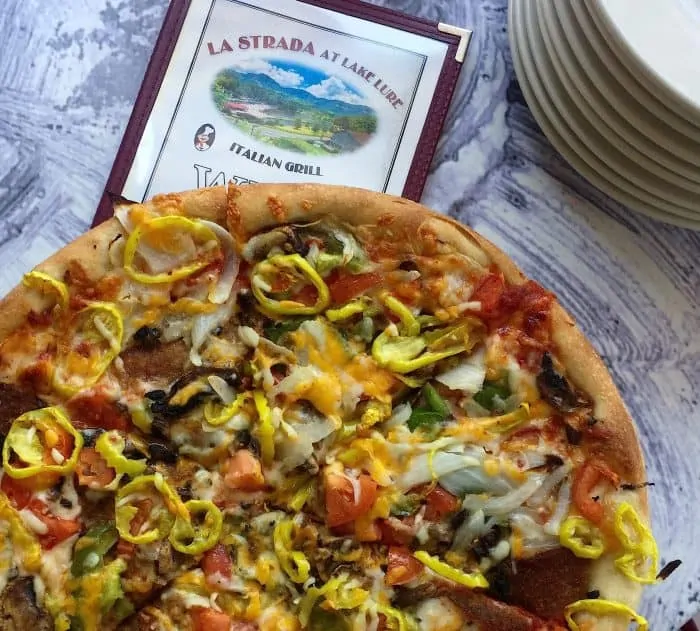 The restaurants at both hotels come highly recommended for a relaxing dinner but if you're looking for a tasty casual bite, the friendly, family-owned, La Strada at Lake Lure Italian Grill ticks all the right boxes. Patio dining comes with a backdrop of lake and mountain views, perfect for enjoying their surprisingly authentic NY-style brick oven pizza and traditional Italian cuisine. If you're not on a date go for their famous garlic rolls…if you are, then make sure you both partake. Less smelly but equally yummy is their unique Sweet Potato Fries served with a Pina Colada Caramel dipping sauce.