You know how people who've met President Bill Clinton often say he has a way of making you feel as though you're the only one in the room. I feel the same way about Charlotte, NC. Its Southern charm is palpable and whenever I visit I'm treated like royalty. I suspect it's not just me, but everyone who visits this hospitable town will leave slightly besotted by "The Queen City".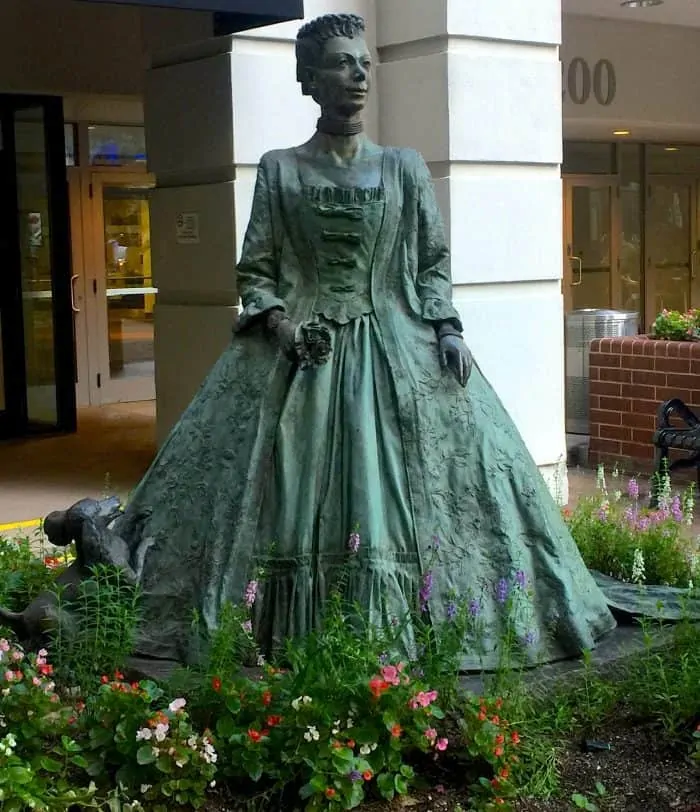 Named after Queen Charlotte, the beloved wife of King George III) Charlotte's an immaculately clean, gorgeous, fun, safe, friendly, walkable city is filled with a wide array of museums, local art galleries, outdoor parks, numerous brew-pubs, trendy nabes filled with creative Indie-boutiques, and an array of dining options from funky food trucks to fine dining establishments.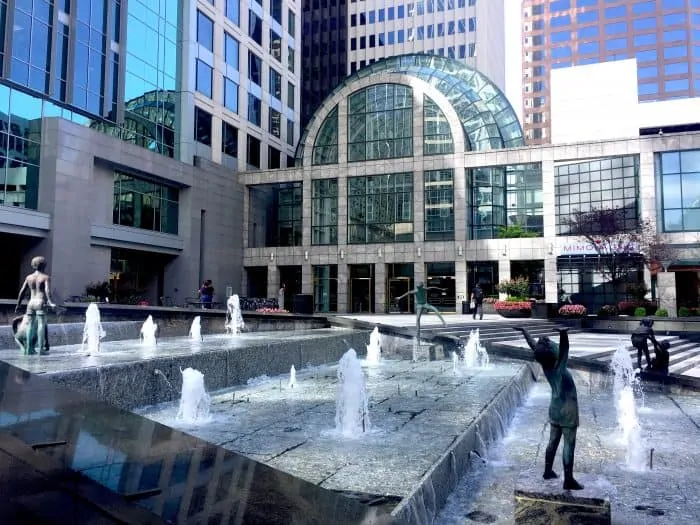 One of the best parts is that you can experience all the above without ever leaving downtown (although quirky Charlotteans refer to it as "Uptown" since it is the highest point of the city!)
STAY: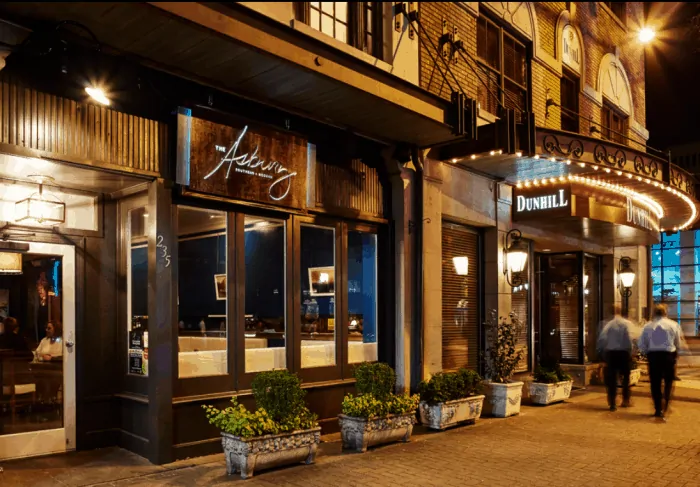 If you want to be treated like royalty, stay at The Dunhill Hotel, one of the Historic Hotels of America, located in the heart of Uptown. It recently emerged from a multi-million dollar restoration, updated with modern amenities (think comfy robes, homemade chocolate-chip cookies, and weekly wine tastings) while still preserving its Old World elegance, warmth, and style. From the minute I checked into this 60-room boutique property, I received the friendliest service, with everyone from housekeeping to the most gracious General Manager asking, "Is there anything we can do for you to make your stay more pleasant?"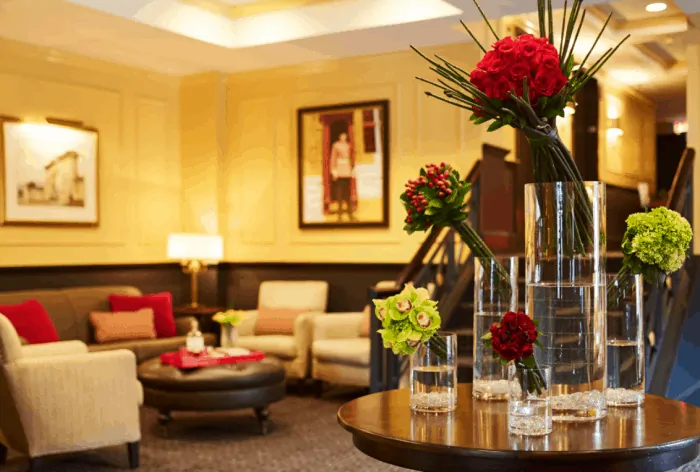 After gobbling down the addictive sweet & spicy popcorn and the plate of chocolates that awaited me in my bright, spacious guestroom, the answer was, "Hell yes, please send up another batch of these!"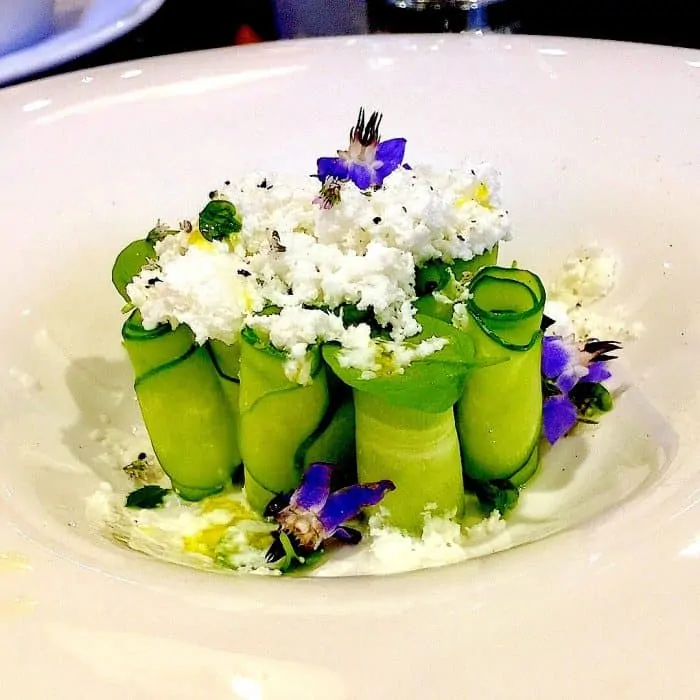 For your first night, all you have to do for an incredible dinner is head downstairs to the in-house restaurant, The Asbury, which offers some of the finest farm to ranch to table Southern cooking in town. Chef Matthew Krenze, whose family owns the cattle ranch that supplies the restaurant, searches out the finest local products combining them in unique blends for a creative spin on Southern classics. The pretty as a picture, standing Cucumber salad adorned with a headdress of frozen then shaved, buttermilk and lavender goat cheese, or his Bison Tongue Bratwurst sided by a smoked cabbage and fennel slaw will wow you.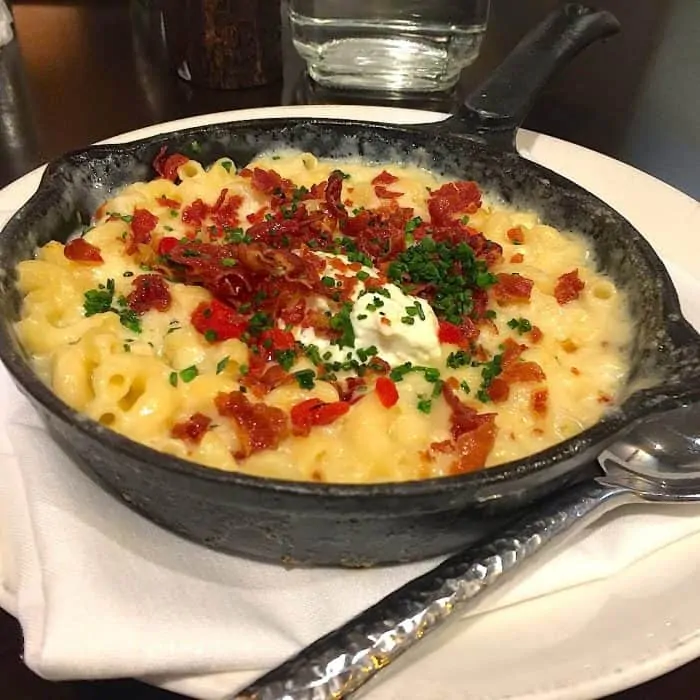 When the mundane sounding Mac-n-cheese arrives at the table, bubbling away in a cast iron skillet, you'll be thrilled you're dining alone so that you don't have to share any of the crispy goat cheese edges clinging to the pan.
If you've flown in from the West Coast then it's three hours earlier according to your body clock, so you'll have plenty of time for a nightcap at The Punch Room, located two blocks away on the 15th floor of the Ritz Carlton. Upon entering this seductive, retro-glam speakeasy, with its soft romantic lighting and plush leather sofas, you'll feel like you just scored an A-list invite to the hottest private club. Head over to the petite bar (the best seats in the house) where mixologist extraordinaire, Bob Peters, will not only take fabulous care of you, but you'll also have the best time watching this slightly mad genius in action creating a cocktail from his favorite liquor mixed with fresh, seasonal ingredients (he grows many of them on the hotel's rooftop garden) then reaching for a flaming torch or hand-held carbonator to put on the finishing touch.
WHAT TO DO:
Whether you're a "just-coffee" girl or need something more substantial, Amelie's French Bakery & Café is a must to kick-start the day. Now a successful, local mini-chain, This fun spot, decorated in zany, garage sale/Paris chic, has great coffee, yummy "create your own breakfast sandwich" and such a drool-worthy pastry case that I wasn't surprised to learn that the sweets that tempted Peeta and Katniss on their train ride to the Capitol in "The Hunger Games" came from here!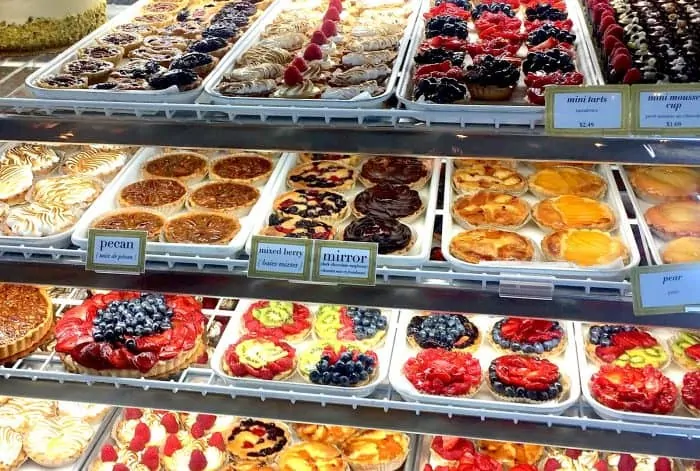 Inside Tip:

If you don't buy some desserts to go, including their famous salted caramel brownie, French macaroons, and flaky chocolate croissant, you'll so regret it later.
Art enthusiasts will love strolling uptown, where the streets are lined with public art, consisting of shimmering metallic sculptures, historic statues, and vibrant murals.
Walk down Tryon Street until you get to Trade Street. You're now at Independence Square, where three of the four towering statues represent Charlotte's past history. The fourth statue, a mother holding up her baby, represents the future.
Continue down South Tryon Street to the Levine Center for the Arts, a convenient cluster of three world-class art museums.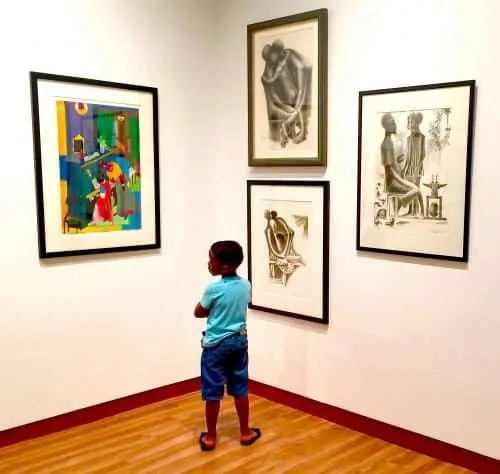 Celebrate some amazing cultural achievements by African-American artists at the Harvey B. Gantt Center.
Marvel over the internationally renowned Craft + Design collection at the Mint Museum.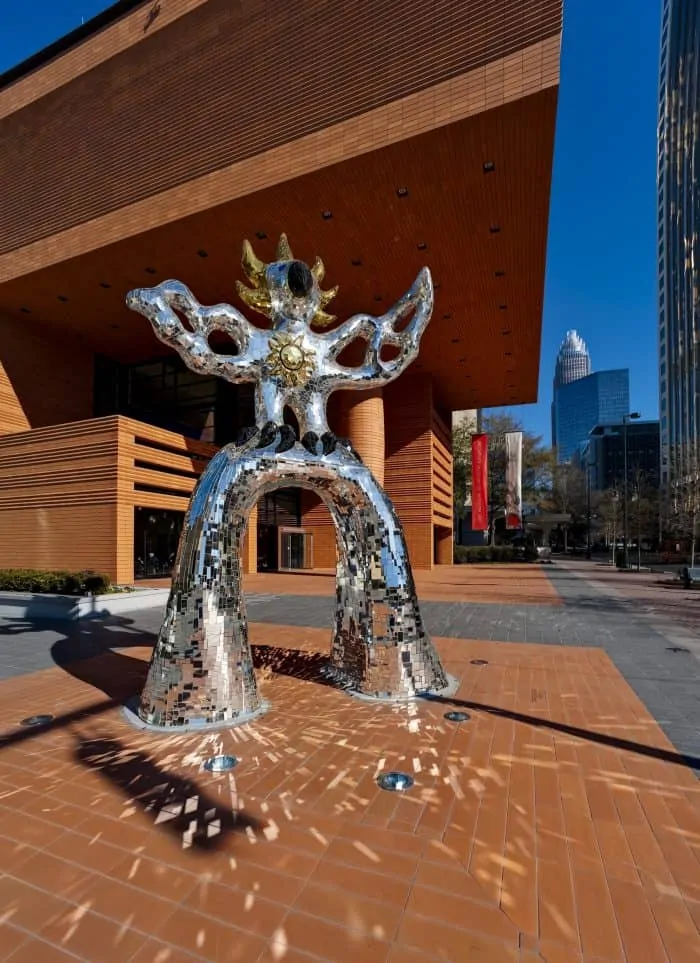 The gorgeous Bechtler Museum of Modern Art, designed by famed architect Mario Botta, houses pieces by the world's most influential artists including Giacometti, Calder, and Warhol. Outside, snap an iconic selfie while standing under the 17 -oot high FireBird sculpture, A.K.A "The Disco Chicken".
Inside Tip:

Buy the Levine Center for the Arts Pass, which allows access to all three museums for 48 hours for only $20.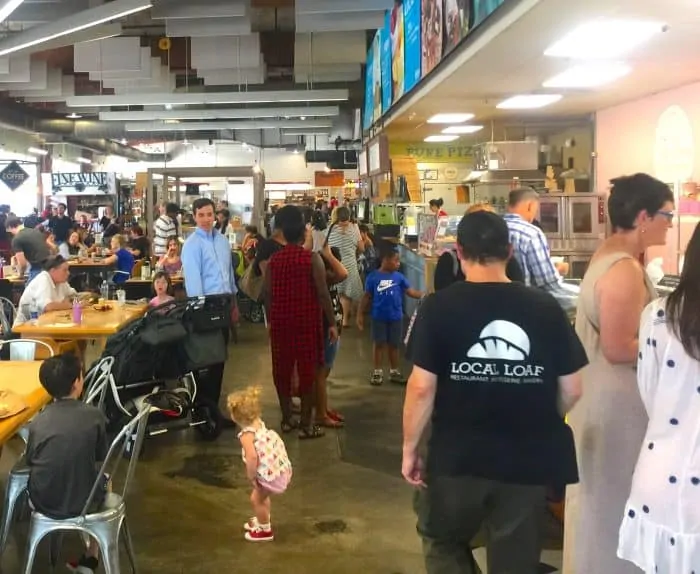 While art may feed the soul, your stomach can probably use a little sustenance by now. A ten-minute walk will bring you to the 7th Street Public Market, a bustling, culinary incubator, where 20 foodie entrepreneurs are selling farm fresh, artisanal products. I can personally vouch for the grilled Gouda cheese sammie with plum chutney and green tomatoes from Orrman's Cheese Shop. Bring the wonderfully oozing mess across the hall to the Assorted Table Wine Shop and ask any of the well-trained staff to recommend one of their $5 glasses of wine to pair with it.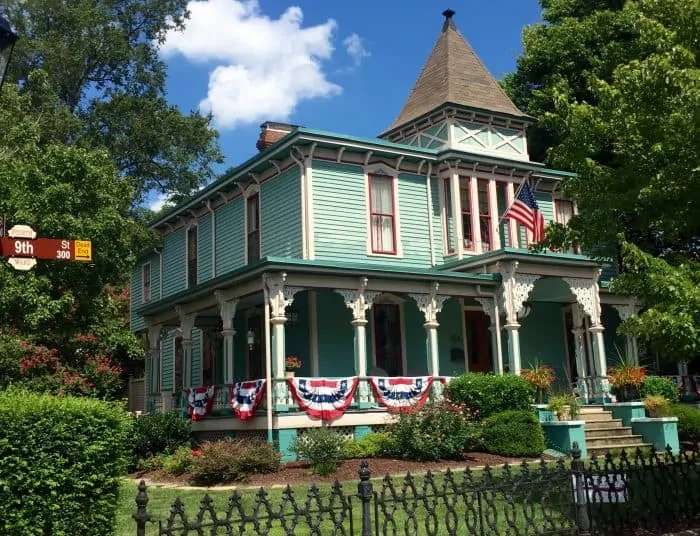 The rest of the afternoon is up for grabs. Pick up a walking map to guide you through the historic Fourth Ward, filled with restored Victorian homes, luxury condos, and flowering parks. Explore the hippy, mural-filled NoDa nabe (pop into Pura Vida Worldly Art for a quick demo on how to play a Tibetan Singing Bowl) or the hipster Plaza Midway area where I've never seen so many sleeve tattoos! Touted as one of the best craft beer in the USA, hop-heads can debate the merits of these one-of-a-kind suds at more than 40 local breweries.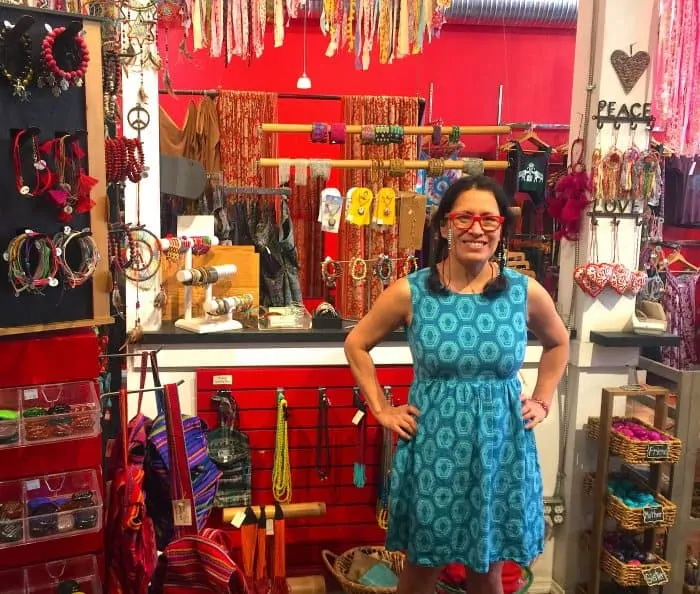 Hopefully, you made rezzies in advance for dinner tonight at the wildly popular, James Beard nominated, chef-driven phenomenon, Kindred. This bustling, unpretentious restaurant, housed in a multi-level historic building in downtown Davidson, is owned by locals, Joe and Katy Kindred.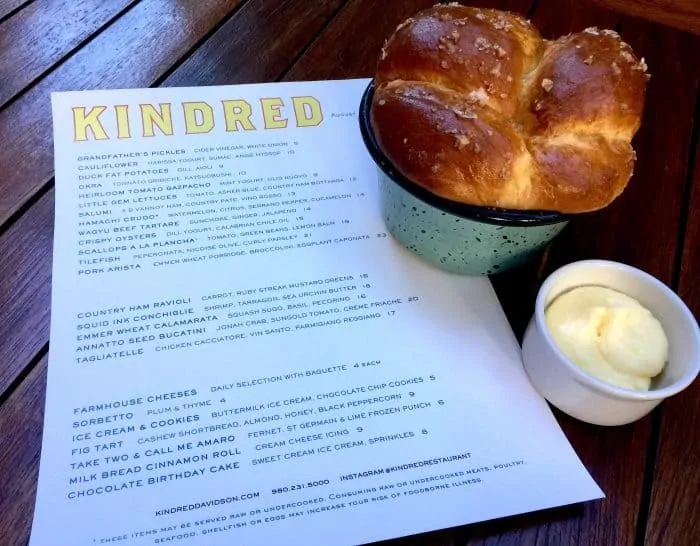 I was warmly greeted by my enthusiastic, knowledgeable server, Erynne, who deftly plunked down a bottle of sparkling water and a hot pot sprouting an oversized top knot of fluffy, pull-apart "milk bread" and house-cultured butter to hold me over while I perused the menu. The creative Southern inspired small plates on the weekly changing menu all were calling my name.
I asked Erynne about her favorites and rather than giving me the tired, "It's all good" line, she replied, "Well, if I was gonna die tonight I would order…." and proceeded to list her faves. I went with them all and, to quote Simon Cowell, she was spot on.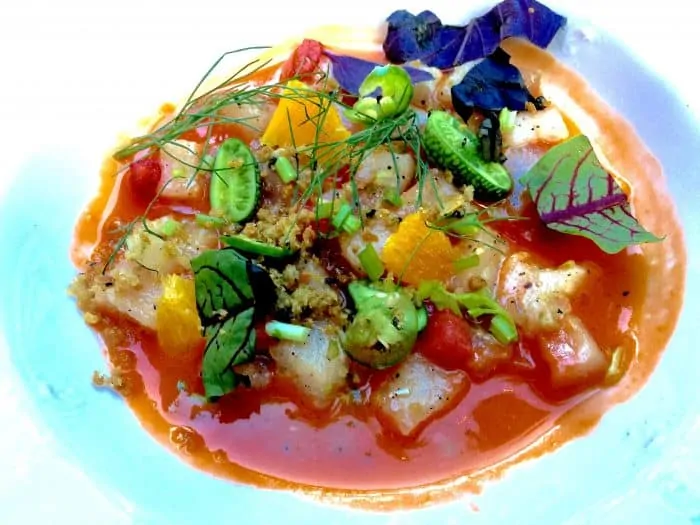 I loved every bite of Grandfather's vinegar pickles, the duck fat potatoes anointed with aioli, the greaseless perfectly crisped oysters with dill yogurt. I could barely bring myself to try the hamachi crudo due to the sheer beauty of its Picasso-esque presentation.
Sadly, I had barely any room left to take advantage of the milk bread's repeat performance at dessert dressed up as a cream cheese frosted cinnamon roll, although I did manage a few bites of the rich buttery figgy tart with a scoop of homemade plum thyme sorbetto.
Note- Kindred is located in the tiny college town of Davidson, about 20 miles from the hotel. I strongly suggest that you take Uber there (Charlotte gets my vote for having the friendliest Uber drivers around!) in case you run into traffic.