When it comes to wearables it seems Apple is just about the only game in town. At least, if we're talking about market share.
Analyst firm Canalys estimates 18 million Apple Watches were shipped in 2017, beating expectations. That represents a 54% year-over-year increase. Which is to say: very impressive.
Apple has won the wearables game
While Amazon is dominating smart speakers with its Alexa AI (Apple's HomePod finally ships this month) when it comes to the smartwatch, Apple has gotten the design pitch perfect.
Unlike Google's struggling Android Wear platform, WatchOS is intuitive, fast, and easy to use — though first time users typically need a few hours getting accustomed to the various input methods that include a rotating crown, a button and touch screen with a variety of touch commands.
From TechCrunch's article on the news comes this quote:
"It was our best quarter ever for the Apple Watch," Tim Cook said during earnings, "with over 50-percent growth in revenue and units for the fourth quarter in a row and strong double-digit growth in every geographic segment."
The tech blog cites LTE as being one of the reasons for the strong sales (though the non-LTE Series 2 is still Apple's best seller). With always-on cellular connectivity, users can leave their iPhones at home and still enjoy all the functionality on the go, including Apple Pay, fitness tracking and the ability to stream music.
If you include fitness trackers, Apple (23% global world wide share) faces formidable competition worldwide, predominantly from  Xiaomi (21%) and Fitbit (20%).
However, we need to keep in mind those companies have far lower cost models in their respective line-ups. Some even start under $100 USD. Meanwhile the cheapest Apple Watch, the Series 1, starts at $249.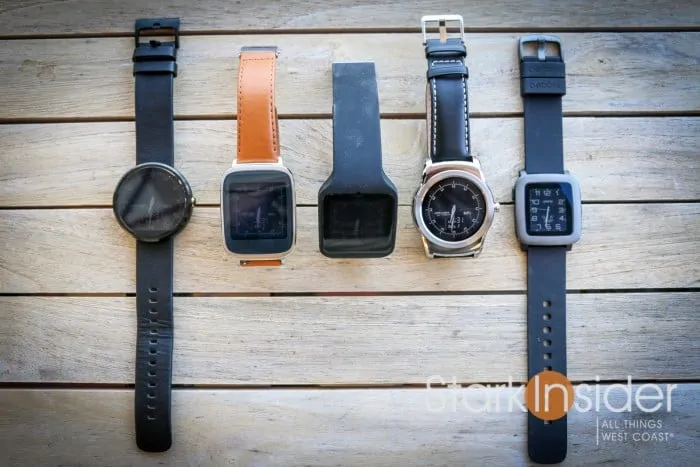 I'm still surprised Google hasn't re-tooled yet and re-launched or — better — re-branded Android Wear. Version 2.0 has been a huge disappointment. Sluggish performance. Poor voice response to "OK Google" commands. And unreliable performance has dealt the once promising OS a huge setback. I still have an older Huawei Watch. It's pretty. And the small improvements made to Wear over the past 18 months have been welcome, if unexceptional. For instance, the background is now pure black thanks to the latest update making contrast higher and text easier to read. But in my experience when it comes to all the things you can do with a smartwatch there's no Wear device that can come close to the Apple Watch. Perhaps, the closest competitor is the well-reviewed Gear S3 from Samsung.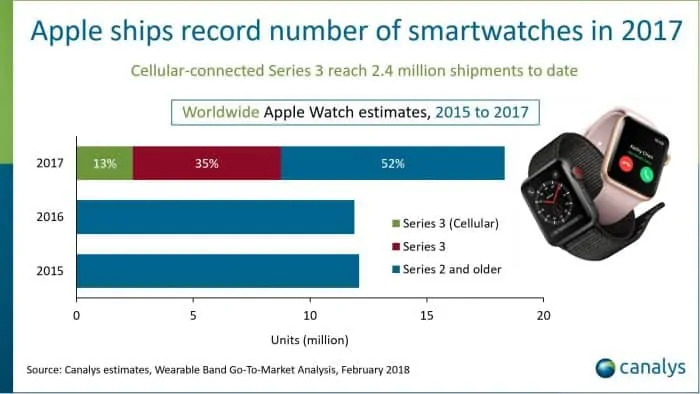 "Apple has won the wearables game," said Jason Low, Senior Analyst at Canalys. "Despite innovative designs, such as the rotating bezels and circular screens employed by other vendors, Apple has pulled far ahead as it continues to focus on its core iPhone user base. Its recent updates to the Series 3, such as GymKit and Apple Heart Study, are proving to offer compelling use cases, encouraging users to spend more on accessories."
Parting thought: would it surprise anyone if Amazon launched its own wearable?
Alexa, right there on our wrists. Why not? Jeff Bezos and team have conquered AI — or at least have the early lead — and they want us shopping anywhere and everywhere. I can't help but think an Amazon Watch, like its recent Prime Phones initiative, could be a success, especially if priced $149-$199.