Good things apparently do come in small packages.
A new report suggests that Google's new Mini has helped propel a strong holiday sales season. Per CIRP, Google Home has reached 31% share in the US install base for smart speakers.
At a whopping 69% share, Amazon still leads considerably, but given that Google entered the market within only the past 12 months with its mid-range Google Home speaker, that's an impressive run.
Next month, Apple will finally have a horse in the race for smart home supremacy. The HomePod is now available for preorder with units beginning to shop February 9, 2018. Better late than never. Time will whether Apple's premium pricing strategy (HomePod sells for $349) will convince mainstream consumers to choose it affordable models from Google and Amazon.
Google's entry Mini speaker sells for only $49 — same as Amazon's Echo Dot — and, according to the CIRP report, accounted for about 40% of Google Home speaker sales last quarter. That may tell us that many aren't as concerned about audiophile performance as they are about convenience and price.
To recap, in the smart speaker race it's Amazon at #1 with 69% and Google at #2 with 31% share.
I expect Apple to grab a small chunk of that market. There's been a longstanding core of buyers who stick with the Apple brand. And, if history is any indication, Apple has never been about volume or low margin. Quite the opposite. Think iPhone, iPad and MacBook in particular. All have premium prices. And all have less market share than competitors, most notably Google with Android on mobile and Microsoft with Windows on the desktop. So the HomePod positioning is par for the course and not necessarily indicative of a problem — or investor concern for that matter.
One potential issue for Apple with the HomePod: lack of multi-room audio.
If reports are true — and it seems to be pretty much the case — that the HomePod will not have this feature at launch (Apple says it will arrive some time in 2018) then it's a huge blow on an already late product. Most reports I've read indicate that consumers use a smart speaker primarily for music streaming. For many that means having multiple Google Home and Amazon Echo speakers scattered across the home for use as a Sonos-like whole home audio solution. That's something to watch for when HomePod starts shipping.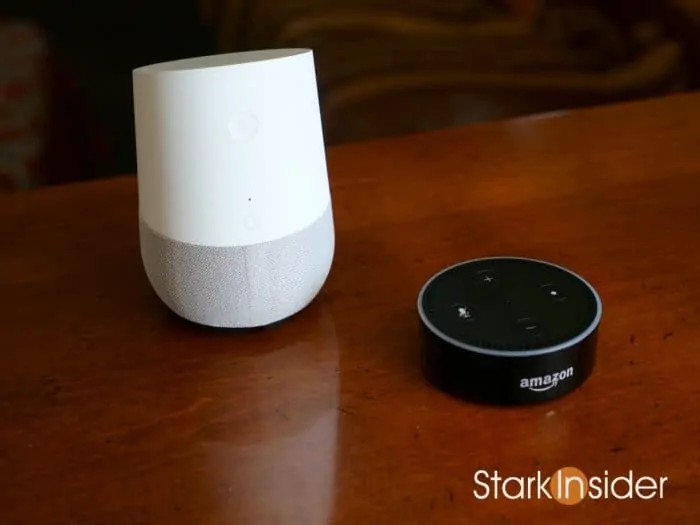 Also, let's not forget about Sonos. I'm a big fan and have been using their terrific sounding speakers since almost the beginning. I find the Sonos app (both the iOS/Android and desktop versions) to be best in class for streaming selection and music control. Now with the Sonos One they offer Alexa integration (it's not perfect, but so far decent). Also, in anticipation of the HomePod, Sonos is taking it to the man by offering 2 One speakers for $349. Wouldn't you know it? The very same price as 1 HomePod. I know which I'd choose.
Eventually this market will all be about the ecosystem. Like it almost always is.
How many smart home partners with the Echo have vs. Google Home vs. HomePod vs Microsoft Cortana?
Will you prefer to stick with the company that matches your smartphone platform (I'm guessing most do)?
And will price matter?
On that last one, from what we're seeing from Google (Mini) and Amazon (Dot) so far the answer is an unqualified yes.
So we shouldn't expect Apple to race to the bottom of the market. CEO Tim Cook and team I'm sure will be quite happy to stick to the high margin, premium positioning that has made Apple the most valuable company in the world.
MAJOR SMART SPEAKER LINE-UPS — Q1 2018
Amazon Echo Speakers
Google Home Speakers
Google Home Max
Google Home
Google Home Mini
Apple HomePod Speaker