The long, slow — and somewhat agonizing and predictable — decline continues.
A new report "I stream, you stream" from PWC's consumer intelligence series suggests that streaming services like Netflix continue to chip away at the once formidable Cable TV providers.
73% of survey respondents (1,986 people) said that they subscribed to a pay-TV package. That was down from 76% the previous year.e
And, also, 73% said they subscribed to Netflix. That marks the first time Netflix has achieved parity.
Based on the results, it would seem live sports continues to be a reason many fans continue to subscribe to traditional TV service. 82% indicated they would dump Pay TV if they no longer needed it to access live sports.
"Cord cutting has more momentum than ever"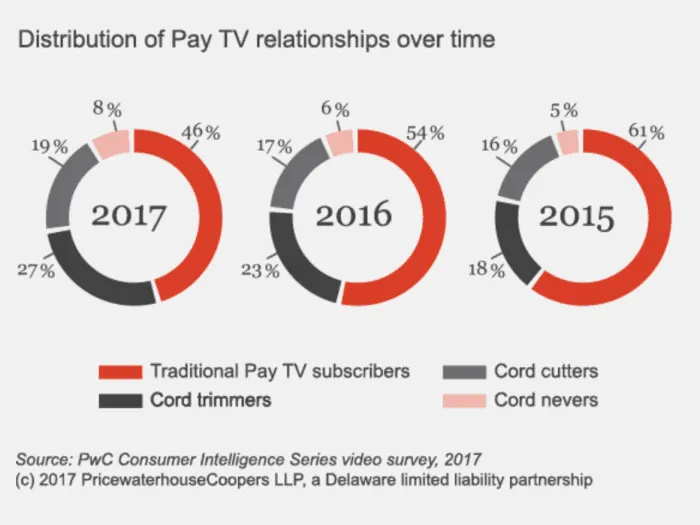 Streaming, per PWC, is up across all age groups. 25-34 year olds apparently lead the charge — 90% said they accessed TV content from the internet in 2017. That's followed by: 18-24 (87%); 35-49 (78%); and 50-59 (63%).
No wonder: Netflix. Amazon. Google. Apple.
The report does point out that the overwhelming number of streaming choices can make it difficult for consumers to navigate. No doubt, in the old days it was easy: just pick your cable/satellite package and you're done. Now, there's somewhat of a splintering effect that may mean consumers need to create their own a-la-carte helpings to satisfy their programming needs.
Regarding the slow decline of TV, no surprise there. It's like watching a car wreck in slow motion.
On one side there's Netflix, Amazon and Google. On the other the old guard like Direct TV and Comcast.
Other streaming players also having some impact include Hulu, Sling TV, and even some networks like HBO and Showtime which have their own streaming apps and subscription plans.
And, of course, let's not forget the media juggernaut that is Apple.
It will be interesting to see where this heads. Amazon is pouring some $8 billion into original programming this year. Yes, $8 BILLION.
Netflix is also upping the ante and is reportedly planning to deliver 67 shows and 20 films in addition to what's being referred to as three new "ambitious" sci-fi series.
Streaming Wars I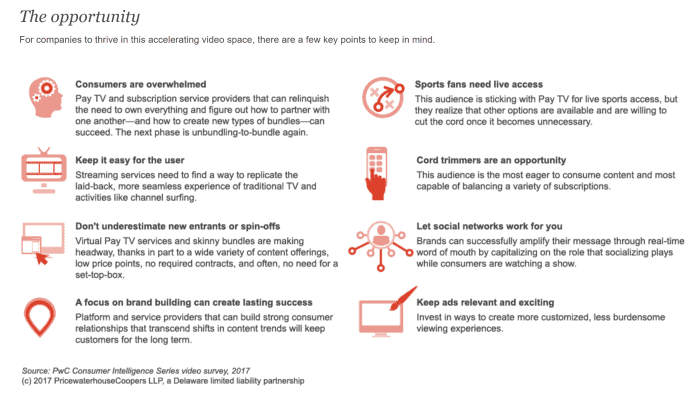 It's still early these Streaming Wars. But it would appear the tech companies — especially Netflix and Amazon — have an early edge in the war to dominate your tv and film streams.
Google has YouTube, so that's an unmistakable advantage in terms of reach — if the company can figure how to keep its content from racing to the gutter. YouTube Red? Android TV? There hasn't been a break away hit yet for Google.
Apple TV hasn't quite (yet) been the success Cupertino had anticipated. We can never count out Apple, though, as it tends to refine and refine again over time, before slowly carving out high-margin market segments.
As for the old guard, we can't count them out either.
Comcast continues to innovate. As does DirecTV and others. The problem for these traditional players it their platforms — cable and satellite — are quickly becoming antiquated. In fact, I'd go so far as to say they're dead. So they're moving to the Internet. Perhaps the death of net neutrality will give them an (unfortunate) advantage. Time will tell.
For now streaming appears to be the future — err, the present.
Netflix. Amazon. Google. Apple.
The incumbents better have mighty impressive strategies to stop the bleeding the tech giants are causing.