This is an interesting development. Well, at least for smart home and home automation enthusiasts it might be.
SmartThings (now owned by Samsung) today announced a USB stick called the SmartThings Link that works with the NVIDIA Shield streaming box to create a smart home hub.
It costs only $39.99, though it's on sale for pre-order on the ST site for a very reasonable $14.99.
That means you could plug it into your Shield and then connect various smart home devices — bulbs, motion sensors, light switches, open/close contact sensors, etc. — and then control everything via the SmartThings app (which is quite good).
Can the SmartThings Link Replace the SmartThings Hub?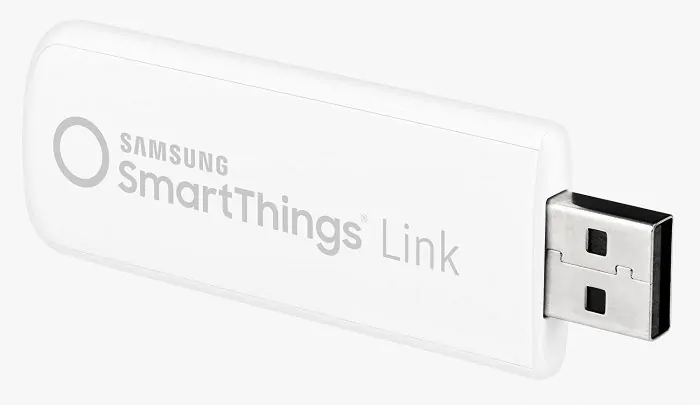 It's unclear to me if the SmartThings USB stick has identical functionality to the actual SmartThings Hub. If it does, then this is a very low cost way for existing Shield owners to add a smart home hub. Currently the Hub costs $50. So for only $15 you presumably get the same functionality for a lot less money.
If you're interested in SmartThings but don't don't already own a Shield you will, of course, be better off going for the $50 hub. Unless you want an Android TV box to also stream Netflix, Amazon Video, YouTube, run Kodi, and other apps, in which case combining the SmartThings Link and NVIDIA Shield is a compelling, if not slightly pricey, option.
One of SmartThings' many strengths is its broad compatibility. Thanks in part to its support for both Z-Wave and Zigbee wireless protocols, many partner products work with the hub including: Lutron, Schlage, Honeywell, Leviton, Ecobee, Arlo, Ring, Philips Hue, Yale, among several others.
Also today, NVIDIA announced a software update, Shield Experience 6.0. In addition to including SmartThings support, the new version includes support for Google Assistant (so you can say, "OK Google, watch Game of Thrones"), YouTube 360 support, a new YouTube Kids App, security updates, and a bunch of other fixes and updates (I'm particularly pleased to see "improved A/V sync" for the Amazon Video App).
And… Out of Curiosity: Is the Smart Home Hub Dying?
But, it's been asked before: is the smart home hub dying? (already!)
It seems the smart home hub hasn't even reached critical mass, and, yet here we are wondering if it's going the way of cable or wired telephone service. Is the hub dying — that is, the dedicated smart home hub like Wink and SmartThings?
Given that Amazon is pushing hard with Echo devices (now offering one with Zigbee-based wireless home automation connectivity) and Google and Apple offering similar devices with the Home and upcoming HomePod respectively, it could get tougher for makers of pure-play hubs. And, don't forget, these also offer the huge benefit of voice assistant technology, a natural and very convenient feature for controlling stuff around the home.
Meantime, you can pre-order the SmartThings Link for NVIDIA Shield on Amazon or, even better, directly from the SmartThings store where it's going, oddly, for 50% at only $14.99.
In addition, two bundles are available:
I'm hoping the Link stick offers all the same capability of the traditional ST Hub. If it does, then that's one more hub I can disconnect. Keep it simple, right?