Stark Insider's buying guide for smart home dimmer switches.
If you're on the hunt for dimmer switches for your current or planned smart home, there's a beguiling selection — a quick check on Amazon reveals hundreds of products. What to buy?
You may be tempted to grab a $35 Leviton Decora dimmer on a whim at your local Home Depot. Simple enough. Leviton makes good switches. Turns out, though, you could be locking yourself, and your home, into a path you never even planned. For instance, there's two versions of the Leviton Smart Dimmer, one based on a protocol known as Z-Wave compatible with hubs like SmartThings, and another version based on Apple's HomeKit (which enables you to use your iPhone and Siri to control lights.
Possibly even more important, that first time you tip your toe into the smart home ocean (and it's vast) establishes the range or products you can choose from. Then there's price. If you buy into a SmartThings based system, prices are fairly reasonable (relatively) for dimmers, plug-in modules and various sensors. HomeKit and Insteon are about mid-range. Then there's Lutron, and its Caseta hub-based system which comes in a bit higher, with even one dimmer switch going for $99 (USD). That can really add up! Yes, starter kits can be tempting. Just be sure to budget for the rest of the things you'll ultimately need.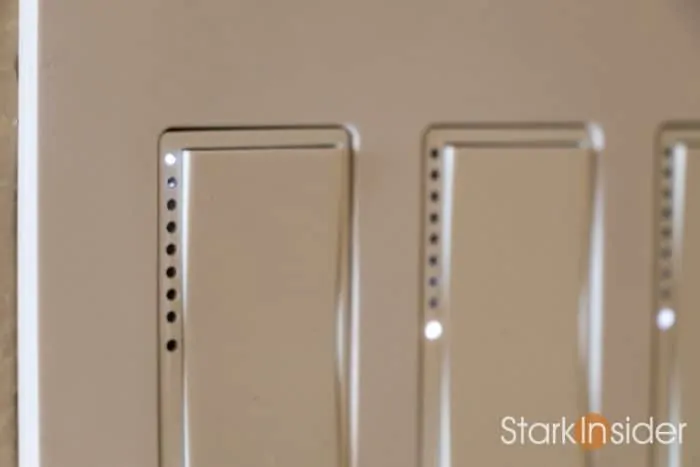 Today, however, I'm looking at the dimmer switch itself. Who makes the best dimmer switch? Functionally? Aesthetically? Value?
I've run our home on Insteon for over 10 years now. I started slowly, adding a switch or two every year or so until now we have a few dozen all linked together controlling various lights, and scenes.
Not everything has always been great. Love-hate more like it. Though, in recent years, Insteon has upped their quality control game, and new devices are finally very reliable. Naturally, to expand my system Insteon would be the natural place to start.
But the market has changed a lot. Apple is here with HomeKit. Samsung acquired Silicon Valley-based SmartThings in 2014 and is pushing hard into the market. As are Amazon (with Echo), Google (Google Home), and so many others including traditional lighting companies like Lutron, Leviton, and GE. The smart home, a segment of the IoT (internet of things) market, is expected to grow like gang-busters over the coming years.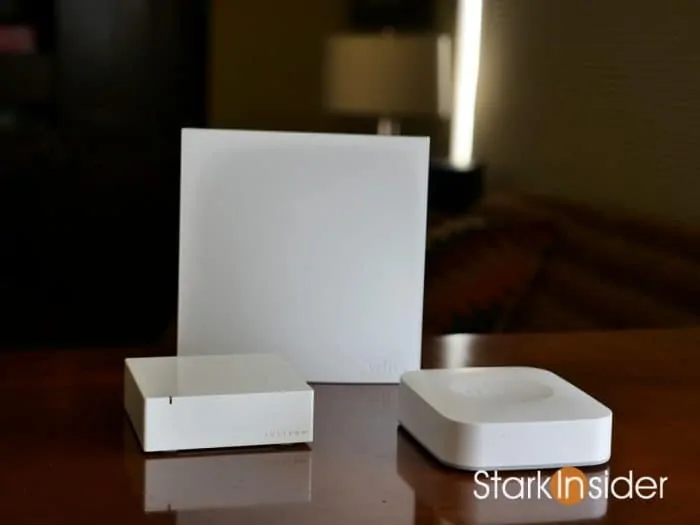 So before I invested more into Insteon products, I wanted to make sure I was headed down the right path, not just for the next few years, but over the long-term.
I went on an exhaustive research project. My wife Loni loves when I get OCD on smart home and video/filmmaking projects. You can only guess what the nightly conversation sounds like.
My search took me across all the major platforms. I tested wi-fi systems such as the Wink 2. Proprietary ones from Lutron and makers of HomeKit compatible switches. And Z-Wave systems such as market leader SmartThings by Samsung.
STARK INSIDER ON SMART HOMES

Smart Home Dimmer Switch Buying Considerations

NETWORK & EASE OF INSTALLATION

Wifi or Hub?

Smart dimmers typically run on a hub or use your existing wi-fi network. Both approaches have advantages. A hub gives you greater flexibility when it comes to adding devices and for customization. That comes typically at the cost of complexity. Meanwhile, wi-fi dimmers are typically easier to set-up since you don't need to go through the hassle of setting up a hub. However, network congestion is something to consider if you plan to install many wi-fi devices.

PLATFORM

HomeKit or Z-Wave/Zigbee or other?

Two major smart home platforms that dominate today's market are HomeKit (Apple) and Z-Wave/Zigbee (various manufacturers). HomeKit gives you Siri voice control, and a nice app called Apple Home for integrating and scheduling your devices. Choice is limited, and HomeKit products tend to be more expensive than others. Z-Wave, on the other hand, is more affordable with more options. But… you need a hub to make it all work. For home automation gurus a hub is the way to go. For mainstream, everyday buyers HomeKit is an enticing option.

VOICE CONTROL

Siri or Alexa or Google Assistant?

Apple's HomeKit obviously uses Siri for voice control. But that's far from the only game in town. In fact, Amazon's Alexa-based Echo speakers are dominating the smart home market. Most recent products support Alexa. For instance, Insteon devices work well with Alexa voice commands. You simply install the Alexa app (iOS or Android), go under the Smart Home menu, choose devices, then "Discover Devices" (alternatively, you can say, "Alexa, discover my devices"). It takes 20 seconds for Alexa to load in all your compatible scenes. Then you can say, "Alexa, turn on the kitchen lights" or "Alexa, all lights off" or any number of commands that you've created in your smart home hub. Google also offers a similar capability with its Google Home speaker.

WIRING

Is a neutral wire required?

Many smart home switches require a neutral white wire running through your electrical system in order to communicate. If your home is older and doesn't have one you'll need to either install it (expensive) or, better yet, opt for a system that doesn't need a neutral wire.
My final decision (for now), was to stick with the Insteon hub for lighting and the Samsung SmartThing hub for everything else, like sensors and security and various other modules for tasks not predominantly related to lights. Insteon and SmartThings aren't natively compatible. A clever little app called Stringify solves that by receiving Insteon commands and then relaying them, via the magic of the cloud, over to SmartThings. You can, for instance, have an Z-Wave open/close sensor on a door, and have it trigger a Stringify notification, and turn on an Insteon light. That would not be otherwise possible without Stringify (and IFTTT, SmartRules, and this emerging category of IoT consumer apps).
Okay, enough background. Here's my thoughts on readily available options for smart home dimmer switches.
Leviton DZ6HD-1BZ Decora Smart Dimmer Switch (Z-Wave)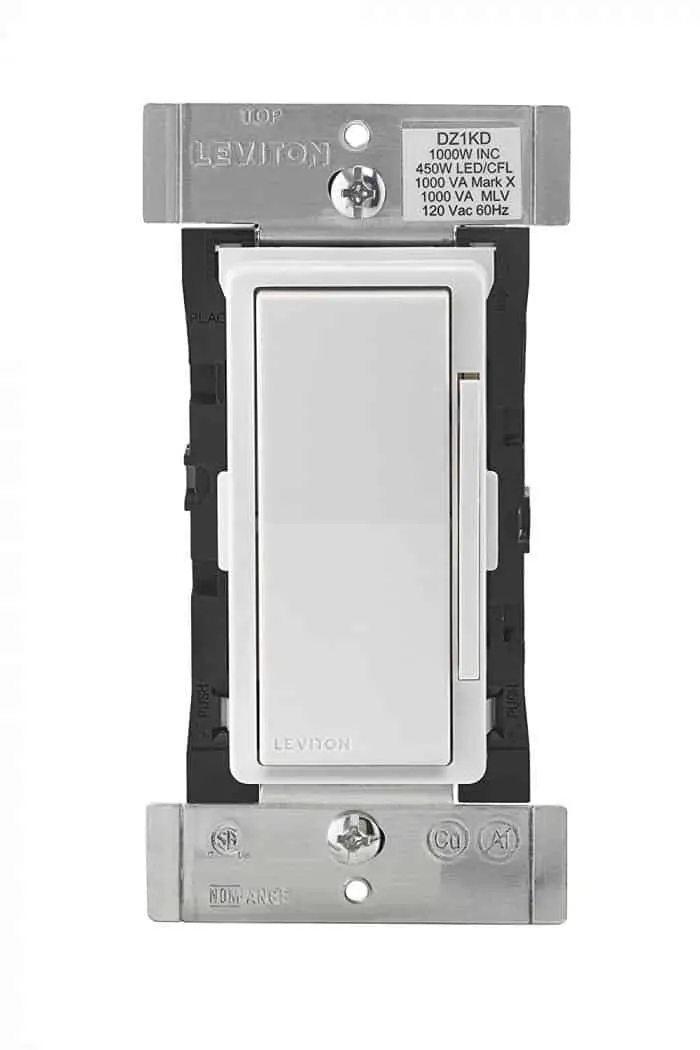 Communication: Z-Wave Plus
Platform: SmartThings, Wink 2, Vera and any other that supports the Z-Wave Plus protocol
Hub: Yes
Requires neutral wire: Yes
Price: $37 on Amazon
Pros: Low cost, paddle design is familiar, reliable, known brand.
Cons: Your household wiring requires white neutral (not included), paddle is slightly loose which may irritate some users.
Leviton has been around for what seems like forever. Many, if not most, homes come with Leviton switches installed — though maybe that will be changing as the voice-based voice of the future takes over. They now make a solid line-up of smart switches including this one which is made for Z-Wave Plus networks. I tested this one — DZ6HD-1BZ — on my SmartThings hub, and it was a very easy installation. Note: before you buy a switch you should check the SmartThings app (Marketplace -> Things) to verify compatibility, otherwise you will need to install custom code (device handler) which can be finicky. Response rates were very fast, with little to no apparent delay. Dimming level is easy to adjust from the app using a slider. And, as you might expect, you can now include the switch in all sorts of schedules, scenes and security scenarios. Overall, for the price, a very good switch. Recommended.
Leviton DH6HD-1BZ Decora Smart Dimmer Switch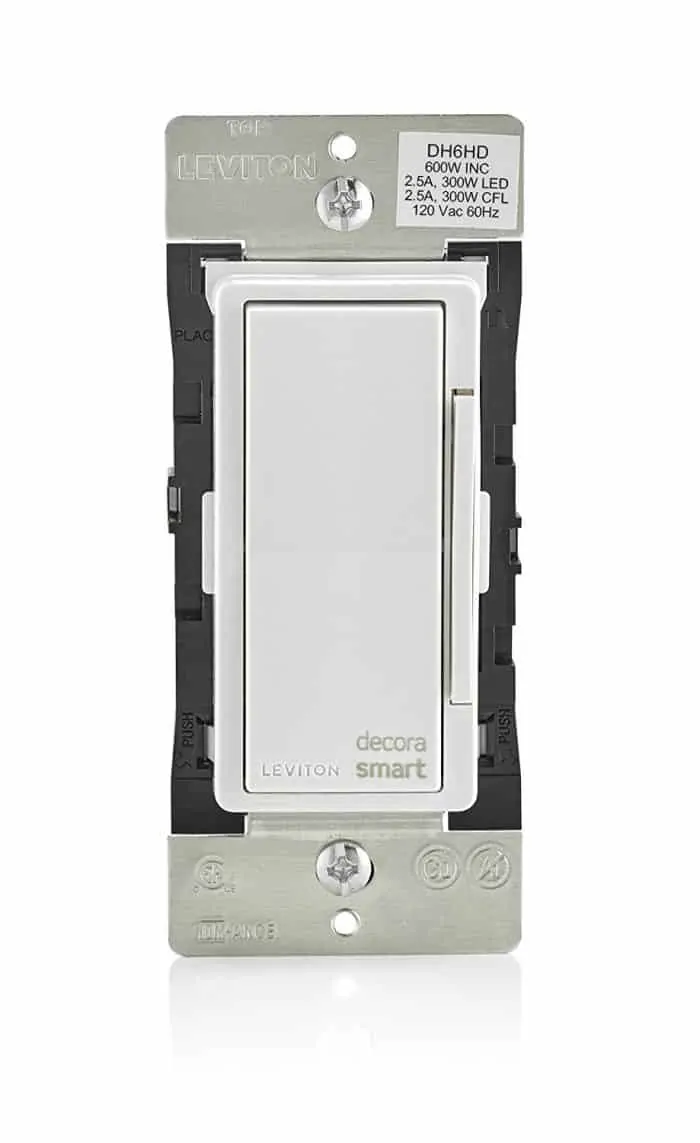 Communication: Apple proprietary
Platform: HomeKit
Hub: No
Requires neutral wire: No
Price: $50 on Amazon
Pros: Easy to setup and use thanks to Apple's world class software design, low cost, paddle design is familiar, reliable, known brand.
Cons: Your household wiring requires white neutral (not included), paddle is slightly loose which may irritate some users. Currently HomeKit has fewer compatible products than Z-Wave/Zigbee. Pricier than the Z-Wave version.
Same switch, different platform. This is the other version of the Decora Smart Dimmer, and this ones runs on Apple HomeKit. Double check before you order: DH6HD (HomeKit) or DZ6HD (Z-Wave Plus). That one letter makes a big difference. And speaking of difference, the main one with this switch is that you don't need a hub. Instead setup is done via your iPhone and all communication runs on Apple's proprietary blend of wi-fi and radio protocols. Recommended.
GE Z-Wave Plus Wireless Smart Lighting Control Smart Dimmer Switch (14294)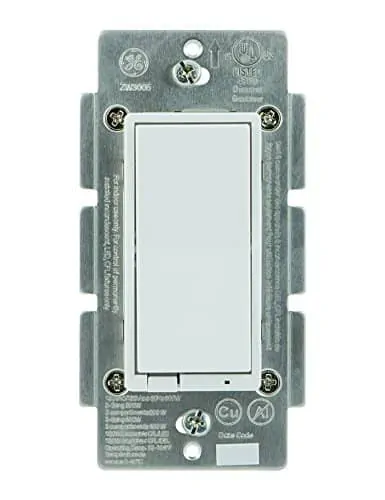 Communication: Z-Wave Plus
Platform: SmartThings, Wink 2, Vera and any other that supports the Z-Wave Plus protocol
Hub: Yes
Requires neutral wire: No
Price: $43 on Amazon
Pros: Low cost, paddle design is familiar, reliable, known brand. Neutral wire not required makes installation easier and possible for older homes.
Cons: No dimmer level indicator.
Another decent option for those running homes on Z-Wave systems is this GE Z-Wave Plus compatible dimmer. You get a known brand in GE, and pricing is not too bad (though still expensive relative to normal non-smart dimmers). Supported in SmartThings and Wink 2 and other systems so setup is a breeze. Again, requires neutral wire. If you want your dimmer to look like a good old fashioned light switch (aside from the light on the bottom of the front plate) this is it. Nothing fancy. Gets the job done, and if you like it, you may want to consider some of GE's other smart home lineup which includes indoor and outdoor outlets for appliances, and lamps, and landscape lighting, etc. Recommended.
HomeSeer HS-WD100+ Z-Wave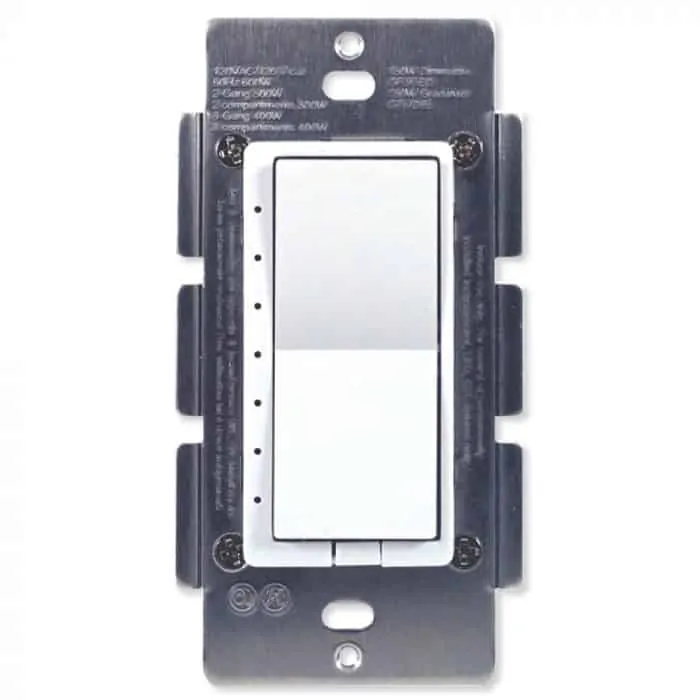 Communication: Z-Wave Plus
Platform: SmartThings (with major caveat, see below), Wink 2, and most other Z-Wave compatible controllers
Hub: Yes
Requires neutral wire: Yes
Price: $52 on Amazon
Pros: Powerful customization includes multi-tap scene programming.
Cons: Unacceptable delays when tested with a Samsung SmartThings hub.
Homeseer is known name among home automation enthusiasts so it's no surprise they've added dimmer switches to their lineup (actually, they're re-branded devices made by Dragon Tech). Unfortunately, my experience with the HomeSeer HS-WD100+ dimmer switch was less than ideal. In fact, it was terrible. The switch took multiple attempts to pair with my SmartThings hub. Once it did, it would no respond to on/off/dimming control. Eventually it did, but there were unacceptable delays. The paddle itself was very firm, and also did not respond well. I was surprised. After a quick Google search I learned that there's a new firmware, and that SmartThings doesn't really support the HomeSeer dimmer natively and that a custom device handler is required (i.e. custom code). No thanks. It was too much complexity. For enthusiasts and SmartThings gurus I suspect HomeSeer is a good option given its depth of customization. For the mainstream smart home buyer I'd avoid this one. Not recommended.
Lutron P-PKG1W-WH Caseta Dimmer Switch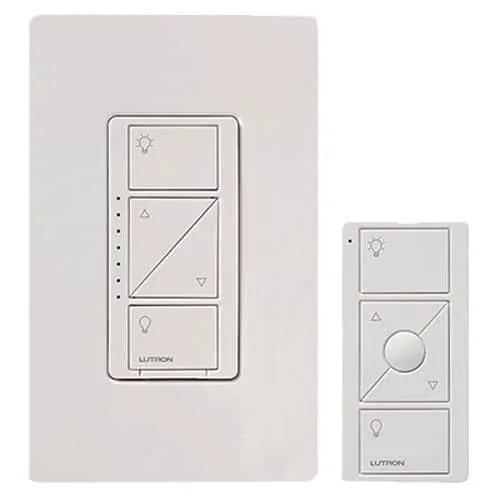 Communication: RF radio (Clear Connect)
Platform: Lutron, HomeKit
Hub: Yes (a tiny bridge that requires ethernet connection)
Requires neutral wire: No (Lutron PD-5NE-WH with dimming favorite button does require it)
Price: $60 on Amazon
Pros:  Classy design, exceptional radio performance and range, lots of scene control options using Lutron app, compatible with SmartThings (with Lutron bridge) and Wink 2 (native support, no Lutron bridge needed), low cost Pico wireless remotes make it easy to add wall switches without an electrician.
Cons: Expensive, switch design uses buttons instead of a paddle which may not be to everyone's liking, frustratingly lights will not return to previous dim level (they go 100% when on button pressed) though there is a $99 version that has a favorite dim level button. Finicky LED compatibility selection.
If  you're ready to spend a little more, Lutron is a very good option. You'll find Lutron Caseta switches in a lot of places including Lowe's, Amazon and Best Buy. I'm especially interested in aesthetics so, to me, Lutron makes pretty stuff. It oozes quality. It's like the Ferrari of smart home lighting. Only, finally, they've come out with a system that the rest of us can afford (unlike they're high end, custom Ra system). In my tests, Lutron Caseta was flawless. Wiring and install are as expected. The Lutron app is well done. And, even better, you can also use Apple HomeKit which is a real bonus for iPhone households. Voice integration is available too via Siri. A few things to watch for: (1) the switch does not remember previous dim level so when you hit the on button the light goes to 100% (either that or you have to manually hold the dimmer up button to achieve desired level); and (2) Lutron Caseta is the pickiest system I've tested when it comes to LED bulb compatibility. For example, a Philips LED bulb worked perfectly fine with an Insteon dimmer, but flickered like a David Lynch scene on Lutron. When planning out your system be sure to run the Lutron LED Bulb Compatibility Tool before realizing later you need to switch out a bunch of bulbs. Overall, the Lutron Caseta is an excellent choice. Build quality is first rate. Aside from a few nits, lighting performance is exceptional. HomeKit compatibility is icing on the cake. Highly recommended.
Insteon SwitchLinc 2477D Remote Control Dimmer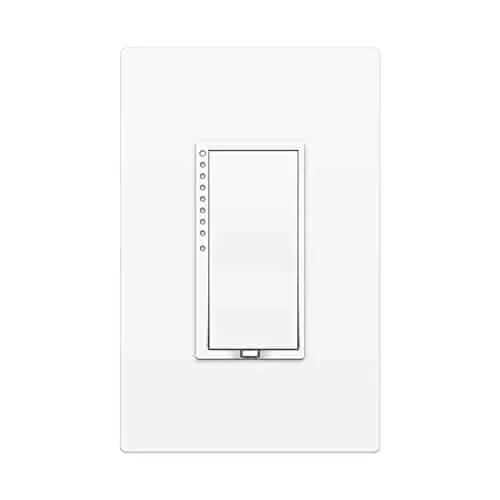 Communication: RF radio and power line (dual-band)
Platform: Insteon only
Hub: Yes (a tiny bridge that requires ethernet connection)
Requires neutral wire: Yes
Price: $48 on Amazon
Pros:  Looks like a normal light switch, elegant dim level status (white LED strip on left side), lots of flexibility to adjust such as dim level default and ram rate, not as picky as Lutron when it comes to LED bulb compatibility.
Cons: Insteon is a closed system to your limited to their switches, dimmers and plug-in modules. Reliability has been an issue (but that appears to be a thing of the past).
As previously mentioned I've had over 10 years experience with Insteon. It's been a rocky road to be sure, though in recent years the company seems to have sorted its quality control demons. Reliability is now mostly not a concern. Insteon is a hub based system, and it's based on a mesh network that's proprietary. Unlike SmartThings or HomeKit or Wink systems, you're locked in. You can only buy and add Insteon devices. Something to keep in mind. Still, I use a SmartThings hub (mostly for home security) side-by-side with Insteon and can have them talk to each other using Stringify (similar to IFTTT). Insteon's app is not great. It gets the job done, but, man, are there some poor UI decisions. Regardless, you can get used to it, and it does work and you can setup scenes, and simple rules, and use it to see the status of all your devices at a glance. The Insteon dimmer switch (2477D) is the most feature rich of the lot. You can set a preset dim level (single tap set physical button at bottom of the switch), as well as the ramp rate (double tap). Devices can be associated with each other. A double tap on top or bottom paddle with instantly turn light on or off, regardless of ramp rate. A simple white LED strip on left indicates dimming level and is will fit virtually any decor. Highly recommended.
Other Smart Dimmer Switches To Consider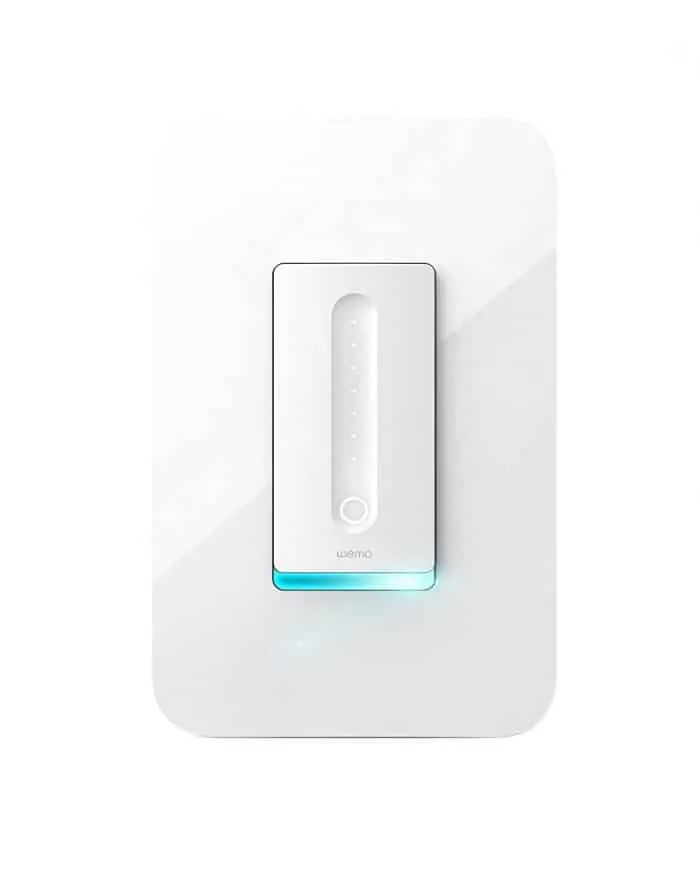 This roundup is merely the tip of the iceberg. It seems like everyday there's a new product hitting the market. You may also want to consider:
WeMo Dimmer Wi-Fi Light Switch $70 (no hub required)
TP-Link Smart Wi-Fi Light Switch $40 (no hub required, value priced lineup)
iDevices Dimmer Switch $99 (no hub required, very expensive, but superb)
Koogeek Smart WiFi Light Switch for Apple HomeKit (no hub)
And, of course, you could always opt for smart bulbs instead, and all together forgo the idea of installing switches and hubs.
Highly Recommended: Lutron P-PKG1W-WH Caseta Dimmer Switch and Insteon SwitchLinc 2477D

Winners:
Lutron P-PKG1W-WH Caseta Dimmer Switch $60
Insteon SwitchLinc 2477D $48
The two best smart home dimmer switches on the market today for those who put a premium on fully featured and high quality products  are made by Lutron and Insteon.
Lutron Caseta Dimmer Switch
Lutron has an impeccable reputation (just ask any home automation contractor). Reliable. Fast performance. Easy to use. All attributes I experienced in my testing of the superb Lutron Caseta wireless lighting system. It does bug me that, unlike their Maestro and RadioRA 2 systems, you can't set a preset dimmer on level. That seems like a major oversight. I don't think many of us appreciate roomful of floods at 100% at night. The workaround is to either buy the $99 dimmer with a small, preset dimmer button in the middle (which makes accurately hitting it trickier) or manually ramp the dim up yourself each time (not convenient at all). Lutron should fix this issue. If this doesn't bother you then Lutron is an outstanding pick. Best of all, you know that Lutron will be around, and that investing in their system will be a sound long-term decision.
Insteon Switchlinc Dimmer Switch
Insteon makes the best overall smart home dimmer. Period. The 2477D does it all: preset dimming levels, double tap on/off, piggytail wires included for simple installation, elegant design, and relatively affordable (compared to its closest competitor, Lutron). Smart Home's roots (the name behind the Insteon brand) in 80s and 90s home automation is evident. For better and worse. The hardware is good. The software is not. Yes, there are Insteon apps for both iOS and Android. But the Android one is so outdated it's almost unusable. iPhone users will be okay though and will be able to setup the system, albeit not nearly at Apple-like standards of user interface design. So you have a high performance dimmer hampered somewhat by poor software (though it has improved significantly over the past 3 years or so). However, once you sync Insteon devices to an Echo (Dot, Show or original Echo speaker) and see how effective and accurate voice recognition can be, you'll likely forget all that. Alexa and Insteon is one of the best smart home combinations available today.
Both Lutron and Insteon are strong options. I do like the idea that Lutron is a bigger company, and has more resources. Something to also keep in mind.
On a Budget: Leviton DZ6HD-1BZ Decora Smart Dimmer Switch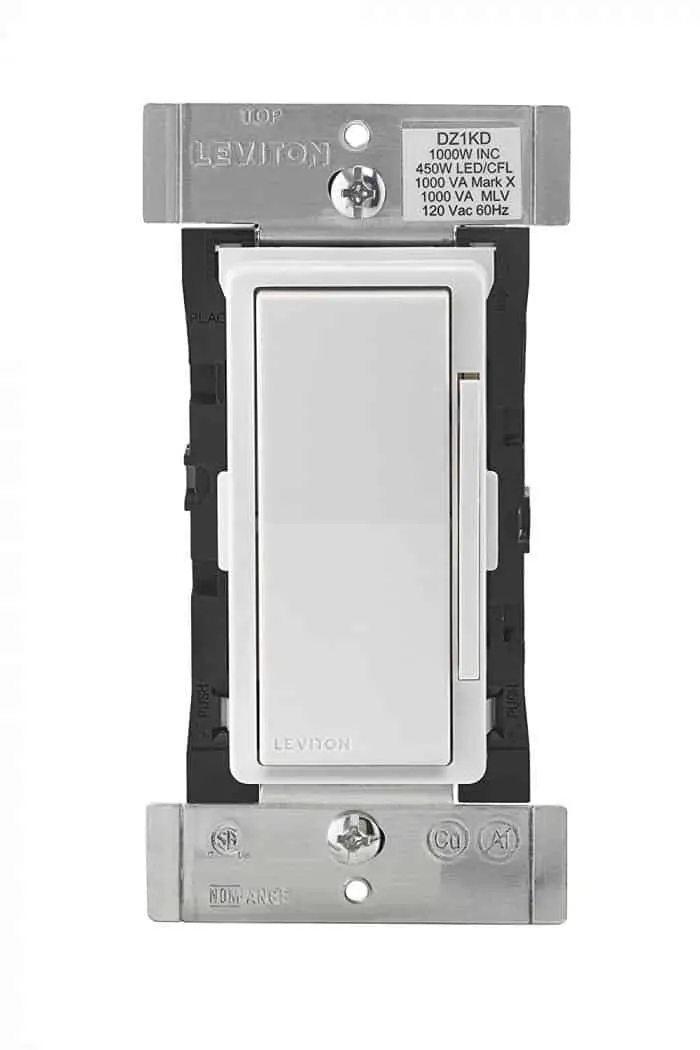 Leviton DZ6HD-1BZ Decora Smart Dimmer Switch $37
If you'd rather not make home automation a huge budget line item, consider the Leviton dimmers. I particularly like the Leviton DZ6HD-1BZ. It works well with hubs from Wink and SmartThings. The slightly loose paddle does bug me though. Try one out before committing. I've had great success with other Leviton Z-Wave products too, such as their plug-in lamp dimmer. Relatively low cost and high performance. A great combination.
The Smart Home Market: Early Days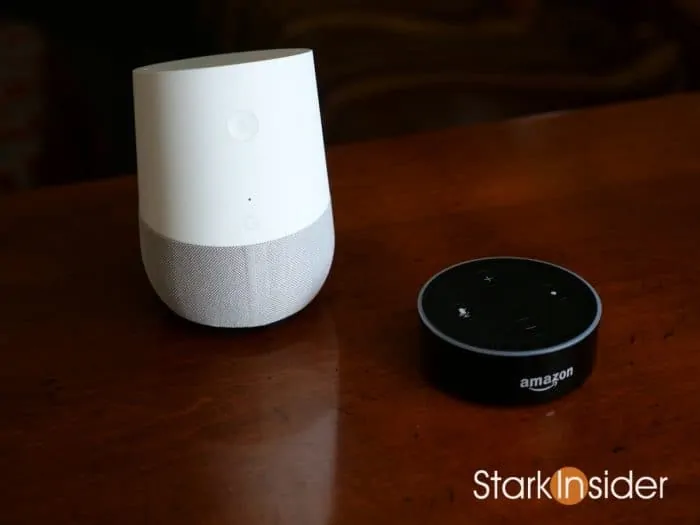 It's early days. The smart home market is predicted to boom. No doubt this article could look vastly different 18-24 months from now. By then, with its HomePod speaker (coming Q4 2017) and HomeKit, Apple will likely have gained significant traction. Amazon (with Echo) and Google (with Google Home) have just entered the market in the US and have already disrupted how we interact with our homes. Expect more to come.
The smart home future looks… well, it looks very bright.
Smart bulbs. Smart hubs. Smart switches.
Whatever approach you take, know that the market is just gearing up.