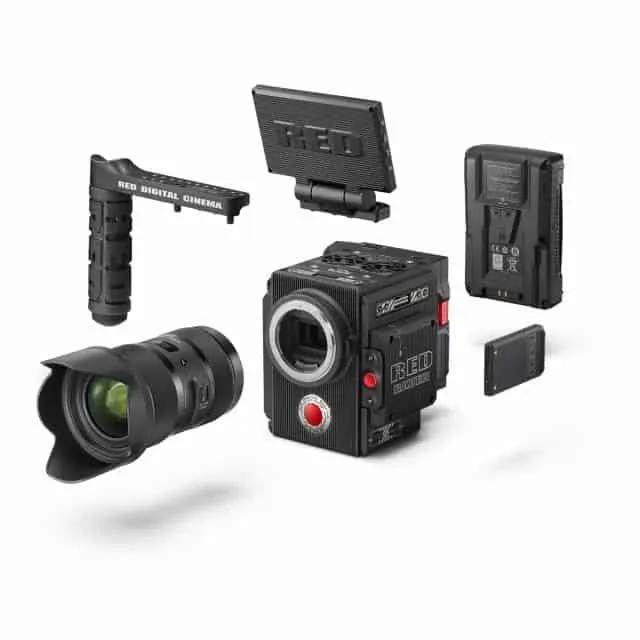 It's filed under accessories, but don't expect this one to come cheap. In fact, I'm guessing this entry level model is just slightly more expensive than that last GoPro or drone you bought.
For the first time ever (at least that I'm aware), the Apple Store is selling a camera made by RED (Red Digital Cinema Camera Company). RDC CEO Jarred Land confirmed the news on his Facebook feed with a post accompanied by a whimsical image featuring a Raven descending upon an Apple tree.
Indie filmmakers and many YouTube content creators are familiar with RED products, though it will be interesting to see how what was once considered a high end brand does selling through a consumer channel. Then again, cinema cameras, Apple computers, and Final Cut Pro X do match well together in terms of workflow. In addition, RED cameras and accessories are also now available through Adorama and B&H Photo Video.
To simplify the buying process RED and Apple have smartly opted to offer a bundle. That way, buyers can be ready to shoot right out-of-the-box. Even a lens is included (the Sigma 18-35mm, a gem).
Priced at $14,999.95 (they just had to keep it under $15K, the sweet spot for impulse purchases at the Apple Store), the bundle is called the "RED RAVEN Camera Kit + Final Cut Pro X".
The package is available "Only at Apple" and includes the following bits and pieces (taken from the Apple Store web page):
RED RAVEN Camera Kit + Final Cut Pro X
RED RAVEN 4.5K camera BRAIN
Content code* for Final Cut Pro X
RED DSMC2 Touch LCD 4.7" Monitor
RED DSMC2 Outrigger handle
RED V-Lock I/O expander
RED MINI-MAG 120GB
Two IDX DUO C-95 batteries with charger
G-Technology ev Series MINI-MAG reader
Sigma 18-35mm F1.8 DC lens
NANUK heavy-duty camera case
Currently Apple is showing the camera kit in stock. I entered my zip code here in Silicon Valley and was given a free 2 day shipping option which would have it arrive on Friday, August 4th: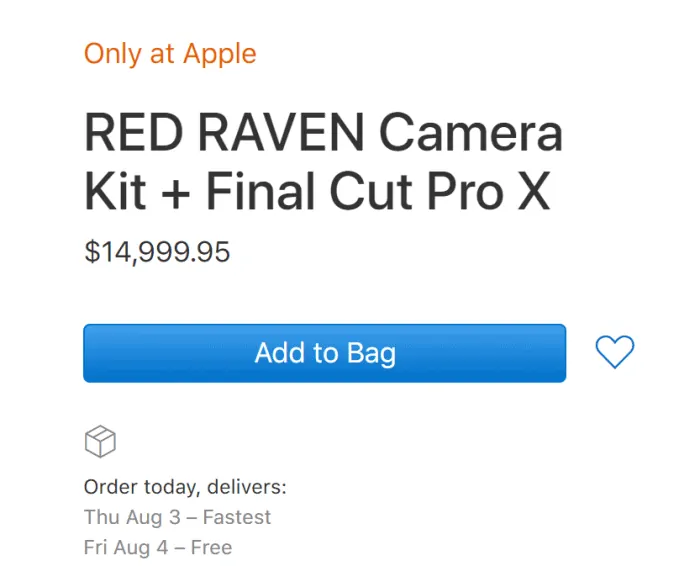 This is particularly interesting given RED had famously stocked out of its entry level Raven camera earlier this year, and according to updates on REDuser was reportedly still frantically trying to fulfill backorders. Demand was apparently so high that RED even increased its price (like it would also do with the Scarlet-W, upping its price by 25%), and then eventually stopped taking orders altogether.
A quick scan today of RED's web site shows the Raven model nowhere to be found. Gone. Instead, the new "entry level" model selling direct by RED is the Scarlet-W 5K camera at $12,500 (USD). Prices go up from there: Epic-W 8K at $29,500, Weapon 6K at $49,500 and Weapon 8K with new Helium sensor also at $49,500. That's a lot of pixels. Of course, these are just prices for the brains alone. Unlike the Apple camera kit, these will require a variety of accessories to get up and running, like batteries, monitors, media, etc. (note: the camera brain typically does include a shiny RED decal)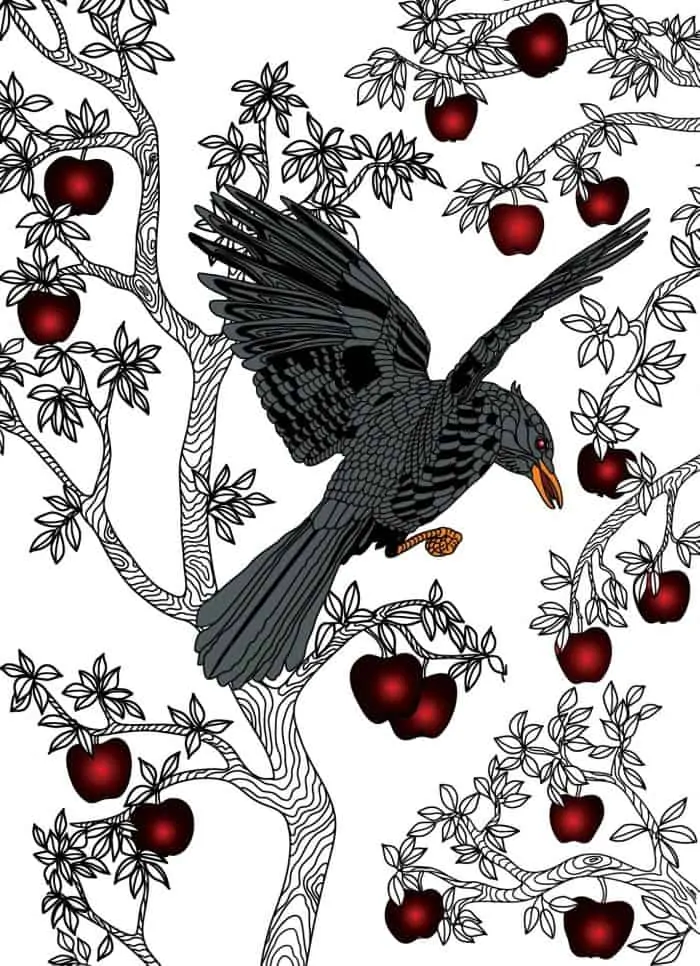 RED Raven: Now In Stock
So perhaps this explains it then?
Raven was gone. But now it's back, in a markedly different tree to be sure.
RED has decided to test a new distribution channel. Raven is the product. And the Apple Store is the place. It makes sense. Given many indie filmmakers and documentary producers use Final Cut and Apple products, why not entice prospects with an in-stock, ready-to-go professional grade camera setup? Sure, the news appeals to camera nerds. But it's the future that provokes the bigger questions.
One idea: could Apple eventually offer a premium iPhone with a RED branded camera? (not much of a stretch given RED founder Jim Jannard's latest project "Hydrogen", a heady concept that appears to meld AR and modular design with mobile camera technology)
Or even — thinking Silicon Valley Big here — an acquisition? After all, content creators and the film industry in particular are a key play for a company like Apple.
The possibilities and prognostications are endless.
Stark Insider and RED
For a short while I did own a RED Raven. Of course, we had to give it a proper Stark Insider camera test. So we storyboarded, grabbed some stuffed animals, wigs, and a wee bit of fake blood, and shot this…
SHORT FILM BY CLINTON STARK: All American Apple Pie
Shot on RED Raven, Sigma 18-35mm lens. Canon 24-105mm lens. Homemade DIY red and green gels. Wigs. Stuffed animals, and a green screen.
Now we've added a Scarlet-W to the Stark Insider kit. I'll be using it primarily for experimental videos, and narrative stuff, along with a few short films. And you thought you'd get away reading a post here without seeing an embedded SI video?! Welcome to Stark Insider.
Meanwhile for documentary style shoots I'll likely still be using the Canon C100, a workhorse that one. But for image, it's hard to beat the Dragon sensor. And REDCODE RAW (.R3D), I truly believe it's the closest codec we can get to having a true, malleable digital negative.
I'll be following the RED and Apple partnership closely, if only because I'm always interested to see where the camera markets are headed. Given that smartphones have all but destroyed the point-and-shoot and under $1K DSLR market, maybe it makes sense to move up-market. I know many YouTube content creators, for example, have opted for more expensive gear and higher production values in an effort to appeal to the increasingly distracted viewing audience. I mean, it's staggering stuff those YouTube stats:
Over 1.3 billion people use YouTube
300 hours of video are uploaded to YouTube every minute
5 billion videos are watched on YouTube every single day
So, yes, standing out is an ever increasing challenge.
Perhaps a 4K RED Raven with a market leading Dragon sensor can help up-and-coming YouTube stars, aspiring filmmakers, and music video producers stand out from the crowd? Then again, that new Panasonic GH5 isn't too shabby either. Ah, a sea of choices and decisions…
Speaking of YouTubers, Marques Brownlee (MKBHD) posted another informative video that explains more about the RED Raven and Apple deal. Plus, a wonderful explanation of the benefits of shooting REDcode Raw.
RED + Apple: Parting Thought – Life is Short
Heck, why not? Go ahead, live a little. Click "Add to Bag" and give RED a go.
Dare visit the Apple Store on a whim — you know, tell yourself it's to check out a new Lightning cable or something like that. Or maybe you thought you were just stopping in to the Genius Bar to get some help figuring out what's eating up all your Cloud Storage?!
Ha ha ha.
Us mere mortals.
We're but upgrade servants and impulsive shoppers to the lock-and-grow-ecosystem-maestro known as Tim Cook… and, let's not underestimate, the camera Gods over at RED.