It's a wrap!
We finished our first shoot with the RED Raven cinema camera and I'm here, as a DSLR/Canon C100 kind of guy, to share the experience, along with a few thoughts. What's good and bad about shooting a Stark Insider video on RED?
But first, some brief context — I am, as you'll quick to discover, not quite an L.A. commercial shooter or music video producer. Instead, we are owner/operators, using camera gear to cover events around San Francisco, to interview various people in film and music and theater, and to shoot travel videos, and, for better or worse, to occasionally enter the void, such as we did with this shoot.
At the end of shooting the Apple Pie video, my wife and I were both pretty much exhausted, and, truth be told, a little fed up.
All my wife Loni wanted to do was bake an apple pie. I asked (begged) if I could shoot some test clips with the new RED camera for fun.
She agreed. Yes!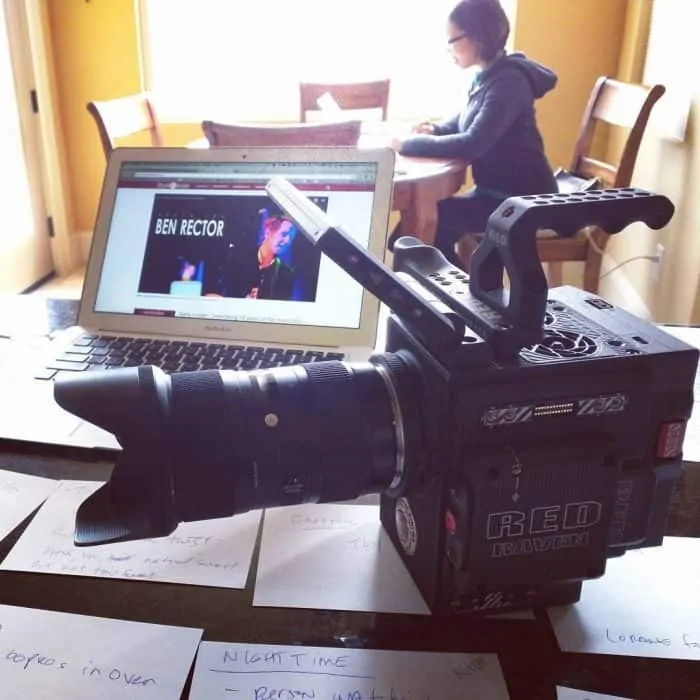 This would be ideal, as we'd be shooting in the kitchen. There I could control (or attempt to control) lighting. I could also dump the 128GB RED memory card onto a nearby RAID or external drive if needed since I planned to shoot most of the video using 4K HD (in R3D, REDcode files).
Then I realized, you mean my first shoot with the vaunted RED Raven camera would be to shoot my wife baking an apple pie?
I'm sure the world is eagerly awaiting yet another Apple Pie video on YouTube!
So, then it was: alriiiight. You're baking an Apple Pie. And… and… a killer is stalking you.
Yeah, that's the ticket! I storyboarded the video. And we started shooting on a Saturday night. That took 4 hours. My biggest challenge: focusing the Raven. Even with the 4.7-inch LCD I had trouble locking in focus.
Later, we added in ADR, sound effects, some soundtrack. Editing took a few weeks, as I had several other projects going in parallel. All told, about 30 hours went into the above RED Raven "test" video, All American Apple Pie with Loni Stark. As we shot Loni's temperament went from supportive to mildly annoyed to just-get-this-done-already-please. I found it interesting Loni would smile while  being killed and mostly frown for the rest. Regardless: supportive spouse!
In the middle of the edit, I again had a (questionable) epiphany. This killer with Argento gloves was as trope as they come. I texted my wife, Can I go wild with the third act? She agreed, and the ending took on a new look and feeling which I much prefer to the original concept.
Initial Impressions: Shooting on RED Raven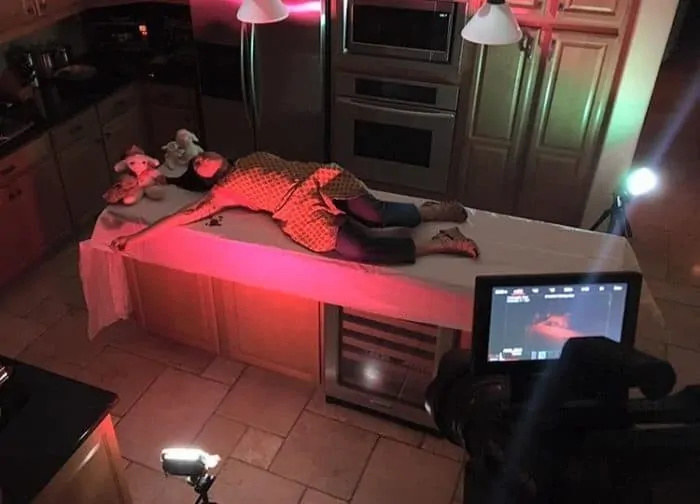 Okay, so by now you know: I'm not shooting Lexus commercials or Beyonce videos. I'm based in San Francisco. I run-and-gun. I don't use drones. Don't do gimbals. And prefer grain and grit in lieu of pristine, razor-sharp imagery.
I've been shooting videos for Stark Insider for about 10 years now. First, on Canon camcorders. Then — what a breakthrough — the Rebel T2i, because I couldn't afford the lustworthy 5D Mk II. As the years went by, I upgraded, to a EOD 60D, 70D, 80D. Then last year to a Canon C100 Mk II, which I love. And on 9/24/2015 I put in my RED Raven pre-order as fast I could whip out my business credit card. Because… RED!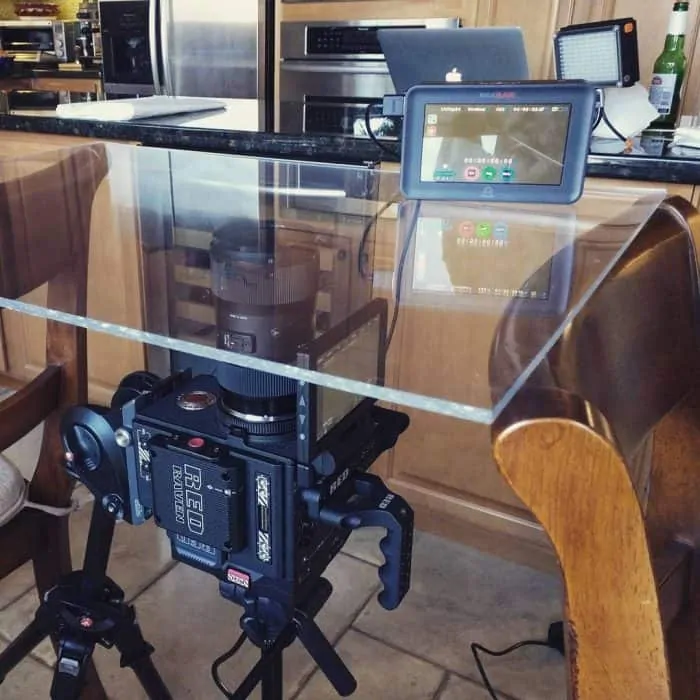 So, some first impressions of shooting with RED Raven:
The image is gob-smacking beautiful (don't less my "test" video dissuade you) – the Dragon sensor is the real deal.
Build quality is outstanding.
Even though the Raven brain and media bay is only 3.5 lbs, once you add the V-lock I/O, outrigger and top handle, monitor, battery (Switronix Hypercore RED 75) and lens, the overall rig is noticeably heavier than a similarly equipped Canon C100 II.
The RED menu system is touch-based and a breeze to use
Setting HFR mode (all new to me, the non commercial LA guy!) is very easy and the results beautiful
Battery can be an issue — my Switronix batteries (quite nice) indicate 90 minutes run-time, but in reality I probably get closer to 60 minutes. I'll likely need at least 4 of these, plus an extended battery for long days up in Napa and the like. Budget accordingly! (the C100 can go forever on one tiny battery)
If you do 4K and HFR you will consume memory like nobody's business (but we all know this).
RED Raven feels more like a computer at times than a camera. Unlike the C100 (or almost any DSLR) which turns on right away, the RED boots up. This takes about 10-15 seconds. Likewise, you "shutdown" the camera. No big deal, but something to be aware of.
Also, Raven's fans are noisier than a C100, and there's a lot more heat generated, and dissipated by the exhaust ports located beneath the camera.
Regardless, the image!
In lowlight (shooting a candle) I could easily discern the quality of the 10-bit Dragon sensor vs. that of the C100. There was no banding, and the image was creamy, film-like… just.. gorgeous.
Canon C100 and RED Raven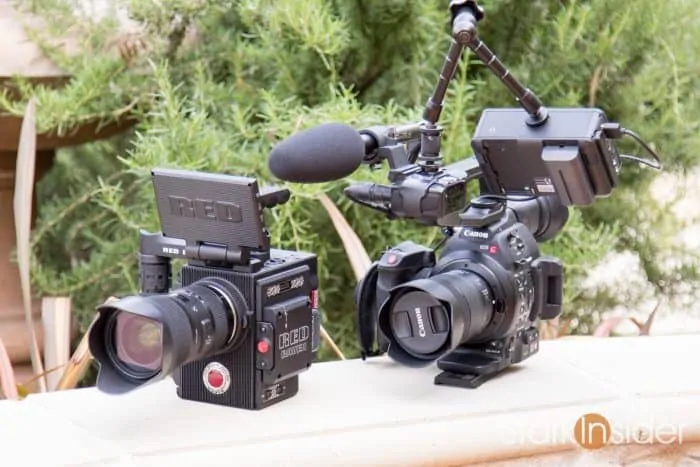 My initial plan was to possibly replace my C100 with the Raven. I don't think that's realistic. With long recording times, seemingly eternal battery, on-board XLR and ND, the C100 will still be my go-to for interviews, film and music festivals, long events, etc. For controlled situations or where I have more time to properly light, compose, etc. I would definitely use the Raven.
At the end of shooting the Apple Pie video, my wife and I were both pretty much exhausted, and, truth be told, a little fed up. We could've finished it in half the time with the C100. Meantime, with the RED I had to spend a lot of time nailing focus. That, plus the Raven needs a LOT of light by comparison. All I wanted at this point was a Stella.
We agreed: let's sell the Raven. (blasphemous!)
Maybe instead get an all-in-one Sony FS7.
Days later, we realized the Raven was doing something to us we didn't expect: it was pushing our abilities.
This is a camera that is slightly (probably significantly) beyond our abilities. And that reminds me of my hockey days. I always wanted to be surrounded by better players; those who could up my skills, by forcing me to improve my game. Likewise with a camera. I would need to get (much) better with color, lighting, composition, stabilizing, and on and on. Story-telling too, the most important of all!
After taking a deep breath, we were reminded that shooting produced videos is not an easy task. And that we needed to up our game, evolve our skills. All good things. The RED Raven had already pushed our creative process into uncharted territory, for the better, even if it didn't feel that way during our, often frustrating, first shoot together.
Will RDC "recall" my RED Raven? My wife thinks so and warns me of her impending theory…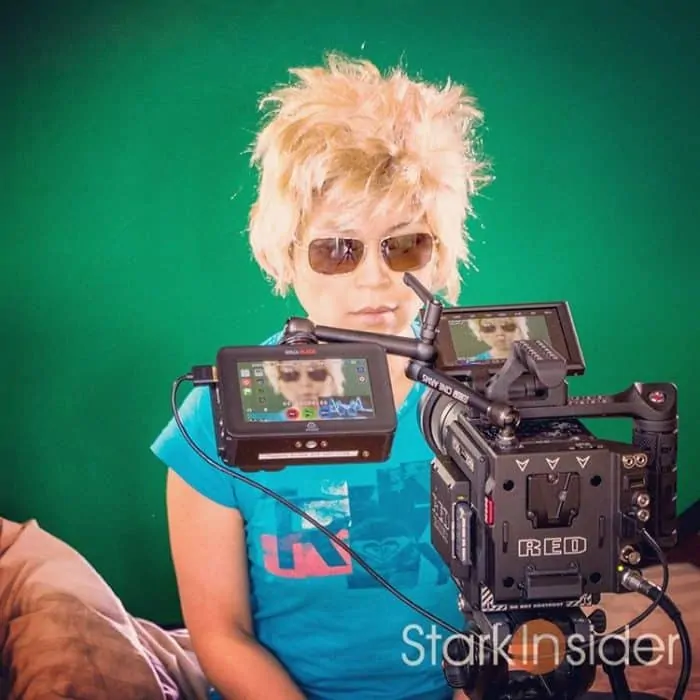 Loni has a theory. Red Digital Company (RDC) will regret shipping me Raven #373. Soon, they will unhatch a plan to remove it from circulation.
My early videos might not be indicative of what they want floating out there on the Internet, at least in terms of early "test" shots. This isn't exactly the stuff of Lawrence of Arabia or, let's face it, even HGTV's Love It or List It for that matter. So, goes her thinking, RDC President Jarred Land will issue a missive to his Bomb Squad: remove that Raven from the hands of Clint Start at all costs!
So I might soon get the email that hypothetically goes something like this:
Hey Clint,

Glad you're enjoying the new RED Raven, and are happily shooting on RED, and enjoying the benefits of 15+ stops of dynamic range and the award-winning Dragon sensor. (none of which, sadly, appear to be evident in your debut All American Apple Pie with Loni Stark)

I regret to inform you that there's a catastrophic issue with your camera (note: this only affects your camera, #373)

Please DO NOT SHOOT ANY MORE VIDEOS. The Raven could explode, or set fire to nearby people and objects. I'm not talking about an innocent magenta cast. Send it back immediately to RDC. Do not delay! You, your "storyboards" and artistic merits are in imminent danger.

Also, please re-label any existing videos you shot with Raven, as "Shot on Canon".

Thanks, your friends,

Team RED
Loni continues her story, over a glass of Napa Cab. So you send in your camera, Clint, and you hear nothing back from RDC for months. Later, you email politely (in your very Canadian way) asking for a status update. You're informed that the camera is unfixable. They've tried everything. To no avail. They had to destroy RED Raven #373. Replacements won't ship until 2020. They refund your money, "Happy shooting Clint … with Canon!"
WATCH: All American Apple Pie with Loni Stark (Shot on RED Raven)
(viewer discretion is advised)
Note: I piled on as many homages and references to some of my favorite films and directors in this video.