The assistant wars are heating up. Apple has officially entered with fray.
Apple HomePod joins Amazon Echo and Google Home in the battle for the rest of our non-mobile lives. We have search with us on the go, thanks to our Androids and iPhones. But what about the home? Apparently, Apple, Google, Amazon, and soon Microsoft (with a Cortana-based product) see our bedrooms, living rooms, and kitchens as ripe for the picking.
It will be interesting to see if Apple can convince us that sound matters this much in a home assistant.
So, no surprise then that Apple took the wraps off its home assistant today at its developer conference (WWDC) in San Jose, California.
We were all expecting Tim Cook and team to enter this segment. It was only a matter of when. Although we got a sneak today, that "when" is a ways off — the HomePod doesn't ship until the end of 2017. Ouch. Google and Amazon thank you.
Priced at $349 the HomePod does just about everything you'd expect from a voice-activated home assistant: set reminders, control your lighting and other home automation tasks, tell you the weather, answer questions you may have, update you with sports scores and news, and so on. But Apple really emphasized one thing in particular…
… and that was music.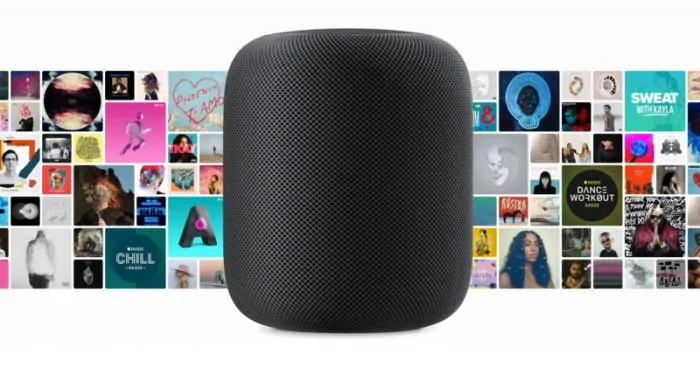 That's an interesting, and I think smart, thing to do. "Rock the house" they say.
Yes, Alexa-based speakers from Amazon can playback music. So too can Google Home. But Apple doubled down on the idea that we want a high quality speaker. Hence, HomePod looks the part, with beefier dimensions and weight than its competitors. It also has a few nifty tricks up its sleeve:
Spacial awareness — according to what we were told the HomePod can sense a room's size and acoustics, and adjust itself to maximize quality of amplification in the space.
An Apple A8 processor — this is the same chip found in new iPhones. It's powerful. And you can bet Apple will use it to get fast performance, and highly accurate voice recognition.
7 tweeters — on paper at least the HomePod seems like it'll outperform Echo and Google Home when it comes to audio quality. If that's true some of it will be related to the aforementioned spacial awareness and tuning, and that A8 CPU, but also good old fashioned tweeters. 7 of them.
Apple so much wants us to think of music first (and, especially, its Apple Music streaming service and 40 million tracks) that it led with music as the defining feature of the HomePod. About 10 minutes into the presentation I was even wondering if it had any standard home assistant features as none were mentioned until near the end. And, yes, of course, it's full-on "Hey, Siri" capable. Which means you'll be able to basically use it the way you use voice commands on your iPhone.
Given that Amazon and Google have already beat Apple to market, it makes sense that Apple would not respond with another me-too product. Well, in fact HomePod is a me-too product. But Tim Cook's marketing gurus don't want it to appear that way so we get typical Apple product positioning:
Premium pricing ($349 USD)
Over-spec'd relative to the competition
A "musicologist"!?
It will be interesting to see if Apple can convince us that sound matters this much in a home assistant. Perhaps most just care about convenience and putting a few assistants around the home without breaking the bank. For those customers, HomePod will be a no-go. With the $49 Dot, Amazon makes a compelling case for low-cost assistants that just work. As we've seen in the past, Apple seems not to have interest in chasing the competition to the bottom and would rather differentiate itself as it has done time and time again — the pricey iPhone being the most evident example.
Another interesting development to watch in 2017: the fate of Sonos.
The wireless speaker company is one of my favorites. I use Sonos at home. The app is fabulous. Playlist management is easy, and you can add all your favorite services such as Spotify, Google Play Music, Pandora, Amazon Music, and even Apple Music.
Sound quality is paramount with Sonos. Their speakers sound wonderful, with deep bass, crisp and clean highlights and plenty of punch. But if the HomePod succeeds, Sonos could have yet another formidable competitor in its path. After all, why buy just an audio speaker that only plays music when you can buy a smart speaker that plays music and does a whole lot more for about the same price?
Apple says the HomePod will ship later this year and will cost $349.