Khaled Hosseini's novel A Thousand Splendid Suns tells the story of two Afghani women, Laila and Mariam. Both end up married to the abusive Rasheed during the oppressive reign of the Taliban, but their friendship flourishes in these harsh conditions. Ursula Rani Sarma's theatrical adaptation, currently receiving its world premiere at the American Conservatory Theater in San Francisco, packs the cathartic emotional power that made the book a bestseller.
There's still much—too much—of the book about the script. The pacing is not well suited to the dramatic medium. One terrifying scene follows another, with Rasheed behaving so brutally early on that the horrors can't build. Laila's and Mariam's friendship suffers from a similarly static quality. As a result, the play lags in the middle.
As usual, the A.C.T. has cast an excellent ensemble.
A few other rough edges could use smoothing out. Early in the show, scene transitions are awkward, with characters simply wandering from one part of the stage to another. There is neither a smooth flow from scene to scene nor a clean break. Unrealistic facial hair and inconsistent accents on minor characters also prove an unwelcome distraction.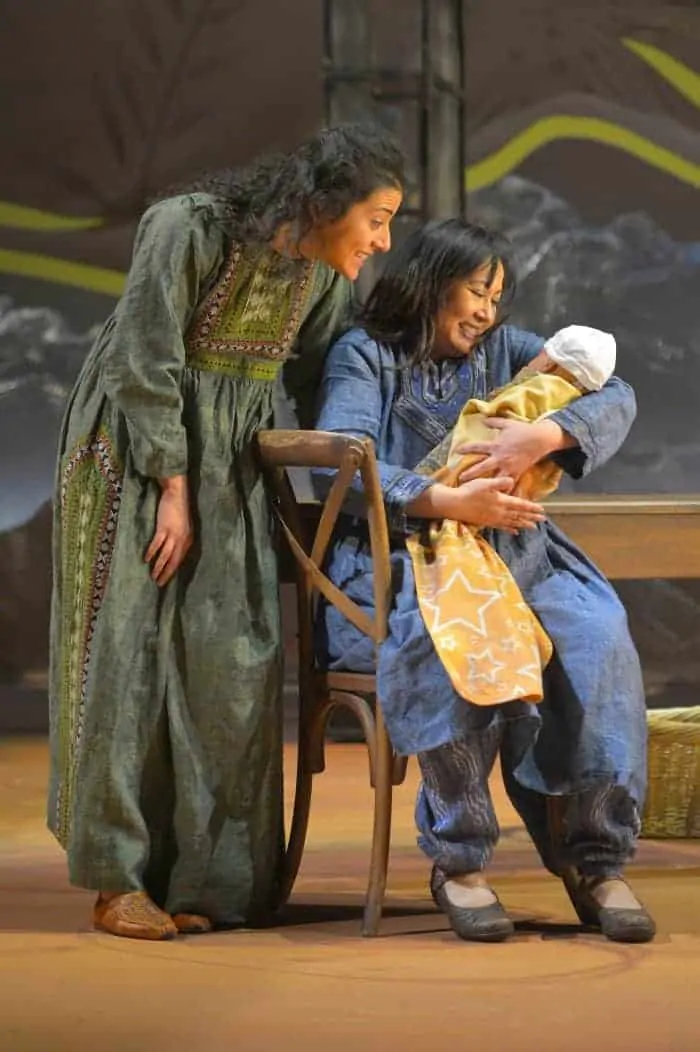 In spite of those quibbles, this is a crisply produced play. Ken Macdonald's sets balance beauty and harshness: flowing mountains and the bright sun are created out of bare wire and mesh. Robert Wierzel evokes warm sunsets and cold hospital hallways with his lighting, especially of the backdrop and the translucent doorways that make up part of the set. The costumes by Linda Cho simply and effectively create a strong sense of place.
But the most impressive production element is the music, composed and played by David Coulter. The eerie, melodious sounds of the saw open the show. Throughout the piece, Coulter plays around a dozen other instruments, including thunder sheets, springs, and a violin. It's not Afghani music: The soundscape of the play represents its emotional landscape rather than its physical landscape, very successfully.
As usual, the A.C.T. has cast an excellent ensemble. Nadine Malouf plays Laila with unabashed spunk and extreme physical transformations. Laila and Tariq (Pomme Koch) have great, easy chemistry and infectious laughter. As Mariam, Kate Rigg touchingly portrays the journey from hatred to love and the quiet nobility of self-sacrifice. Haysam Kadri's Rasheed is the only false note—entirely unsympathetic from the start. He has such the feel of a stock villain that his downfall left the audience laughing and cheering, despite its obvious serious consequences. (This is largely the fault of the writing; Kadri's acting was intense and committed.)
Bay Area Arts
by Ilana Walder-Biesanz
This show isn't perfect yet. Brand-new plays rarely are. But while the script needs tightening, A Thousand Splendid Suns is already a heartbreaking experience.
4/5