Aurora Theatre Company's logo shows a sunrise, but the name is in honor of a more specific Aurora—Amantine-Lucile-Aurore Dupin, better known as George Sand. For the company's 25th anniversary season, they have revived the play that started it all, Dorothy Bryant's Dear Master. This dramatized exchange of letters between Sand and Gustave Flaubert charms, even when it lacks theatricality.
If you imagine George Sand as the wild cross-dresser of the film Impromptu, the Sand in this play will come as a surprise. 60 at the start of the show, she is dignified and motherly, passionate about her family and her ideals rather than her love affairs. Kimberly King's Sand is both fiery and intensely sympathetic, an engaged listener who connects with Flaubert even when they seem most at odds.
Flaubert is Sand's perfect foil, younger than his correspondent but already irritable and pessimistic. We learn much more about his novels than Sand's, not because they are better, but because he has little else in his hermit-like life. Michael Ray Wisely plays Flaubert as just grouchy enough to be funny without forfeiting the affection of Sand or the audience. His silly sound effects and exaggerated physicality (falling onto the couch or rolling around on the bear rug) add sparkle to the show.
An exchange of letters between two writers might sound awfully literary, and the two authors do argue about artistic principles. Sand contends that artists must pour their hearts into their works, while Flaubert claims that they should not even reveal their opinions. Sand's words flow quickly and she gives little thought to style; Flaubert slaves over every phrase.
But the themes of the show are broader than writing. Much of the conflict comes from Sand's political idealism and avid support of the socialist movement. The cynical Flaubert laughs at politics and the idea of progress. This is also a play about aging. The characters deal with illness, disappointing children, financial insecurity, and the loss of a parent. Their long-distance support for each other provides the work's most touching moments.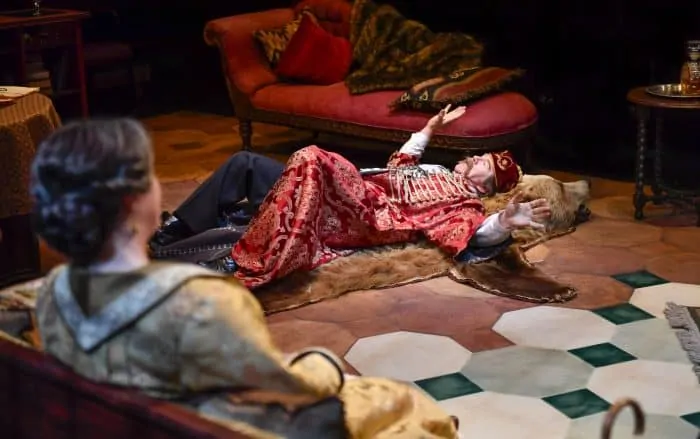 Dear Master's biggest flaw is its lack of a clear theatrical arc. There are lines to make you laugh and lines to put a catch in your breath. There are big events: a war with Prussia, a revolution, important deaths. But this is no Sand novel—there's no carefully crafted plot with surprising revelations or frenzies of amorous despair. In the absence of such landmarks, I sometimes caught myself wondering just how far along the play was and where it was headed.
Sand's words flow quickly and she gives little thought to style; Flaubert slaves over every phrase.
Technically, Aurora put their small space to excellent use, as usual. In this staging in the round, Sand often had her back to me, which gave me a chance to admire the gorgeous paneling of her dressing gown. A tip of Flaubert's excellent tasseled hat to Anna R. Oliver for her costuming prowess. Annie Smart's sets, where every tchotchke fit the characters and time, completed the period atmosphere.
Above all, Dear Master made me want to pick up another George Sand novel. I think I'll go do just that.
3.5/5