Fun Home doesn't need my praise. The show, by Jeanine Tesori (music) and Lisa Kron (lyrics and book) won rave reviews and the 2015 Best Musical Tony Award for its Broadway run. But I can't restrain myself: go, go, go see this! I laughed, I teared up, I sunk my face into my hands from the sheer awkwardness of what was happened onstage, but I enjoyed every minute of it.
The musical is based on Alison Bechdel's autobiographical graphic novel of the same name. Her family seems charmingly quirky: they live in a museum-quality house obsessively restored by Alison's father (played with poignancy and precariousness by Robert Petkoff). He also happens to be both a high school English teacher and the director of a funeral home ("fun home," to the family). Alison's journey self-discovery (and particularly her "leap out of the closet") leads to the revelation that her father is also gay.
I laughed, I teared up, I sunk my face into my hands from the sheer awkwardness of what was happened onstage, but I enjoyed every minute of it.
While the plot ends in tragedy, most of this show is riotously funny. I dare you to keep a straight face during "Come to the Fun Home," a number where Small Alison and her two brothers make up a catchy commercial for the funeral home, complete with groovy dance moves, brightly colored spotlights, and lyrics about an aneurysm hook. It's just as hard not to laugh when Alison admits she's just found out she's a lesbian to her soon-to-be-girlfriend Joan. "With who?" Joan asks, and a horrified Alison stammers out that she discovered her sexuality not through hands-on experience but by reading a book. (What a good English teacher's daughter!) Her prudishness doesn't last long, though—a few minutes later, she's belting out "I'm changing my major to sex with Joan!"
Alison tells her story at three ages. An adult Alison (Kate Shindle) stands at her drawing desk and observes her own past, trying to get every detail right. Stubborn and pert Small Alison (Alessandra Baldacchino) turns into awkward and introverted Medium Alison (Abby Corrigan) when she goes off to college. All three appear onstage and sing together. The conceit works well to tell this coming-of-age story and gives the score an opportunity to blend these three beautiful, polished voices in delicious harmonies. The musical writing throughout the show is smooth and layered, with vocals that are belted but not screamed. It makes for easy listening, especially in the mouths of such a talented group of singers.
The staging gives the musical naturalness and vivacity. Despite its origins in a graphic novel, director Sam Gold avoids the trap of drawing visuals from his source material (except for one key scene). Instead, Alison's drawing desk floats through a constellation of furniture of both antique and college dorm varieties. The big reveal of the fully decorated Bechdel living room drew well-earned applause for scenic designer David Zinn. The lighting, by Ben Stanton, turned a funeral home into a rock concert, a vintage leather bench into a car, and empty stage space into a highway.
IN PHOTOS: 'Fun Home' at The Curran, San Francisco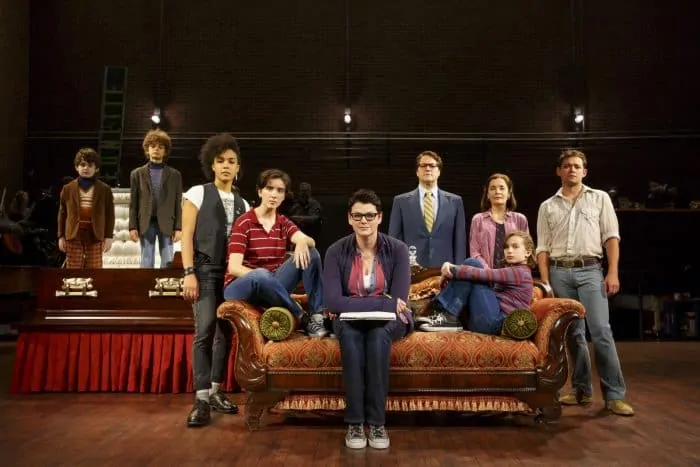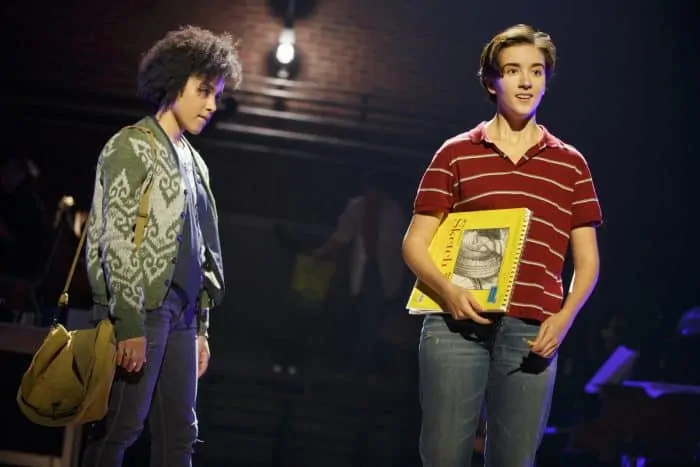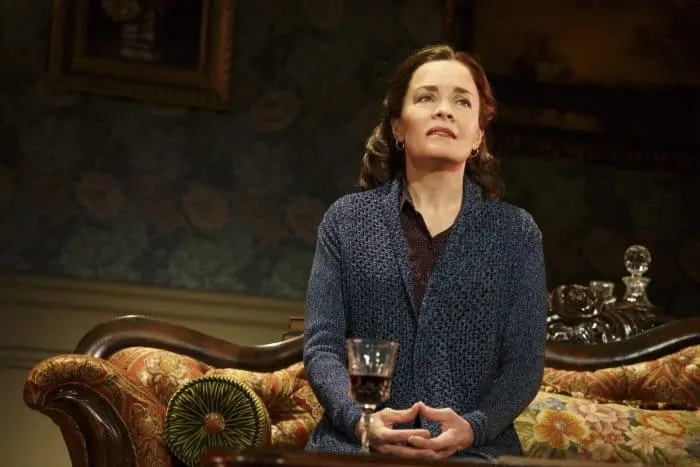 Only one aspect of this musical falls short of perfection. Its first half is so good that the second can't quite keep up. The pace slows, the tone turns serious, and the ending doesn't pack the punch it should. The musical is performed without intermission despite its 100-minute run time, so if you have a short attention span, you may find your mind wandering as it nears the end. But only for a moment—with such lovely music, charming lyrics, and skillful performances, the show is sure to captivate you again within moments of losing you.
5/5
—
A coda: it would be remiss not to mention the newly re-opened Curran Theater, which Fun Home inaugurates (bringing with it a starry collection of Alison Bechdel herself, Oskar Eutis of the Public Theater, producer Carole Shorenstein Hays, and Lieutenant Governor Gavin Newsom for the opening festivities). After two years of renovation, the theater shines gold and turquoise. Inspiring quotes and pop art graphics decorate the stairwell walls, and a large lobby encourages patrons to mingle. And the most important detail has not been overlooked: the bathrooms are spacious and elegant.
Photo credit: Joan Marcus