Tom Stoppard, one of the most acclaimed living playwrights, jokes about being "the house playwright" for the American Conservatory Theater. Program notes inform me that he is second only to Shakespeare in number of productions mounted here (17 to Shakespeare's 21). Stoppard's fame is rightly deserved, and we're lucky to have so much exposure to his work in San Francisco. But even great playwrights occasionally turn out flops. The Hard Problem, currently receiving its West Coast premiere at the A.C.T., is one of the most painful plays I've had the misfortune of sitting through.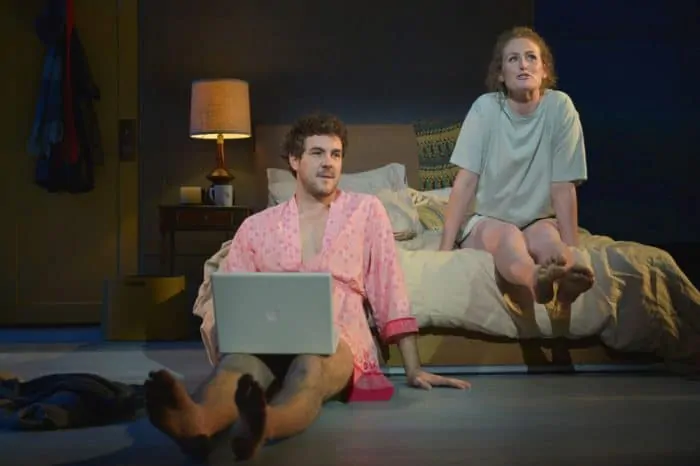 The opening scene is straight out of any young woman's nightmares: our heroine, Hilary, patiently engages in conversation with her tutor Spike, who mansplains concepts he doesn't know any better than she does. He reviews her mathematical model—of course, he laughs at her mathematical incompetence—which she is preparing as part of her interview for a prestigious fellowship at the Krohl Institute for brain science. Of course, Spike really just wants to sleep with Hilary. Incredibly, she lets him (a mistake she repeats later in the play even as Spike's status as a windbagging, misogynistic asshole becomes more obvious).
The parade of stereotypes doesn't stop there. Hilary's (older, male) supervisor at the institute makes a romantic pass at her, which she shrugs off "as a compliment." The department's quantitative work is improved by the arrival of a Chinese math whiz named Bo. Her fast-talking boyfriend, an Indian investment banker named Amal, is as terrible as Spike. Loud, overproduced music between scenes comes across as a desperate bid for cool, as does the inclusion of a lesbian couple (a researcher, Ursula, and a Pilates instructor, Julia) as secondary characters. The whole play seems to have been written with a focus on women and millennials by someone with zero understanding of modern feminism or the life of a twenty-something.
Drawn-out discussions eventually resolve themselves into a plot, but it's too sudden, too little, and too late.
The content is as limp as the characters. The play tells rather than shows: potentially interesting ideas about philosophy, game theory, and consciousness are glossed in conversation without playing out in the characters' lives. (Contrast this with a masterpiece like Stoppard's Rosencrantz and Guildenstern, where the uncomfortable reflection of the characters' philosophy in their own existences creates thought-provoking drama.) And those conversations stay too shallow to offer new insights. The most interesting story comes from a scientist: Ursula's disgusting but captivating account of the tactics of cow parasites. We're supposed to be rooting for the plucky team of psychologists who are marginalized in the hard-science-focused brain institute, but a hard-science explanation was one of the few monologues that didn't leave me rolling my eyes.
Drawn-out discussions eventually resolve themselves into a plot, but it's too sudden, too little, and too late. Bo confesses to falsifying data to get good study results, motivated by love for Hilary. Hilary takes the fall and runs off to New York to study philosophy. Before she leaves, she finds—in a heavy-handedly foreshadowed and still cringe-inducingly unlikely coincidence—that the institute founder's adopted child is her own biological daughter (implausibly termed a "shame baby" and reluctantly relinquished, though it must have been the 1990s when she gave birth).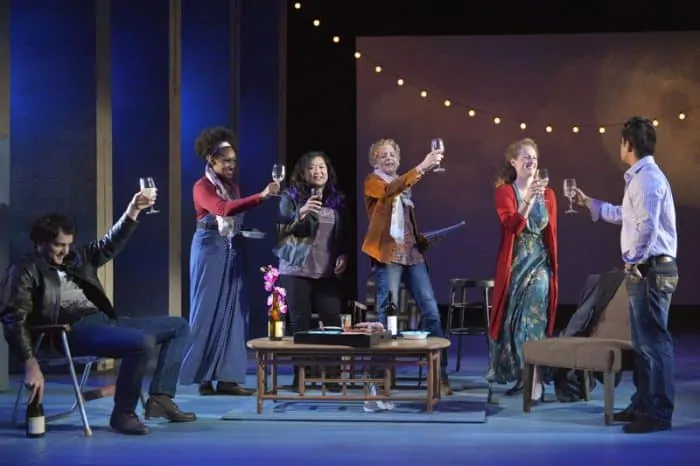 A talented cast salvages what they can from the wreckage of the script. Amal (Vandit Bhatt) and Spike (Dan Clegg) seem true to life as condescending, rude young men. The show's most delicious moment comes when Amal makes a particularly nasty comment and Ursula (Stacy Ross) urgently grabs Bo to deliver a wryly whispered command: "dump him." Brenda Meaney's Hilary is earnest and sweet in a world of hardened cynics, and Narea Kang plays Bo with endearing awkwardness. Unfortunately, even good actors can't make this play worth seeing. Engage a friend in a pointless pseudo-philosophical debate instead—it will be equally frustrating and save you the price of a ticket.