Updated 09.19.2017 to include the outstanding Panasonic Lumix GH5 mirrorless camera.
If you're in the market for a new camera I have some good news and some bad news.
The good news: there's plenty of choice, and at prices that won't break the bank. However, the not so good part? Deciding specifically which camera to buy. Choice is a good thing. But it can also make the buying process at times confusing.
I've been shooting video on DSLR (digital SLR) for Stark Insider for over ten years — and recently with mirrorless and RED too. Over that time the market has changed significantly. It all started with a basic Canon camcorder. From there I jumped onto the DSLR train with the ground-breaking Canon EOS Rebel T2i. I was convinced. Gradually our video production value on Stark Insider videos improved. Upgrades progressed in succession: EOS 60D to the 70D and, earlier this year, to the highly capable 80D.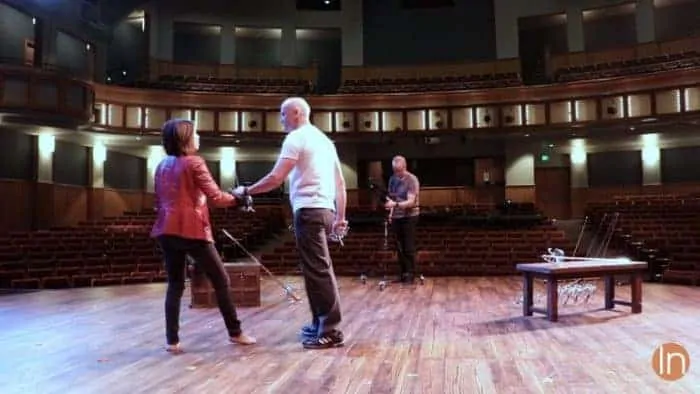 Today, though, mirrorless cameras are becoming the new favorite among many. There's a reason for that. They're lightweight and far more portable than their DSLR (mirror-based) counterparts. Yet, they have high quality sensors, lots of lens selection, and produce images and videos that are, in many cases, spectacular.
So, given the dynamics of the changing market, I've combined both DSLR and mirrorless cameras in this list. These are all models I've owned, borrowed, or rented and used to shoot video.
First, a friendly reminder!
Yes, the camera can make a difference. But just about everything else is more important: composition, sound mix, lighting, costumes, editing, and, even, food (who does their best work on an empty stomach?).
Above all else, we can probably agree it's all about story-telling.
Whether you're a vlogger, wedding videographer, documentary or sports shooter, aspiring filmmaker, or simply want to capture life's interesting moments, the old saying is true: the camera in your hand is the best camera. Or, as legendary film director Werner Herzog would implore us, "Capture the moment!"
Top 10 Best DSLR & Mirrorless Cameras for Shooting Video
(in no particular order)
1. Canon EOS 80D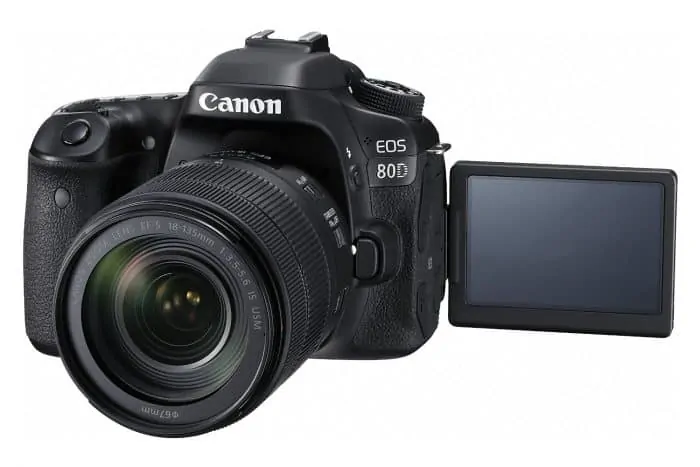 "The all-rounder"
Best for: YouTubers, sports video, situations where fast and accurate auto-focus is needed
Secret weapon: Dual Pixel Auto Focus
Weak spot: Not 4k video recording – only 1080p HD
Buy: Amazon
Sill a fantastic all-around performer. True, Canon's 80D doesn't shoot 4K video, or knock your socks off with blow-away specs. But it just works. Build is rugged, it feels great in the hand and controls are perfectly placed, and image quality is superb. In particular, skin tones are gorgeous. Canon has been known for its flattering color science, and, once again, with the 80D it shows. Those videographers who need to keep fast moving objects in focus will appreciate the Dual Pixel Auto-Focus (DPAF). In a word: incredible. Canon is still best-in-class when it comes to precise, fast, reliable auto-focus for video. Just touch an object on the LCD, and the 80D does the rest, tracking it across the frame. DPAF can be a life saver. Sure, manual focus is still the way to go for narrative filmmaking and other situations, but Canon's auto-focus tech can be a life saver. The Canon EOS 80D warrants your consideration, and surely will not disappoint.
Quick buying tip: If you're thinking of buying the 80D for video projects, you may want to consider the "Video Creator Kit". In addition to the kit lens, the bundle includes a Rode VideoMic Go shotgun microphone (excellent) and the nifty power zoom adapter that gives you the ability to zoom the 80D like a camcorder (my thoughts on the PZ-E1 power zoom adapter and test video).
VIDEOS SHOT ON CANON EOS 70D/80D:
Wrong's What I Do Best – San Francisco Art Institute
Backstage: Matilda the Musical
Save money: if the price of the 80D is priced out of your budget, consider its successor, the highly capable 70D. It also has DPAF trick auto-focus. You give up a bit of speed when it comes to burst modes and general performance, but not much. Consider looking for a deal on a used 70D, or checking Amazon.
2. Sony Alpha a6300 (and a6500)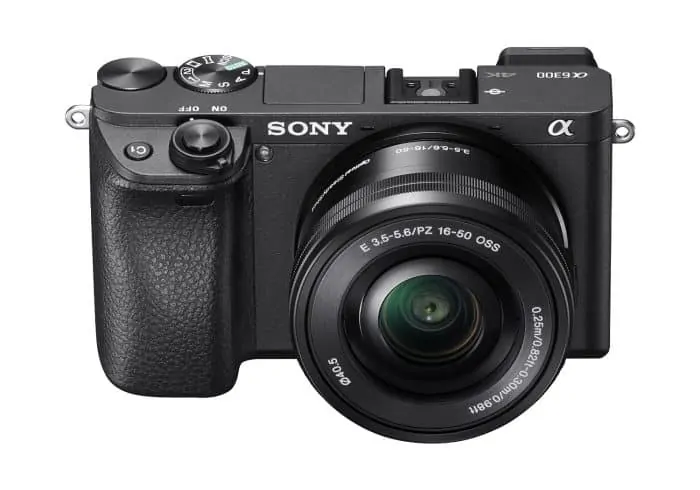 "Mirrorless Champ"
Best for: Travel shooters who need lightweight camera without sacrifying quality. Foodies who need high-quality images in low light and occasional video
Secret weapon: 4K video and Sony S-log2/3 (a flat picture profile that opens up creative possibilities with color grading in post production)
Weak spot: LCD is not fully articulating
Buy: Amazon
Sony is really pushing the envelope. I can't think of any other manufacturer that is innovating as much as Sony when it comes to camera tech, and especially video. These relatively new series of alpha mirrorless crop (APS-C) bodies are evidence that the mirrorless format is here to stay. Extremely compact. High performance. 4K video. Filmmaker tools such as focus peaking and histograms. Sony log (S-log) recording option. What's not to like? Sony does not scrimp when it comes to specs. If I were looking at a mirrorless equivalent of the Canon EOS 80D, it would be the Alpha a6300 (and a6500). Both the 80D and a6300/6500 are terrific. With Canon you get superb auto-focus, but with the Sony you get proper exposure and focus tools and 4K recording all in a tidy, compact package. Highly recommended.
VIDEO SHOT ON SONY ALPHA SERIES:
Act 3, the opening night and Cirque at end were shot on Sony Alpha a6000. The rest was shot on a Canon C100 II.
BTS LUZIA by Cirque du Soleil – A Waking Dream of Mexico
Note: if you don't care about 4K video and what to save a bit, look for a deal on the a6000. I use one for on-the-go pick-ups and b-roll shooting and it's fantastic.
3. Panasonic Lumix GH5 (and for a sweet deal the GH4 too)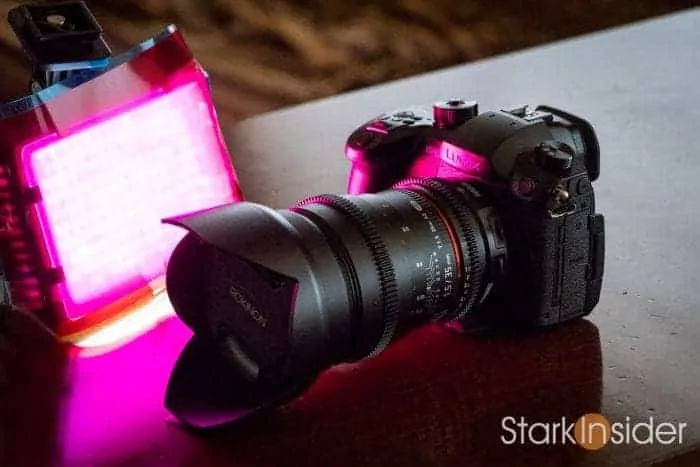 "Filmmaking Guru"
Best for: filmmakers, music videos, event video
Secret weapon: Razor sharp 4K video and outstanding IBIS that can even make using cinema lenses practical for run-and-gun
Weak spot: Stills quality not quite as good as others
Buy: Amazon
GH5. A legend is born. Check out the forums, and you'll see no shortage of praise for this micro four-thirds camera. Dig deeper and you'll find stunning footage shot with the GH45. It can look twice, three, heck, even ten times its price point. Aspiring filmmakers should probably short-list this camera in their search. Buy it with the versatile 12-35mm Panasonic Lumix kit lens and you're ready for just about any situation. Or, rig it out by adding a gimbal, follow-focus, prime lenses, a shotgun microphone, and some lights, and you're set to shoot a narrative project. With the GH5 you can shoot up to UHD 4K (and even 6K in photo mode) and can take advantage of 10-bit 4:2:2: color space for increased color grading flexibility. An optional Vlog picture profile gives colorists a flat look to tweak and adjust to their liking. The GH5 is a red hot seller for a reason. Price is reasonable compared to the likes of the Sony Alpha range and dedicated cinema cameras.
SETTINGS FOR SHOOTING VIDEO

I often get asked what settings I use on my Canon DSLRs (and Blackmagic and C100 too) for shooting video. Here's a quick summary. These are typical settings. Of course, depending on conditions, they will change to either get proper exposure, or a desired look.

Frames per second: 23.976 fps.
Shutter: 1/50.
F-stop: Depends of course. But as a rule I'll always shoot a stop above the limit of the lens (i.e. f/4 on a f/2.8 lens) because generally a lens is not best at the extreme. For outdoors I try to adhere to the "Sunny 16 Rule": f/4 for shade through to f/16 for bright sun.
ISO: Manual. Beware auto settings in general, as they may visibly alter the image as you're recording, resulting in unwanted flicker or artifacts. I generally avoid shooting above ISO 1600. For some reason on Canons I find ISO 500 versatile.
White balance: Manual. 3200 indoors tungsten. 5500-7500 outdoors depending on cloud cover.
Focus: Manual (I'll often use auto-focus to lock focus and then switch to manual from there).
Audio level: Manual.
SHOT ON PANASONIC GH5: 'Crazy or Die' by Clinton Stark
4. Panasonic Lumix G7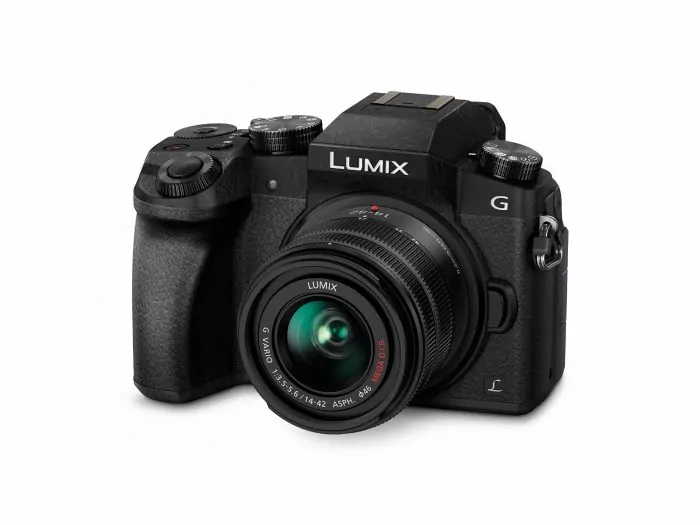 "Budget Friendly"
Best for: Those on a budget who still want it all, time-lapse shooters
Secret weapon: Low price
Weak spot: Plastic build quality (in my experience with the G7 this has not been an issue)
Buy: Amazon
Deal. Deal. Deal. If you can't quite stretch for a GH4, then the G7 may well be the next best thing. I really like this camera. Like its big brother, the G7 features a micro four-thirds mount, 4K UHD video, and all the bells and whistles a video shooter would want (histogram, focus peaking, auto-focus). In my tests, 4K burst photo mode was handy for firing off a round of shots of a fast moving object. You then can cherry pick your favorite. The touch screen display is easy to ready, and the interface also a strong suit. I've used the G7 to capture some magnificent time-lapses of the sky here in San Francisco. Gorgeous in 4K. Very sharp. Impressive, especially considering the price. Look for sales on the G7. It retails for around $700 (with the kit lens, which I believe is the only way to buy this camera in the U.S.), but I've seen deals on Amazon from time to time.
5. Sony a7R II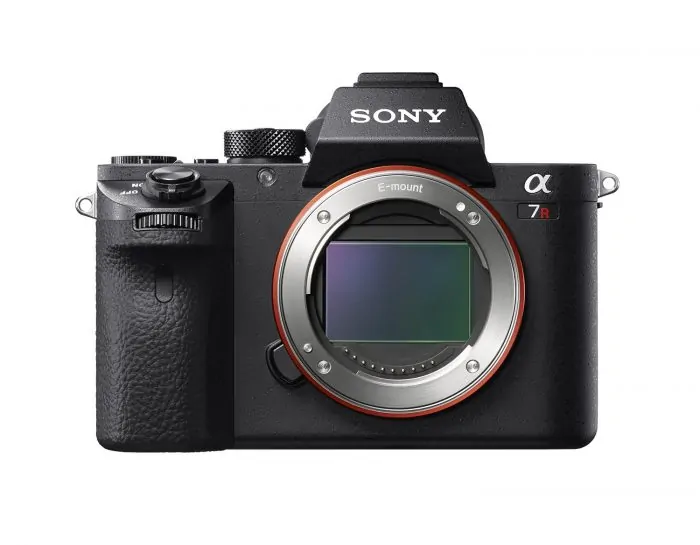 "The Beast"
Best for: No compromise photographers and videographers, landscape, travel, architecture, real estate shooters
Secret weapon: Exmor R CMPS 42.4MP sensor
Weak spot: Pricey (though fair considering the prices of its peers)
Buy: Amazon
If your budget is spendy, look no further. Sony a7R II. Simply a beast of a camera. Unlike the above, this is a full-frame camera (like the 5D Mark IV). You'll get an expanded field of view (no crop), and images will have higher resolution. That means you'll have more flexibility in, for example, Adobe Lightroom or Photoshop, to manipulate images without suffering much, if any, degradation in quality. For video, it means you can (potentially, if you're good!) capture National Geographic style landscape panoramas. The Sony full-frame Alpha range has really upended the market. For a time, if you wanted the best FF camera on the market you went with a Canon 5D. I'm not so sure that's true anymore, especially for video shotoers. With the a7R II Sony gives us all the right tools for shooting video, plus 4K, plus amazing low-light performance (best-in-class to be sure), plus an amazing 42.4MP sensor (rated 98 out of 100 by DxOMark, the gold standard of image rating sites). If I wasn't already invested so heavily in the Canon system, I would likely start here with the a7R II.
6. Blackmagic Pocket Cinema Camera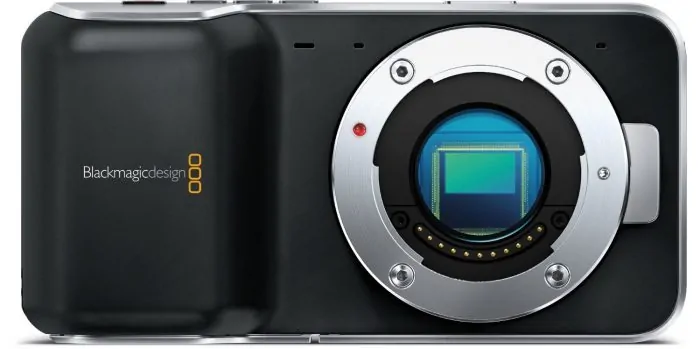 "RED for the Rest of Us"
Best for: Filmmakers who can't afford RED
Secret weapon: Gorgeous, filmic image
Weak spot: Ergonomics
Buy: Amazon
You're a student filmmaker. And/or you want to shoot a short film. A professional music video. Or fashion film. You want a RED (of course), but can't afford a RED (of course). I'd say take a look at the Blackmagic product range. In particular, the low cost Blackmagic Pocket Cinema Camera. You get a lot of camera for the money, which is under $1,000 (USD) for the body. Yes, it only shoots 1080p HD. But forget about that. What you get is filmic footage. That's largely because of the pocket's superior dynamic range, which enables the sensor to yield gentle fall-offs in highlights, in particular, preserving detail in the process. It's a bit of a quirky camera to be sure. Battery life is abysmal (but spares, thankfully, are cheap). The interface takes some practice. And, it's not the easiest camera in the world to use. But that's largely the point. Practice and learn. And the Blackmagic Pocket Cinema Camera will reward you with stellar footage. And, possibly by the time you've mastered it you can finally afford that RED!
SHOT ON BLACKMAGIC POCKET CINEMA CAMERA
Movie Star – A Celebration of Film
7. Canon 5D Mark IV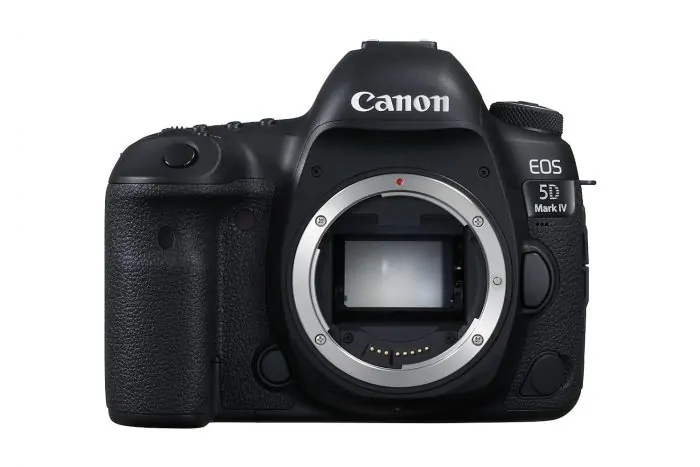 "For the Pro"
Best for: Photos first, video second
Secret weapon: That Canon "look"
Weak spot: Video
Buy: Amazon
If you're a pro, you already know all about the 5D. A legendary model, Canon broke open the idea of "DSLR Video" with the 5D Mark II in 2012. The market for indie filmmakers was forever changed. For the better. Now we could produce beautiful videos because we could use interchangeable lenses with a DSLR to shoot video. In HD! If you are considering this new 5D Mark IV there's not much I can tell you that you don't already know. It's Canon's flagship. It's might impressive. And it's just about everything you'd expect for a princely sum. But… but… if shooting video were my priority (which it is) I'd lean towards the Sony Alpha a7R II. If photos were my thing, with occasional video (say, a journalist) then I might lean toward the 5D Mark IV. Either way, in the pro segment, the 5D Mark IV can not be ignored.
Which Camera Should I Buy?

Beginner: Canon EOS Rebel T6i

Wedding, live events shooter: Canon EOS 80D, Sony a6300/6500, Canon C100 Mark II

Film student: Blackmagic Pocket Cinema Camera, Panasonic Lumix GH4 (or G7)

Landscape, travel, real estate, architecture: Sony a6300, Sony a7R II, Olympus OM-D E-M1

Journalist: Canon 5D Mark IV, Sony a7R II

Family and friends: Canon EOS Rebel T6i, Panasonic Lumix G7, Sony a6000

Documentary: Canon C100 Mark II, Canon EOS 80D, Panasonic Lumix GH4

Music Concerts: Canon EOS 80D, Sony a6300/6500, Canon C100 Mark II

Fashion Film / Professional Commercials / Music Videos: Blackmagic Pocket Cinema Camera, Panasonic Lumix GH4

Sports: Canon EOS 80D, Sony a6300, Sony a6500, Canon EOS Rebel T6i

All-rounder, easy to use: Canon EOS 80D

The best at any cost for video first/photo second: Sony a7R II

When you receive a surprise inheritance: RED Scarlet-W
8. Canon EOS Rebel T6i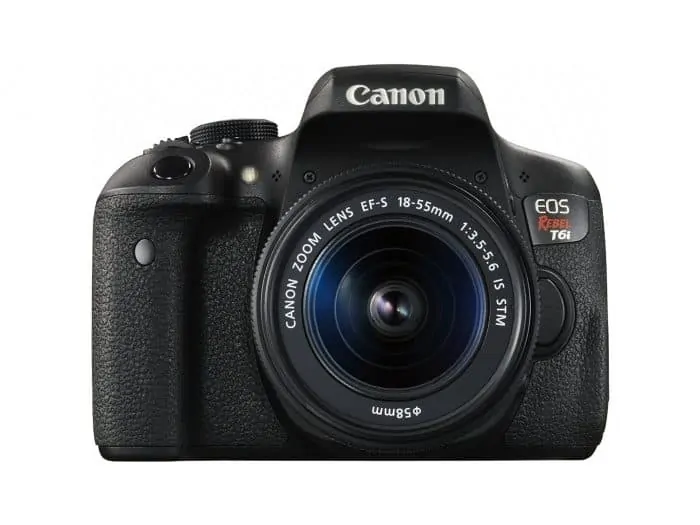 "Grab and Go"
Best for: Newbies
Secret weapon: Price and ease-of-use
Weak spot: Video
Buy: Amazon
Best budget DSLR on the market today? Canon EOS Rebel T6i. Grab it and go. This one comes with an "STM" lens meaning it's almost completely silent when focusing — important when shooting video and recording audio in-camera. Despite the modest price everything here is Canon grade. You get a robust build quality with well placed switch gear. The interface is a breeze. Battery life is great. Storage is easy and cheap (SD cards). Sensor-wise the T6i comes with a 24.2MP CMOS sensor which is impressive for a budget camera. Links in this article point to Amazon, but look for a kit deal on the T6i at your local Costco, Sam's or big-box store.
VIDEOS SHOT ON CANON T6i:
Recently I took the T6i out for a day in San Francisco. I just followed my wife to the Ferry Building, and across the San Francisco Bay over to the Sausalito Art Festival. We had fun with this one… no fancy camera… just run and gun…
Sausalito Art Festival – with Loni Stark
9. Olympus OM-D E-M1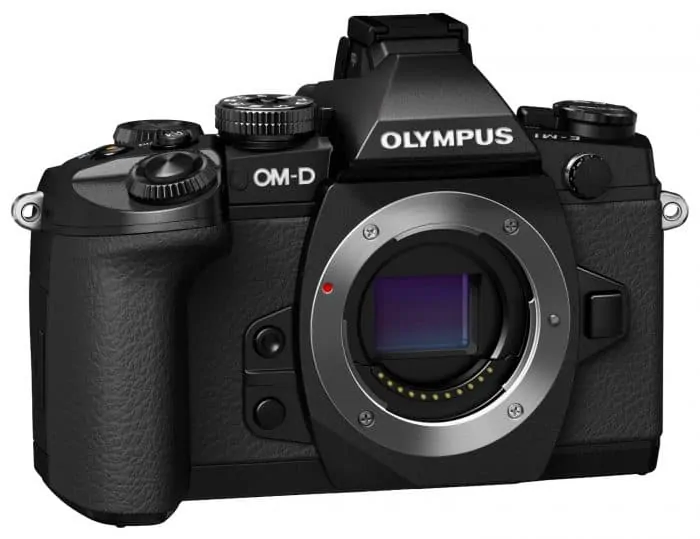 "Retro Chic"
Best for: Serious fans of micro four-thirds
Secret weapon: In-body image stabilization
Weak spot: Video
Buy: Amazon
I know that how a camera itself looks shouldn't matter. But look at this thing! If they gave out beauty awards, this Olympus OM-D E-M1 mirrorless camera would crush all comers. It's more than superficial too. Grab this high performing micro four-thirds camera and it feels just right in the hand. Twin dials at your right hand provide fast and convenient control. The real trick up the E-M1's sleeve is obviously not its model name, but rather the fact that it comes with in-body 5-axis image stabilization. Expect ultra smooth video. In fact, any lens you mount on the camera will benefit. Fast primes. Speciality lenses. All should (in theory at least) produce smoother results when used handheld because of the IBIS. There's a Mark II edition of this camera, but it costs almost twice as much. I'd strongly consider this one, and invest the savings in some nice glass.
10. Canon C100 Mark II EOS Cinema Camera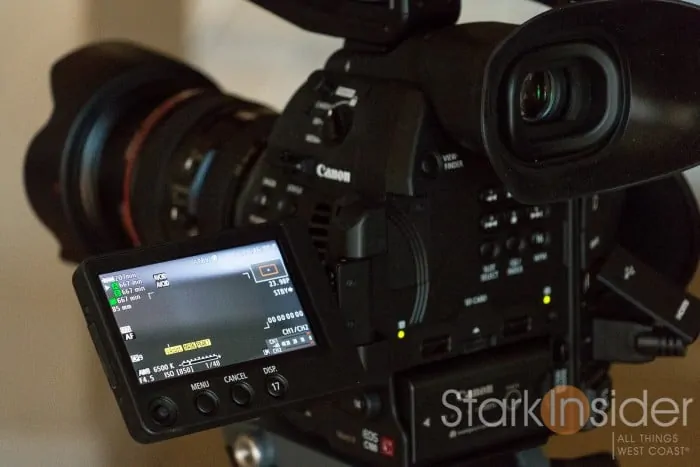 "Run-and-gun Hero"
Best for: Documentary, wedding, events
Secret weapon: Ergonomics
Weak spot: No 4K (but the sensor captures video in 4K and downsamples it in camera to 1080p)
Buy: Amazon
Okay, call me selfish. I admit it. I'm including the Canon C100 Mark II EOS Cinema Camera on this list primarily because it's my workhorse for shooting videos for Stark Insider. But, there's a pragmatic reason too. That's because the C100 belongs on any Top 10 list when talking about cameras, video cameras, or cinema cameras. It's an all-in-one joy. If you shoot documentaries, weddings or live events like music concerts, the C100 is worth a look. Sure, it doesn't shoot 4K. But the sensor captures images in 4K. Then they are downsampled in camera to 1080p. I mostly deliver in HD to Vimeo and YouTube anyway. So with the C100 I'm getting 4K detail in an efficient 1080p file size. That makes my workflow simple and fast. And, as they say, time is money. The C100 has lots on offer: built-in pro XLR audio, ND filters, dual SD card slots, long battery life, face tracking (with specific Canon lenses only), auto-focus and a variety of picture profiles including Canon Log. Best of all, though, is the image quality. It looks beautiful. The C100 is my "A" cam for Stark Insider (80D is "B" when needing second angle, or for interviews). I do like the Sony alternatives, like the FS7 and FS5, but whenever I see the EOS Cinema image I jump for joy.
Quick Tip: Protect Your Camera Lens & Investment

The first thing you should do when buying and unboxing a new camera is:

Protect your lens.

You maybe very excited and anxious to get shooting. But, please, take a second, and be sure to install a UV filter on the front of your new lens. If something unexpected happens, it's much better for the filter to get scratched than the actual lens itself.

Filters typically range from about $20-100 depending on the quality of the glass. Get one for each of your lenses. Trust me, you'll sleep better at night. Think of it as reasonably priced insurance.

Each lens has a different filter thread so check that and make sure you get the right size. There's lot of brands out there. One of my favorites is German maker B+W.

Okay, end of my mini rant,

Clint.
SHOT ON CANON EOS CINEMA C100
A Gift From Me To You
Shot on Canon C100 Mark II. Sigma 18-35mm. Canon 70-200mm. With strobe lights. A wig. Sunglasses. And a willing wife.
Camera Buying Guide:
Clint's Top 10 Best DSLR & Mirrorless Cameras for Shooting Video
There you have it. The 10 best DSLR and mirrorless cameras for shooting video. Keep in mind, that smartphone you're probably holding right now can probably shoot decent video too. So no excuses!
Top 10:
Best Cameras for Shooting Video
I hope you found this article and videos useful in helping to make your buying decision. Photography and videography can be very enjoyable pursuits. Practice. Make mistakes. Learn. Above all else, take creative risk. The rewards are there. If you're lucky enough to convince your spouse to dress up as a DC comics super villain or don her Black Swan alter ego for the sake of playing with your new camera, then power to you my friend.
Remember the Alamo. Remember to push record. And remember what Werner Herzog says: "Capture the moment!"
Best of luck to you. And…
… happy shooting!