UPDATE 10.27.2016: Apple has just unveiled a trio of updated MacBook Pros for 2016 (13″, 13″ with Touch Bar, 15″ with Touch Bar). As expected they're smaller, lighter, faster. And, also as predicted, the OLED "Touch Bar" has arrived. It's pretty impressive, dynamically changing and presenting softkeys depending on the task at hand. Beautifully conceived and executed. Though, the greedy in me would like Apple to give us both a Touch Bar and touch screen. Bonus points for Apple not killing off the headphone jack. Thank you! So: Microsoft Surface Book with Performance Base and Apple 15″ MacBook Pro entry configs are both — surprise — the same price: $2,399 (USD). I'm still on the fence. Love touch screen, creative potential of Surface Book. Yet, MacBooks are so robust and you just know that touchpad and touch bar will be superbly engineered. Decisions, decisions.
If you're like me you've waited a long time for this week. I'm ready to finally upgrade my aging 2012 MacBook Air. And there's finally new product hitting the market.
Today, Microsoft revealed the stunning Surface Studio 28″ all-in-one PC wonder. It looks amazing — as does the price. Call it an iMac on steroids.
But it was the refreshed Surface Book that caught my attention. Microsoft is really onto something with this hybrid tablet/laptop design. You can pop off the screen, thanks to an innovative hinge (somewhat like those seen on an articulating bus), and voila, it's a 13.5-inch Windows tablet. With the Surface Pen you can doodle, draw up story boards, and take hand written notes. And, for the first time, the touchpad and speakers rival those of its Apple counterparts.
At $2,399 (USD) and up for the new "Performance Base" edition of the Surface Book, the premium Apple-like positioning does require a Tylenol or two to be sure. Then again, I've gone four years with my current laptop, so I can (somewhat) justify the expense. Maybe.
Per The Verge, the updated model is all about the internals. There's not much change to the overall design, though the stone in our collective shoes: it's actually slightly heavier (now 3.63 pounds) and fatter. Early hands-on feedback suggests it's not a big deal, and barely noticeable. Sadly, the Surface Book doesn't yet use Intel's latest Kaby Lake chips. On the upside you get an Nvidia GeForce 965M GPU, and a battery rated by Microsoft at 16 hours. Not too shabby. Update: it also looks like Microsoft has reduced the infamous "gap" when the Surface Book is closed (hopefully Surface Book 2 will completely eliminate it).
Apple is up next.
Tomorrow (October 27, 2016) it's widely expected Apple will finally unveil refreshed MacBooks.
Early word suggests the trick feature (and marketing emphasis) will be the so-called "Magic Toolbar." Gone are the traditional row of function keys along the top of the keyboard. In its place is a touch strip featuring an OLED display. It can, according to early reports and leaks, dynamically change based on context. If you're in Lightroom you get photo editing shortcuts. In Premiere, video editing controls. In Microsoft Word, doc editing shortcuts. And on and on: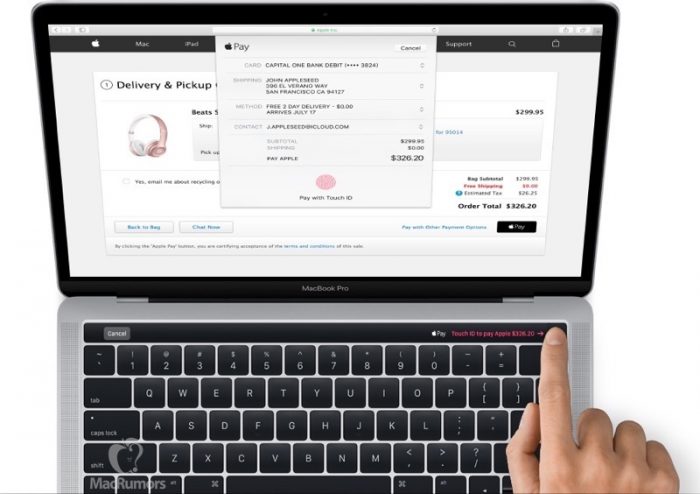 It looks pretty cool to be sure, but part of me wonders: is this is a solution looking for a problem? I'm not so sure it's the game-changer some are suggesting. We'll know more tomorrow when Apple does its song and dance.
Interestingly, as I wrote yesterday on Stark Insider, Microsoft and its touch-friendly philosophy encourages us to touch the screen while Apple is apparently the opposite inviting us to only touch the keyboard and its new dynamic function strip. My current mindset has me favoring Microsoft's strategy.
Laptop Dilemma:
Surface Book or MacBook Pro?
So what will it be upgraders…
MacBook Pro or Surface Book? (Microsoft itself has a side-by-side comparison)
Key pros for the Surface Book the way I see it:
Surface pen and digital ink (handy for creative work)
Clipboard mode (can remove screen and use as a tablet; convenient for inking)
Array of ports (Apple seems content to just give us USB-C and fiddly adapters)
And favoring MacBook :
Best-in-class touchpad (this is critical)
Strong, clean, bass-y speakers (I'm always using my MacBook to review Stark Insider video edits)
Superb keyboard with variable backlighting (just something about those Mac keyboards that feels oh-so right…)
As for the operating systems, I think it's a wash, though I have a slight preference for the Windows 10 file system. It just seems easier, faster to navigate than the MacOS finder.
A few years ago, or maybe even just last year, I'd never expect this to be a reasonable comparison. It would be Mac all the way. Hands down. I've scoured the market, and to this day seemingly no one comes close: HP, Dell (getting there though!), Asus, Lenovo (good keyboards), Acer, among others. No one can put together a laptop package the way Apple can. That is until the Surface Book. Sure, I've read about early bugs and kinks. But is seems as though Microsoft has addressed the majority of those.
And, let's not forget…
Headphone jack!
Surface Book has one — albeit, awkwardly placed alongside the display, resulting in dangling, tangling cable-itis. Still, it's thankfully there.
And the new MacBooks? My suspicion is Apple will pull an iPhone 7, and get rid of it, forcing us to go the Bluetooth or USB-C route. Hassle, that. Call me old school, but whether at the gym or at Starbucks, I like good old fashioned Beats in-ear headphones with that classic, fool proof, battery-free 3.5mm jack. I also like 80's new wave. So maybe I'm slow to change.
I likely can't wait until 2017 for the Surface Book 2. Instead, I'll check out what Apple unleashes tomorrow, and then make a decision by end of the year. As an aside: is it just me, or is Apple starting to lose the innovation race?
Surface Book vs. MacBook?
Currently, I'm leaning — if ever so slightly — to Satya Nadella's corner.
I'll leave you with this sexy video: